The Secret of Our Success
Gilt Groupe co-founders Alexis Maybank and Alexandra Wilkis Wilson tell us how they make it all work.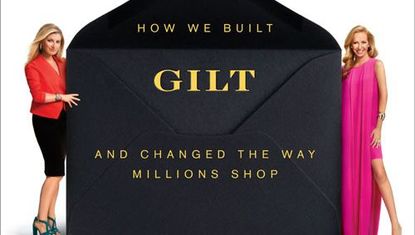 (Image credit: Archives)
Marie Claire Newsletter
Celebrity news, beauty, fashion advice, and fascinating features, delivered straight to your inbox!
Thank you for signing up to Marie Claire. You will receive a verification email shortly.
There was a problem. Please refresh the page and try again.
Talk about expert advice! We got the rundown from self-made startup sensations Alexis Maybank and Alexandra Wilkis Wilson, the co-founders of the members-only sample sale site, Gilt Groupe. They gave us their best tips and insider information for female entrepreneurs in anticipation of their new book By Invitation Only: How We Built Gilt and Changed the Way Millions Shop, hitting shelves on April 12th. Here, they dish on everything from mixing business with friendship to their continued appreciation of one of MC's own editors.
Start from the beginning — how did the initial idea for Gilt Groupe come about?


With Gilt, we drew inspiration from something we were really excited about here in New York City: the designer by-invitation-only sample sale. We used to sneak out of the office when Alexandra worked at Louis Vuitton and Alexis was at AOL to attend these sales and this wasn't even an option for people outside the New York area. In other words, we thought that if we were passionate about shopping this way, if it was brought to a national audience online, they would love it too.
Some find that working with a friend is a bad idea and can quickly ruin a solid relationship. Did both of you think about that risk before going into business together?

We don't think you could go into business with any friend; it really depends on the context of your friendship.The framework of our friendship that was built at business school is different than two childhood friends starting a business. We were also very open about discussing how the possibility of working together could impact our friendship and how we wanted to first and foremost, preserve our friendship. In starting a business with a friend, you just have to make sure that a base of trust is there.
You're two women with completely different personalities, but your partnership works so well. How do you balance who does what in the business?


In the book, we describe Alexis as the risk taker. She is really a big picture thinker, which is why she was the CEO for the first year-and-a-half and wore a number of different hats. She really held everyone together and presented a clear idea of the overall objectives for the company. Alexandra tends to be quite organized and goal-oriented, so you can point her in the right direction and she will spring as fast as she can to accomplish as much as she possibly can. From a functional perspective, she was always focused on convincing the best possible designer brands to partner with Gilt and sell on the website.
How do you maintain your personal "girlfriend" relationship while still being successful business partners?


We received very good advice early on to not let work "business-ify" our friendship. We already spent a lot of time talking about men in our lives (now husbands), and children, but we also spent a lot of time talking about our jobs, so it was already a big part of our friendship. We have also always enjoyed traveling, which is a big part of our lives as business partners as well as friends. On our business trips, we always find some free time to explore new places. We spent quite a bit of time in Japan recently with the launch of Gilt in that country. During the week, we would have to be in Tokyo for work, but we would have the weekends to go on the train and explore different places before coming back for more meetings. So we do a little bit of both, and it's a big part of both of our lives.
Are mentors important to starting your own business?

Absolutely. We both believe very strongly in not only having mentors for ourselves, but in mentoring others in sharing what we have learned along the way. Over the years, we have both built our network of people who we can go to for advice for different aspects of our lives, whether it's specific career advice or just understanding how other successful women manage the work/life balance. These are the people in your life who you really respect, who can give you very fair, unbiased advice and who can give you the hard truth, as painful as it might be to hear at times.
Alexandra: Your networking skills were a big reason why Gilt had so many designers willing to be involved. Any tips?

Well, you have to start somewhere; no one is going to have the complete network they need starting out. When we were launching Gilt, I thought about the designers, CEOs, and executives who I knew and those were the first people who I approached to potentially partner with Gilt. But then I had to go beyond that, to outer circles, so I thought about friends who could potentially make introductions for me. I very much believe whatever goes around comes around and whenever I can be helpful to someone, I try to do that for others. You don't want to ask for favors constantly, because then when you really need a favor people might be less receptive, but people do come through. Women sometimes have a harder time than men asking for help, so our advice to female entrepreneurs is don't be shy to ask for help when you're launching a business or encountering any type of challenge along the way.
When the site went live in 2007, if your worst fear came true and you didn't get any buyers, did you have a backup plan?

Not really! It's funny, we joke a lot about that fact. We really believed in getting the site out and not over-investing before knowing what people would like, so when we launched that morning, we hadn't even built out the returns area of the website yet. If no one had come, it would have meant a lot of things. We would have had to take a big step forward and maybe even restart the business, maybe reach out to the 13,000 people who had signed up and asked them what they liked and what they didn't so we could rethink our website. That was our only backup plan and it still has a lot to do with how we run our business today. We always make sure to speak to the customer and understand what she wants to see. But we were scared that morning!
In the book, you mention MC's own Fashion Director, Nina Garcia. Can you explain how she saved the day at one of your events?

We have so much respect for Nina. During our one-year anniversary party in January 2009, not only did Nina come, but she also agreed to co-host the evening with us. Last minute, she invited Isabel and Ruben Toledo, but somehow our PR team didn't realize that they were coming, so they almost got sent away at the door! It was incredible, they actually crashed our party and it was right after all of the excitement behind Isabel designing one of the dresses for Michelle Obama. Alexis and I had to pinch ourselves. It was a really exciting night, the evening was filled with designers, Nina was there and she is someone that we view as a real pioneer and role model in the fashion industry, so it was great to have her supporting Gilt Groupe since our early days.
If you could give female entrepreneurs one piece of advice they cannot live without, what would it be?

There is no better time than now to start a business. There are a lot of investors out there who are looking to put money behind female startups. We would advise anyone who is starting to pursue an idea that they're passionate about, to do what they know and pursue ideas that they have experience or excitement for. Lastly, it is critically important to find those people in your life that can help improve your chances of success. We really hope we see a lot more women in cities across the U.S. or outside pursuing ideas fresh out of college within businesses they already work in, or with family members, or best friends in our case. There is a lot for us to do out there.
Check out our free career boot camp with LearnVest here.
Celebrity news, beauty, fashion advice, and fascinating features, delivered straight to your inbox!