Elisabeth Moss Doesn't Think Her Character Peggy Is a Feminist Icon
"She doesn't always do the right thing."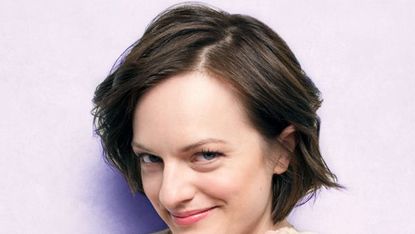 (Image credit: Jeff Vespa/Contour by Getty Images)
You play strong women with deep vulnerabilities. What makes you feel strong? What makes you feel vulnerable?

That juxtaposition of strength and vulnerability is really identifiable in all women. What makes me feel strong is when I'm with my mom and my brother. I believe in them and they believe in me. I'm vulnerable when I'm on set or acting and I feel I'm not doing well. Luckily I've done this long enough to know that it's usually a passing feeling.
As a young professional woman, Peggy has meant a lot to me, even though she is, objectively, a terrible supervisor.

That's so funny. Because when people say, "Peggy's a feminist icon and everyone looks up to her," my response to them is often like, "Really?" I don't know if they should. She doesn't always do the right thing.
She gets a little salty when she feels she deserves something she's not getting.

That's what I think the true story of feminism is. You had to have these women before us who were maybe a little bit too headstrong, and willing to believe in themselves more than other people believed in them. And sometimes that was an error, but you had to have those women who were like, "No, I'm going to believe in myself." It takes that sort of overblown faith in your ability to cross those hurdles.
Your Mad Men costar Vincent Kartheiser recently married Alexis Bledel, whom he met on set. Seeing that made me think about how the cast's lives have changed since you started filming.

It's so crazy. I was 23 when we made the pilot, and I've just turned 32. We've talked about it as a cast and counted the marriages, divorces, children, the countless breakups and relationships. There are so many kids who have been born on this show. And to see that Vincent found this wonderful woman... I've known him since I was 18, so it's great.
You've always been an incredible actress, and over the past few years, you've had this renaissance. Did your divorce from Fred Armisen embolden you to say, "Screw it! I don't have anything to lose"?

Looking back from my wise age of 32, I was really young when I went through the divorce. It's difficult to say how your life would go if things had gone differently, you know? The thing that I can chalk it up to is growing up. I've been hopefully getting better as an actor and hopefully using experiences from my life in my work. I don't know that I could have done something like Top of the Lake when I was 25 or 26. I'm lucky that I got to work on my quote-unquote "craft" when not a lot of people were looking.
See Moss in The One I Love, in cinemas and on demand now.
Here's a preview of exclusive content from TrendingNY, the new free weekly fashion and beauty magazine for New York women. Find this and other stories in our first issue, out in New York now, and follow us on Twitter and Instagram @TrendingNY to learn more."
Photo via Jeff Vespa/Contour by Getty Images
Marie Claire email subscribers get intel on fashion and beauty trends, hot-off-the-press celebrity news, and more. Sign up here.
Anna Peele is a culture writer and editor who has written features for Esquire, GQ, The Washington Post Magazine, and ESPN the Magazine.