Eva Longoria Has Been Working Since the Age of 13—And She's Not Stopping Anytime Soon
Plus, 33 other things you never knew about the star.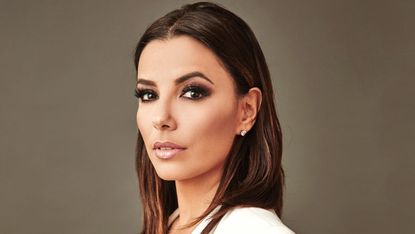 (Image credit: Maarten de Boer/Contour by Getty Images)
The actress and producer, who will star in the comedy films Overboard and All-Star Weekend next year, is a maestro in the kitchen, but can't carry a tune and may have cribbed a few souvenirs from the Desperate Housewives set.
1. If I weren't an actress/director/producer, I'd be: A businesswoman. Metrics are easy for me.
2. Most gracious response to rejection/a career setback: You get a thousand noes before a yes.
3. The three qualities that got me where I am today: Driven, resourceful, and energetic. Those are the magic.
4. Most agonizing career decision I've ever made: Desperate Housewives was on for almost a decade, and it was time to hang it up. It was difficult to end it, but it was also a collective decision.
5. Favorite perk of the job: So many. Keeping clothes from Housewives, restaurant reservations, traveling the world.
6. Worst pitfall of the job: Loss of anonymity and having people not really know you for you.
7. Change I'd like to see in my industry: More women directors and more female leads in roles. We have got to increase women's perspectives and voices.
8. How I made my first dollar: I've been working since I was 13. I'm a worker, but my first job was at the drive-through at Wendy's.
9. Who I admire and why: My mom and my sisters. There are strong women in my family.
10. Last thing I binge-watched: The Affair [Showtime].
11. Book that left a lasting impression on me: The Reason I Jump: The Inner Voice of a Thirteen-Year-Old Boy with Autism, by Naoki Higashida.
12. Song that always makes me cry: "My Heart Will Go On," by Céline Dion.
13. Song that I'd want played at my funeral: Anything from the '80s.
14. First album I bought: It was a Metallica album.
15. If I could live in a foreign country, it would be: Mexico.
16. One thing I'm exceptionally good at: Cooking.
17. One thing I'm epically bad at: Singing.
18. Superhero power I'd want to have: Being invisible.
19. How I clear my mind after a crappy day: Meditation and red wine. Preferably both.
20. The three qualities that I thought I wanted in a partner: Kindness, intelligence, and compassion.
21. The three qualities I now know matter: Kindness, intelligence, and compassion.
22. Relationship advice to my younger self: Fasten your seat belt.
23. Best career advice I've ever gotten: Be prepared and know your stuff.
24. Moment I felt I made it: What is the definition of "made it"? I'm still trying to make it—I haven't reached my full potential yet.
25. Easiest career decision I've ever made: Directing. It was a natural evolution and I knew it.
26. Kind of work I'd do for free: I love directing and being the storyteller. I'd do that for free.
27. What does your career look like in 5 years? I don't plan my life that way. I give 110% to what's right in front of me.
28. Food I'm not ashamed to admit I love: Menudo
29. How would your perfect day begin: With a workout.
30. How would your perfect day end: Getting into bed with my husband.
31. The beauty essential you have to pry out of my cold, dead hands: Moisturizer and sunblock. Moisturizing sunblock!
32. My first kiss: In middle school—I was 14.
33. What my ex-boyfriend(s) would say about me: My college boyfriend would say he knew this would happen because I've always worked hard.
34. Advice to a woman with a broken heart: Time heals all wounds. There are many fish in the sea.
A version of this article appears in the November issue of Marie Claire, on newsstands now.
Celebrity news, beauty, fashion advice, and fascinating features, delivered straight to your inbox!