Rosario Dawson: From Tenement to Tinseltown
Back to her roots.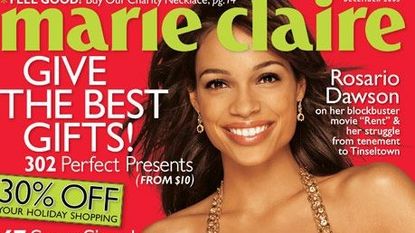 (Image credit: Matthew Rolson)
Marie Claire newsletter
Celebrity news, beauty, fashion advice, and fascinating features, delivered straight to your inbox!
Thank you for signing up to . You will receive a verification email shortly.
There was a problem. Please refresh the page and try again.
For Rosario Dawson, starring in the film version of the blockbuster Broadway show Rent is like returning to her roots. The story tracks the lives of a group of young artists living in a tenement in New York's East Village, trying to define themselves against the backdrop of HIV/AIDS and poverty. Dawson easily related to the struggles of her lead character, Mimi. "You just don't realize how much of your childhood you hold on to until you explore it from a different perspective," she says. "I grew up in a squatter's apartment." At age 6, Dawson moved with her then-22-year-old mother and 2- year-old brother into an abandoned, fire-damaged building ‑- with no electricity or running water. "On the first day of shooting Rent, we were on the corner that I lived on," she says.
Dawson grew up around people with HIV/AIDS, and she knew its alienating effects. But when it touched her beloved "Uncle Frank," an artist friend of her mother's, it really hit home. "I would share my food with Frank," Dawson recalls, "and he would just cry, 'My family and friends never do that with me, because they're afraid of being contaminated.' I was just 7 years old, and I knew I couldn't get AIDS that way."
HIV/AIDS is also the reason that Dawson has come here today, to Pony Power of New Jersey @ Three Sisters Farm, where she and several teenagers are spending the day horseback riding. Reggie, Joslin, Anthony and Janelle are all affected by HIV/AIDS in some personal way ‑- law prevents us from detailing specifically ‑- and although their stories differ, the kids share a bond. Dawson has come to Pony Power with them because it offers a therapeutic riding program. "It gets people in touch with their bodies through relaxing, warm, rhythmic movements," explains Dana Spett, who founded the program.
Rosario and Housing Works
The teens who join Dawson at the farm have been brought by Housing Works, a New York-based HIV/AIDS housing-services organization, and as soon as Dawson hears this, her eyes well up. "When I was growing up, my mom worked at Housing Works, fixing up apartments that would get rented out to AIDS-affected families," she says. "She'd find out before the families moved in what their favorite colors were and try to [paint and] make it homey for them. So often, she'd come home crying because she would have just given a place to someone, and [then] they would die. Then she'd clean it out and repaint it for someone else. It was really hard having that type of mortality around all the time." But Dawson's mood brightens at another memory: She picked up her first fancy dress, a green-velvet number, from a Housing Works thrift shop. "I kept that dress for a very, very long time," she says. "I might even still have it."
Dawson is now straddling her honey-hued horse, Allegro, with whom she seems positively smitten: "For me, being on an animal out in nature, it just makes sense somehow." She slips her feet into the stirrups: "When you're on a horse, you feel totally connected and have a totally different worldview." Dawson glances around at the kids lined up in the riding ring. Reggie and Janelle are nervous, but Dawson instructs them to talk to their horses and stroke their manes. She gives Joslin a knowing, "can you believe where we are?" look, and the two burst into giggles. As the group moves around the ring, Dawson compliments the kids on their form and asks them what books they read, what music they listen to. She is making a connection, and it's not just with the horse. Meanwhile, the teens are thrilled to be in the presence of a real Hollywood celebrity.
Journey to Fame
Dawson's journey to fame began by accident at age 15, while she was sitting on the front stoop of her apartment building. She was talking with a bunch of friends when director Larry Clark, in the neighborhood to scout locations, spotted her ‑- and cast her as the dirty-talking Ruby in his boundary-busting film about teenagers and sex, Kids. "It's not like my mom wasn't aware," Dawson says of her raw portrayal in the film. "My mother got pregnant with me when she was 15. The only thing she didn't want me to do on-screen was smoke a cigarette." More films followed, including Spike Lee's He Got Game, Ed Burns's Sidewalks of New York and Ethan Hawke's Chelsea Walls.
Given that Dawson is Puerto Rican and Afro-Cuban on her mother's side and Irish and Native American on her father's (her parents are divorced), one might wonder whether race has been an issue when it comes to landing roles. "Sometimes there's resistance, sometimes there isn't," says Dawson. "It's interesting to see what kinds of scripts I'm sent, what directors think I can pull off. When I got the role of Roxane in Alexander, some people got really upset, like, 'Why did they hire a black girl?' Meanwhile, my friend who is Afghani said, 'You look just like my family, so I don't understand what people are so upset about.' Sometimes people say weird things, like, 'I don't understand why she just doesn't say she's black ‑- Puerto Ricans aren't that brown!'" Dawson sighs. "[Race] wasn't an issue for me until I got older and it became an issue for other people." She credits her family for giving her a deeply rooted sense of self-confidence. "My grandparents and my mom are very powerful people in terms of their values and self-worth," she says. "I've never been told any reason why I couldn't do anything I wanted."
Raising Consciousness About HIV/AIDS
It's now midday at the farm, and Dawson's group has been riding all morning. Tired and dusty, they dismount and lead their horses back to the stable. Spett's squad of volunteers has set out platters of sandwiches, bowls of fruit and a mound of assorted cookies. Sitting around a table shaded by oak trees, the group eats and reflects on their time in the saddle.
Talk jumps to the movies, to school, to family and friends. Dawson asks the kids what they do in the Housing Works "Summer Youth and Enrichment" program they participate in. "You take a test about everything there is to know about AIDS," explains Joslin, "and if you pass, then you become a peer educator and go to schools and community centers to talk to kids your age about AIDS." Joslin is proud of the influence the program gives her and the responsibility that comes with it. Although "abstinence only" programs have risen in prominence lately, no one at the table thinks they're particularly effective. "Kids are having sex," stresses Anthony, "so if you don't give them information, they don't know how to protect themselves. When I told one of my friends you can get AIDS from oral sex, he was shocked. He was like, 'What?'"
Dawson hopes Rent will raise consciousness about HIV/AIDS and prompt everyone ‑- from kids to adults ‑- to talk about the disease. "I really want this movie to reach as many people as possible," she says, "because it features people who aren't normal protagonists, like transsexuals and people who are HIV-positive. You care for them because their humanity shines through."
Suddenly, Dawson's cell phone starts playing the Chaka Khan song "Ain't Nobody." She silences it, then smiles. "Ain't Nobody," it turns out, is the personal ring tone assigned to her boyfriend of 16 months, Jason Lewis. "We met through a friend and went on a double date to see Eternal Sunshine of the Spotless Mind," recalls Dawson of Lewis, the hunky actor who played Samantha's boy toy Smith Jarrod on Sex and the City. "From the day we met, it's just been perfect. He's become my best friend, and we're so supportive of each other. He's wonderful."
How Horses Provide HIV/AIDS Therapy
Dawson first learned of the healing power of horseback riding through her friend Chloe D, who is the founder of the Equi-Aid Project, a Manhattan-based riding program that specifically targets children who are infected with or affected by HIV/AIDS as well as other at-risk youth. "The kids we work with often have no control in their homes," explains Chloe. "Riding allows them to actually have some power." For information on both Pony Power and Equi-Aid, go to www.ponypowernj.com (opens in new tab); for information on Housing Works, go to www.housingworks.org (opens in new tab).