The Kardashians Still Call Caitlyn Jenner by Her Former Name
"We've been told that's completely fine."
It's been an emotional journey for the Kardashians as the world has watched the famous family experience the transition of their dad Bruce into Caitlyn Jenner. The highly-publicized experience unfolded on Keeping Up With the Kardashians, and now continues to develop on Jenner's new series I Am Cait, with each member of the family dealing with the life-changing events in his or her own way.
Though she has expressed full support for her stepdad, Khloé Kardashian has been among the most vocal about her issues with the way Caitlyn Jenner shared the details of her decision to transition, and her struggles to adjust to this new normal.
In an interview with Australia's The Project, Khloé revealed that certain changes are taking some extra time to get used to.
"We don't like to say that Bruce is gone, per se. My sisters and I, we will call Caitlyn 'Bruce' and we've been told that's completely fine," Khloé said. "Because on the phone, when she calls me, it's the same voice as Bruce. And if I'm not physically with her, it's hard to remember in the moment that I'm talking to Caitlyn, if that makes sense."
In related recent news, the latest sneak peek of I Am Cait we see Kim Kardashian give Caitlyn Jenner voice lessons to help her sound more feminine on the phone.
Celebrity news, beauty, fashion advice, and fascinating features, delivered straight to your inbox!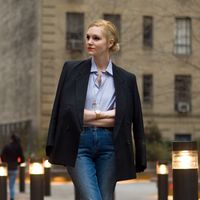 I am an experienced editor, writer, and creative strategist, specializing in fashion, beauty, and lifestyle content for digital media outlets, as well as video and social platforms. While I currently operate as a freelance contributor/consultant, with such clients as The Zoe Report, my 10+-year background in the industry was cultivated at the dot-coms of elite publications, including Harper's BAZAAR, ELLE, and Marie Claire.