The Getaway: SZA Gives Us Her Guide to Hawaii
The Grammy-nominated singer-songwriter shares the best poke bowls and swimming holes off the beaten path in Oahu and Kauai.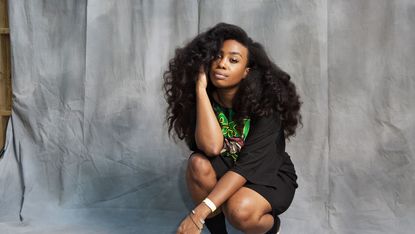 (Image credit: Getty Images)
Make Waves
Local FlairSet to JetWanderlustPack It Up
"I'm a water sign [Scorpio], so I love the ocean. The first thing I do on vacation is find the beach and roll a joint. Or eat! I'm a food freak. Diners, Drive-Ins and Dives is my show. There is a family-run poke restaurant in Oahu called The Poke Stop. This young dude goes in the ocean each morning, snatchin' up octopus, tuna, and all kinds of stuff, then cuts it up fresh to serve it. I went every day."
Local Flair
"I love to pick up beaded and woven things, handmade trinkets that show off the community's craftsmanship."
Set to Jet
"What do you really need? Face wash and something to throw over your butt! This was the kind of trip to get lost in the jungle and maybe not make it home."
Wanderlust
"Hawaii has very few land predators, so you can hike anywhere. My favorite thing to do is roam—walk for hours and see what I run into. Looking for specifics can keep you from finding the really cool things."
The Kalihi Ice Ponds are a local secret off the highway—10 steps in, there's a tiny trail that leads to a crazy double waterfall. It's the first time I've seen one. There are so many promises of waterfalls at home in L.A., but it's dry as hell.
At Hanalei Bay, I'd Jet Ski or swim my heart out, then pass out for a nap. I tried paddleboarding on the North Shore, but the water was too choppy. Girl, it bounced back so many times! Just popping me in the rib over and over. I'd only do it again on still water.
Pack It Up
1. SUNGLASSES $400, Chloé; chloe.com.
2. TOP $1,315, The Elder Statesman; net-a-porter.com.
3. BAG $495, Longchamp; longchamp.com.
4. SHORTS price upon request, Zadig & Voltaire; zadig-et-voltaire.com.
5. SANDALS $275, Marc Jacobs; (212) 343-1490.
6. BRA TOP price upon request, Zadig & Voltaire; zadig-et-voltaire.com.
Marie Claire email subscribers get intel on fashion and beauty trends, hot-off-the-press celebrity news, and more. Sign up here.