Justin Theroux Did *Not* Enjoy Planning His Wedding
Sorry, Jen?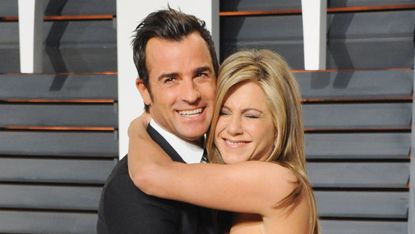 (Image credit: Getty Images)
Wedding planning is stressful enough as it is, especially when you're a celebrity whose every move is immediately in the public eye. Make it a *secret* celebrity wedding and it's pretty much guaranteed that you cortisol levels will skyrocket.
At least, that's how Justin Theroux looks back on his pre-wedding prep with Jennifer Aniston. Theroux and Aniston tied the knot this past August in a very private, hush-hush way. Their nuptials were not announced or publicized and they kept as many details as possible on the DL—which is a big challenge when everyone is speculating and snooping.
"I wouldn't say it was fun to plan," Theroux admitted to the Daily News. "Part of the fun of planning a wedding is telling people and we had to keep it under wraps."
Now that the Hollywood newlyweds are officially hitched, the pressure has subsided and they're just enjoying the honeymoon phase.
"I noticed it almost immediately," Theroux explained. "It was like your blood pressure goes down two PSI. It's not like life is completely different. It's a beautiful thing."
Let's hope they get to enjoy the excitement of married life a bit more than they did with their wedding planning.
I am an experienced editor, writer, and creative strategist, specializing in fashion, beauty, and lifestyle content for digital media outlets, as well as video and social platforms. While I currently operate as a freelance contributor/consultant, with such clients as The Zoe Report, my 10+-year background in the industry was cultivated at the dot-coms of elite publications, including Harper's BAZAAR, ELLE, and Marie Claire.