20 Things You Never Knew About Making 'The Flash'—Straight from Candice Patton
The story behind Iris West's wedding dress is 😍.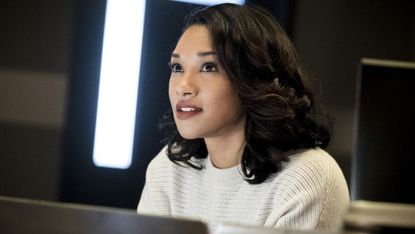 (Image credit: The CW)
The Flash is taking a two week break after tonight's episode (we're already in mourning), but feel free to spend the next 14 days completely nerding-out over trivia from the show—straight from Candice Patton, AKA Iris West. Here, the star shares 20 things you never knew about playing her character.
1. Iris West, for all her strengths is a terrible cook. I'm not terrible, but it's definitely not a hobby of mine, let's just say that.
2. She is also a terrible gift-giver, as am I.
3. I booked this role on February 4th, 2014. Four years ago—time has flown!
4. I get recognized more in California than in Vancouver, where we shoot 9 months out of the year.
5. I love the more light-hearted and fun side of my character.
6. Iris will finally step into some leather this season and suit up. The details on how that happens...well, you'll have to wait and see.
7. I love Star Labs leader Iris West, but can't wait to see her jump back into journalism.
8. I've had serious moments of wanting to quit the business before I booked The Flash.
9. I think I'd like to try my hand at directing some point in the future.
10. I'm incredibly honored by the impact Iris West has had on so many women and especially women of color. I meet so many women around the world who are empowered by seeing a black leading female on a show like The Flash.
11. Iris and I both love coffee. Every morning I start with Bulletproof coffee which is coffee blended with MCT oil and grass-fed butter.
12. Getting to do anything involving action is always a favorite for me.
13. My dog Zoë comes with me to set every day and stays in my trailer. She is a huge source of calm and relief on days when I can feel overwhelmed and anxious. We actually have four dogs running around between all of us actors. It's a very dog-friendly environment!
14. Iris may have her stuff together, but I find my mind is pulled in so many different directions at work. And I am notorious for leaving items behind and losing them all together. I've even lost the Tile tracker to track my lost items.
15. Iris has a pretty enviable wardrobe, and I wish I could have a lot of her clothes. I'm not a huge fan of shopping and sometimes I just buy stuff Iris has worn, because I already know it will look cute on me.
16. This role and experience has taught me so much. It's hard to put into words, but I've watched myself grow in confidence and strength over the last four years by being in this position. Thank you, Iris West-Allen.
17. Iris is a married woman now. And in all of our scripts and daily call sheets, the character is now listed as "Iris West-Allen."
18. I was flown out to Los Angeles to Monique Lhuillier store to pick a wedding dress for Iris. It was one of the cooler moments on the show, and we ended up with the first dress I tried on.
19. In my chemistry test with Grant Gustin I remember tickling him. I'm not really sure why I did that, probably nervousness to be honest, but I definitely did.
20. I still keep a saved text message from Geoff Johns over at DC, who texted me after they chose me for Iris saying, "I'm so glad we got you as Iris West." I'll probably keep that forever.
RELATED STORIES
Celebrity news, beauty, fashion advice, and fascinating features, delivered straight to your inbox!