Sarah Jessica Parker: Putting on the Spritz
Letting her genius out of the bottle.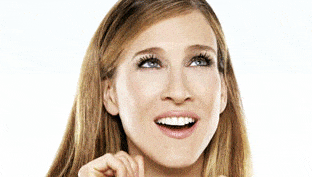 (Image credit: James White)
I wore black on my wedding day, and I really regret that," Sarah Jessica Parker says. "I was too embarrassed to get married in white, and both Matthew [Broderick, her husband of nine years] and I were reluctant to have people pay so much attention to us. Which is ridiculous, because that's when you can relish the attention, when it's natural. We treated it like it was a big party on a Monday night, and I regret it."
Parker is someone who sweats the details — who has a lot invested in getting things right. Describing the occasional challenges of being a wife and the mother of a 3-year-old son, she says, "I fall short of being good at both, not infrequently, but I assume it's like golf: You can never master it, and you're in competition with yourself. With my son, it's constantly learning, failing, triumphing, being befuddled and totally in love." She's been a celebrity since she was 14 years old, starring first in Annie on Broadway, and later in movies like L.A. Story and Honeymoon in Vegas, before finding herself enshrined on America's TiVos as the fashionably conflicted girl-about-town Carrie Bradshaw on HBO's Sex and the City. Of course, once a gig like that instantly bumps you up to icon-o-class, finding a worthy next act isn't always easy. But Parker, now 41, knew it when she...well, smelled it.
"I always, always, always thought about creating my own scent," she says. "After 20 years of having it in my head, I got brave enough to talk to my agent, Peter Hess, about it." After feeling out the market, Parker finally found a partner: Fragrance company Coty Prestige agreed to work with her — but only after extensive research had been conducted to "validate her appeal outside the U.S.," says Carlos Timiraos, VP of marketing. "You have to make sure the star is global. If you choose the wrong celebrity, you'll burn millions of dollars for no return. A launch can cost $2 to $3 million at a minimum, and annual advertising and marketing costs tens of millions. In the end, it's all a big crapshoot."
Along with Coty Prestige senior VP Catherine Walsh, Parker assembled a team that would develop her dream scent, called Lovely, which launched in August 2005. Then, in the heartless parlance of the business, it soon became time to "extend the brand."
Wearing minimal makeup and dressed in a distinctly un-Carrie-like simple blue shirt and casual slacks, Parker walks into a conference room at the Manhattan headquarters of International Flavors and Fragrances (IFF). There, Coty Prestige execs await, along with Laurent le Guernec and Clement Gavarry, the master perfumers who built Lovely from the molecule up. Eventually, Parker claps the meeting to order. "OK! What are we doing today?" she says. First, an update on Lovely's financials. Parker bites her lip rather fetchingly. (Although she describes herself as being in no way as "fragile" as Carrie, many affectations are the same.) "It's not about launching big" Timiraos explains. "It's about staying in the game. And it's amazing that we've stayed top-10 in this environment, through launches from J.Lo and Ralph Lauren and Calvin." Parker says a quiet little "thank you" to the ceiling.
Parker's partners know she'll stop at nothing to make this product a success. "When we launched," says Walsh, "we started to send her sales reports weekly, by store. She would read them, and if we weren't in the top three names, she'd e-mail me and ask, 'Is there something I need to do? Do I need to go there?' I mean, who does that? Even I don't do that! Carlos and I just looked at each other and said, 'She's really going to go to Macy's in Dadeland, FL, because we're number nine there?' She just puts you to shame." Such motivation must count for something: When Lovely launched, projected annual sales were $30 million; now, a year later, that figure has doubled.
Talk at the meeting turns to innovation and how to take Lovely to another level. Walsh wants something "technologically novel, something the market hasn't yet seen," to which Parker adds her own version of "Think pink!": "It's about skin, skin, skin." She imagines a scent that's delivered via something other than the usual alcohol — something applied directly to the nape of the neck, something that just glides on. But what? "Film formers" are discussed — silken moisturizing gels that delicately coat the skin, as opposed to evaporating, like a traditional perfume. Steven Semoff, VP of technical services at IFF, breaks out some gels and serums. "Now we're going to try on some things," he says. "You got skin? Let's play!" Parker grins broadly — he's speaking her language. She moves her chair over to his and holds out her arm. First she tries on glycerine, then she samples propylene glycol. And when they reach silicone polymer 1400, a clear, velvety substance, she falls in love. What Parker likes most about the mad-scientist-sounding substance is that a little goes a long way. "You have no idea how good you are, making me focus on chemistry," she jokes. "My chem career — not good. When you start using words like 'beaker,' I get a flood of bad memories!"
Celebrity news, beauty, fashion advice, and fascinating features, delivered straight to your inbox!