Tina Fey and Amy Poehler Bring Back Sarah Palin and Hillary Clinton on 'SNL'
A classic Christmas gift to us all.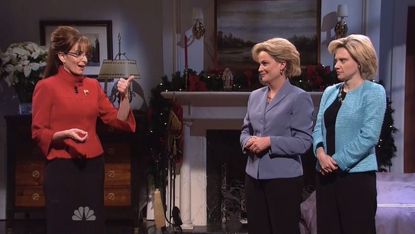 (Image credit: YouTube)
What could be better than Kate McKinnon as Hillary Clinton? Kate McKinnon AND Amy Poehler as Hillary Clinton. Plus, Tina Fey as Sarah Palin to really round out the throwback.
Fey and Poehler reprised their classic roles in last night's episode of Saturday Night Live for a skit titled "A Hillary Christmas." 2008 Hillary Clinton (Poehler) appears to 2015 Hillary Clinton (McKinnon) in a Christmas Eve dream to catch up on the state of affairs since she originally ran for president seven years ago.
Poehler's Clinton compliments McKinnon's Clinton's haircut, warns against her getting too comfortable: "That's actually why I'm here, Hillary, to warn you. On Christmas Eve 2007 I was cocky too, and then someone named Barack Obama stumbled out of a soup kitchen with a basketball and a cigarette and stole my life." Also, be careful with those emails, HC '08.
HILLARY '08: I need to get back to 2008 and send a bunch of emails...HILLARY '15: NO.https://t.co/tciPqjYvn7 #SNL pic.twitter.com/VDcnA1iYbcDecember 20, 2015
See more
McKinnon's Clinton assures her things are not as they once were, dropping the bomb about who she's up against that causes Poehler's Clinton to faint from shock. (We would've done the same if you'd told 2008 us that Donald Trump would be running for president in the next election.)
Enter: Fey as her Alaskan-accented alter ego, Sarah Palin, offering up her own brand of cloudy, roundabout advice. "Well jeez, I should be the one offering you advice because in 2008 I got a heck of a lot closer to the White House than this gal did," she jabs at Poehler's Clinton. (Them's fightin' words.) "Here's my advice: You gotta do what you believe in your spirit, but also America, but not teachers and their fat liberal books, but also and even why worry about—" And that's about where we lost her…
Watch the full skit in all its nostalgic glory and political parody below:
I am an experienced editor, writer, and creative strategist, specializing in fashion, beauty, and lifestyle content for digital media outlets, as well as video and social platforms. While I currently operate as a freelance contributor/consultant, with such clients as The Zoe Report, my 10+-year background in the industry was cultivated at the dot-coms of elite publications, including Harper's BAZAAR, ELLE, and Marie Claire.