John Legend Has His Dad Jokes at the Ready
Even though he agrees that Chrissy's the funny one.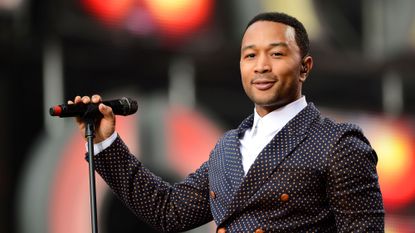 (Image credit: Getty Images)
John Legend sits in a leather chair under dim lighting, with the Manhattan skyline lit up in the background. "They've provided mood lighting for us," he jokes, which is the moment I realize all our ideas about John Legend are true: He's charming AF. (Chrissy, I get it.)
We're here thanks to the Axe Collective, a partnership that hopes to highlight emerging musicians and filmmakers—a project that Legend is eager to share. "This year the focus is on creativity, individuality and finding the magic," he says. "We want to find artists that can express themselves with individuality and creativity and give them an opportunity to be seen and heard by more people."
We talked about mentorship, but also about him becoming a dad, Chrissy's penchant for Bravo shows, and how some of his friends use a song he wrote about morning sex for a lullaby. (Yes, he thinks it's weird, too.)
MC: I know it's a pretty exciting time in your life, what was your first reaction to finding out that you were gonna be a dad?
JL: Oh, we were excited. We've been trying for awhile and we got the call from my doctor. It was a pretty thrilling. It was euphoric.
MC: Do you remember what you said to Chrissy?
JL: I don't remember our words because Chrissy had just done the Vogue Thailand shoot in Malibu and we knew that we were going to hear that day one way or another because we had done the test earlier in the day. We were driving down to get some food and meet some of our friends for dinner and we called them to try to find out what the news was and it was good news and very exciting.
MC: That's awesome. And now she made a joke that she was going to call the kid Chubz. Have you thrown around any baby names?
JL: We were always throwing them around but we don't even want to talk about them in public because they change every few days.
MC: Do you like family names?
JL: We've considered everything. Some of them have sentimental value for some reason or another, some of them just sound beautiful. Some of them are because of people that are meaningful to us in our lives. So it's hard to say which one we'll pick. Sometimes they say you have to see the child before you decide. So maybe when we see her we'll make a last-second decision.
MC: That's a good strategy. So in terms of pregnancy cravings—and with her cookbook coming out—have Chrissy's food tendencies changed?
JL: I think she likes sweets more than she used to. More savory before and now she's in for a good dessert.
MC: I did see the cheese wheel—which is very cool and I really want one.
JL: Yeah [laughs], that was before she was pregnant she wanted that. She's been wanting that for several years. Ever since we went to a restaurant in St. Barts, an Italian place in St. Barts, that did that and served the pasta from it she's like "I want one of those." I didn't know you could just get them—I just ordered it on William-Sonoma.
MC: Oh my gosh, easy! You guys seem to always be cooking great food, is there any dish that you especially love to make?
JL: I love to make fried chicken. Chrissy makes a lot more. I make breakfast most mornings, but other than that Chrissy's in charge.
MC: Chrissy's in charge of the kitchen. Got it. Now, there was an Instagram recently of you serenading your friend with the theme song of Vanderpump Rules, which is pretty funny and quite enjoyable. Is there any other kind of TV show that you're addicting to or that you and Chrissy love to watch?
JL: Well Chrissy loves to watch every show on Bravo. Every single one. Which means by extension I end up watching most of them too.
MC: Good man.
JL: I make her watch football too so I guess it's a fair trade.
MC: Now, in terms of the new baby coming, is there any lullaby or song that you probably will end up playing more often than not? Anything you enjoyed listening to growing up?
JL: Oh, I don't know yet. It's funny because some of my friends use one of my songs, "Good Morning" from my Evolver album. But, it's about sex, so it's kind of weird. Like, singing it to your baby but the chorus feels very sweet and lullaby-y. If you listen to the rest of the lyrics, it's like about morning sex. But I will, I'm trying to write the right song for my baby so I'll have the right lullaby to sing.
MC: Gotcha. And now that you're going to become a dad, I think the next step to *officially* being in the Dad Group is by having dad jokes...
JL: Yeah, Chrissy says I already have them.
MC: I was about to say, do you have any bad jokes that you love?
JL: I don't have any reciting jokes. I just try to be funny but it's very bad. Because Chrissy is the funny one between us so whenever I make a corny joke she just calls it a bad joke.
MC: Now, switching gears, you also you went on record very early on as being a feminist.
JL: Yeah, that's true.
MC: And I feel like in recent years, that's really come under scrutiny from certain people not wanting to identify with that term and that kind of thing. What's your take on using that word and identifying as a feminist?
JL: I just think it means that you believe in equality for women and men. And that means that, not only do you believe in it kind of in the abstract but you actively think people should seek it when it comes to the way you hire people, the way you compensate people, the way you treat women and men in professional settings and school, whatever the case, giving them equal opportunities without disadvantaging them because of their, for the fact that they're women. And to me that's what it means for me to be a feminist. I don't think it's that controversial.
MC: And in terms of your new projects, what are you working on now that you're excited about?
JL: I'm working on my next album and pretty deep in the process and very excited about that. And, you know, we just moved into a new house so that's a project too.
MC: Yes, Rihanna's. Rihanna's old house?
JL: Well, she had lived there a couple owner's ago, she had owned it a couple owner's ago. But it's a beautiful place and we're excited. We're doing a bit of remodeling so that's a thing. And then, um, my production company Get Lifted Film Company, we're producing a new series called Underground coming out in March on WGN America and we have a few other projects that we're producing that we're excited about too. It's gonna be a busy fun year. Probably put the album out later in the year and go on tour in the fall.
MC: Very cool. And in terms of your production company, is there any kind of theme of what kind of projects you work on to produce?
JL: We want to do things that are interesting, great storytelling, some of it is gonna be more fun and funny, some of it is more serious and talking about interesting issues that we think are provocative and interesting to us. Kind of on a more political level. But, you know, just things that we find interesting that we think stories that need to be told.
Enter the Axe Collective "Find Your Magic" contest, where you can be mentored by John Legend and showcase your talent in a festival. Here's how:
[youtube ]https://www.youtube.com/watch?v=n58X1ZmU-d8&feature=youtu.be[/youtube]
Follow Marie Claire on Instagram for the latest celeb news, pretty pics, funny stuff, and an insider POV.
Samantha Leal is the Deputy Editor at Well+Good, where she spends most of her day thinking of new ideas across platforms, bringing on new writers, overseeing the day-to-day of the website, and working with the awesome team to produce the best stories and packages. Before W+G, she was the Senior Web Editor for Marie Claire and the Deputy Editor for Latina.com, with bylines all over the internet. Graduating from the Medill School of Journalism at Northwestern University with a minor in African history, she's written everything from travel guides to political op-eds to wine explainers (currently enrolled in the WSET program) to celebrity profiles. Find her online pretty much everywhere @samanthajoleal.