Rashida Jones Lives by a "No Assholes" Policy, Thank You Very Much
She also hears the siren call of pasta.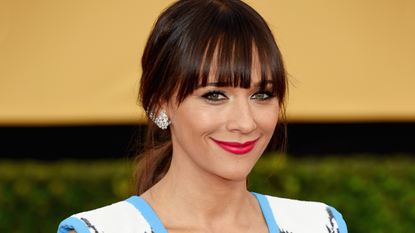 (Image credit: Getty Images)
The star of TBS' police-procedural spoof Angie Tribeca answers our rapid-fire questions.
1. If I weren't an actress/producer I'd be: A novelist or a backup dancer.
2. Best career advice I've gotten: Mike Nichols told me to live and work by the credo "No assholes" when it's within my control (sometimes it's not). I'm all about this.
3. The three qualities that got me where I am today: Thick skin, honesty, luck.
4. The most agonizing career decision I've ever made: I dropped out of a pilot last-minute to sign an NBC holding deal for a show that eventually would become Parks and Recreation. As an actress, I had never been in a position to make that kind of choice, and I felt terrible for leaving the creators high and dry. Ultimately, though, I had to trust my gut.
5. The easiest decision career I've ever made: Saying yes to Angie Tribeca. Steve and Nancy Carell wrote a laugh-out-loud script, and Airplane! is one of my favorite movies ever. So getting the chance to star in a show in that genre was a dream come true and a real no-brainer.
6. What kind of work would you do for free? Sing Christmas carols.
7. Favorite perk of the job: Free food all the time.
8. Worst pitfall of the job: Free food all the time.
9. Change you'd like to see in your industry? Parity for women. It would be great if the wage gap was just a nonissue in a couple of years. It's totally possible—it'll just take a few trailblazers at the studios and the agencies.
10. How did you make your first dollar? I got $20 for finding the afikomen at a seder when I was 7.
11. What's the last thing you binge-watched? Making a Murderer on Netflix. Fascinating characters and a bleak look into corrupt small-town politics.
12. What book left a lasting impression on you? Recently, Ta-Nehisi Coates' Between the World and Me. It is an elegant, brutal, and necessary portrait of what it's like to be a black man in the United States. He is an exquisite writer.
13. What song always makes you cry? Bonnie Raitt's "I Can't Make You Love Me." The notion that you know a relationship is over but you just want to savor that one last moment before you let go is so heartbreaking.
14. What movie had the greatest ending? Casablanca. I love romances when the two leads don't end up together. Sometimes sacrifice is the ultimate expression of love.
15. If you could live in a foreign country, where would it be? Italy. I dream about the food, the landscape, and the pace of life. PASTA.
16. One thing I'm exceptionally good at: Multitasking.
17. One thing I'm epically bad at: Riding a bike.
18. The beauty essential you'd have to pry out of my cold, dead hands: Lucas' Papaw.
19. My first kiss: Eric Biddle in the ninth grade. I giggled the whole time.
20. Advice to a woman with a broken heart: Life is filled with heartbreak. People who experience and process pain are far more interesting. Hold on, feel every feeling, and remember what's funny about it.
21. Advice to my younger self: Learn more languages and instruments, Lazy!
This article appears in the March issue of Marie Claire, on newsstands now.
Celebrity news, beauty, fashion advice, and fascinating features, delivered straight to your inbox!