Chrissy Teigen Causes Snapchat to Lose $100M With One Single Tweet
Financial expert John Hagensen tells MarieClaire.com how celebrities are hurting the social media app.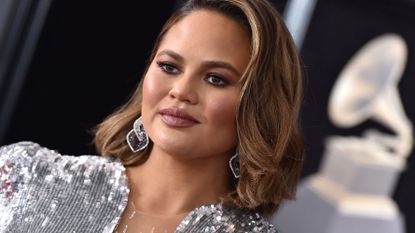 (Image credit: Getty Images)
Chrissy Teigen is the latest celebrity to announce she's over Snapchat, following in the footsteps of Rihanna and Kylie Jenner. According to financial expert John Hagensen, negative feedback from high-profiled names with legions of fans could result in big economic blows for the company.
"'Influencers,' as they are often referred to, drive much of the growth of social media platforms, and this is directly why their endorsements, or lack thereof, significantly impact stock prices," Hagensen, who is the the founder and managing director of Keystone Wealth Partners, tells MarieClaire.com.
On Saturday, Tiegen shared with her almost 10 million Twitter followers in the tweet below that she was fed up with the messaging app due to its latest redesign and insensitive ad about Rihanna. On Monday, according to Variety.com, Snap shares opened up 0.6%, at $16.44 per share. However, they quickly fell as much as 1.5% soon after. Hagensen adds that the stock went down as much as 2.8%, but ended down only .7% for the day, which totals about $100 million.
I stopped using snap. The update, the constant complaints of people not being able to find me, plus the Rihanna poll...no buenoMarch 24, 2018
See more
"I stopped using snap," Teigen announced over the weekend. "The update, the constant complaints of people not being able to find me, plus the Rihanna poll...no bueno."

The Rihanna poll Teigen is referring to is an offensive ad that many users saw pop up on their feeds around early March, which posed the question "Would you rather slap Rihanna or punch Chris Brown?" The poll seemed to make light of the former couple's domestic violence incident from February 2009.
Is it just me, or is this ad that popped up on my Snapchat extremely tone deaf? Like what were they thinking with this? pic.twitter.com/7kP9RHcgNGMarch 12, 2018
See more
Amidst the backlash from that advertisement, Rihanna called out Snapchat herself in the post below, which caused the company's shares to fall 5%, Reuters reported.
If she tells me to delete snapchat I'll do it @rihanna pic.twitter.com/yUW1UOzNc2March 15, 2018
See more
In late February, Kylie Jenner tweeting that she doesn't use the app anymore caused its stock to lose $1.5 billion in value.

However, the stock market changes all the time, so do these share losses reflect long-term effects? Hagensen tells MarieClaire.com that the effects can be temporary, but once it starts to snowball (like when three major celebrities oppose the app), the decline can be catastrophic.
"[The losses] are often only temporary, until they aren't," Hagensen explains. "What I mean, is that if that starts a trend and the snowball starts running down the hill, [the effects] can be very lasting. Anyone remember Myspace?"

Hagensen also recommends that investors look into alternate forms of investment rather than relying solely on social media apps that are often dependent upon celebrity endorsement for financial gain.
"As an investor, this is exactly why diversification is so critical," he says. "How can anyone predict the next Jenner tweet, and who would want their life's savings dependent on the next Kardashian headline? Buy index funds and ETFs and rebalance your account. This way you can get back to enjoying reality TV for entertainment value rather than your retirement account value."
Celebrity news, beauty, fashion advice, and fascinating features, delivered straight to your inbox!
I'm Eileen, the digital news reporter at Hearst Digital Media. As a member of the newsroom, I report on a wide range of news, including entertainment, politics and lifestyle. I also cover red carpet events for over 20 of Hearst's magazine brands. I previously held positions at CNN, Facebook and MTV, where I worked as a digital producer, writer and on-camera host. Fun facts: I'm fluent in Spanish, a BU alum, and love fashion and travel.