Why Aren't Prince George and Princess Charlotte at Easter Service With the Royal Family?
The royal babies were not with their parents at this morning's church services.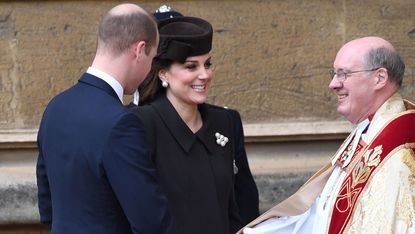 (Image credit: Getty Images)
If you, like me, woke up this morning excited to see Prince George and Princess Charlotte decked out in their Easter finest, then you're in for some sad news: The royal babies did not attend church services with their parents this morning.
The Duke and Duchess of Cambridge arrived solo at St George's Chapel in Windsor, England (yes, the same spot Prince Harry and Meghan Markle will marry on May 19). Kate Middleton wore a dark brown coat, matching hat, and nude heels. Prince William also wore clothes.
Kate is technically on maternity leave, so this will likely be the last time we see her before she gives birth to the third royal baby. She's due sometime in April.
But back to the important stuff: Why didn't we get to see royal cheeks this morning?!
Well, it turns out the youngest members of the royal family don't always attend Easter service with the Queen. Prince George and Princess Charlotte have never visited St. George's Chapel with their parents on Easter. In fact, the only time we've since Prince George on Easter was in 2014 when he was in Australia on an Australia-New Zealand tour with his parents. On that day, he visited the zoo.
It was the best.
George and Charlotte weren't the only members of the royal family to skip Easter service—Prince Harry and Meghan Markle were also absent this morning. Prince Harry technically isn't required to attend (last year he flew all the way to Toronto to spend Easter break with his then-girlfriend, now-fiancée) and hasn't since he was a child. He and Markle are rumored to be spending the day in private—whether that means they'll join the royal family this afternoon or do their own thing is yet to be seen.
Prince Philip also didn't accompany the Queen this morning. The 96-year-old canceled an appearance on Thursday afternoon as well, sparking concerns from the public about his health. A source told People Philip was experiencing "trouble with his hip."
But, not to worry, Prince George, Princess Charlotte, Prince Harry, and Meghan Markle are all guaranteed to be at the church on May 19. So at least we have that to look forward to.
For now, please enjoy this photo of Prince Harry, age 4, on Easter Sunday: