Kylie Jenner's New Green Lipstick Is Getting Savagely Dragged on Twitter
"I'm sorry, but I'm not paying $29 for diarrhea lips."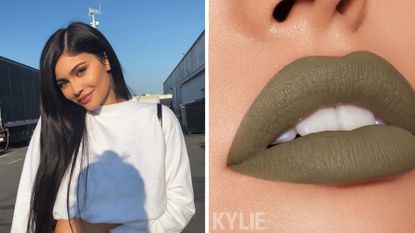 (Image credit: Instagram)
Yesterday, beauty mogul Kylie Jenner announced she was adding four new colors to her lip kit collection, and the internet had a lot to say about them—specifically about the army-green shade, named Ironic.
After Kylie Cosmetics shared a video of the new color on Instagram, followers immediately took to the comments section, comparing the moss-green shade to "pea soup" and "Stormi's diaper." Or, as one user put it, "I'm sorry, but I'm not paying $29 for diarrhea lips."
First of all, let's leave the baby out of it. Sure, she may have created an entire new makeup collection inspired by her daughter, but I think it's safe to say that Kylie was simply creating a unique shade that she felt would look good on some—albeit a small, small selection—of people.
But just try convincing Twitter of that.
No offense but are people really looking at that Kylie puke green lip kit and wanting it? Even I can't do it pic.twitter.com/d79xtOgN6dApril 3, 2018
See more
Cannot believe kylie is releasing a green lip kit n it'll still probably sell thousands of units Jesus ChristApril 3, 2018
See more
Kylie Jenner getting into full mum mode with her new lip kit shade "baby shit green" pic.twitter.com/m3llujDxBQApril 3, 2018
See more
Love it or hate it, the shade is coming for you on April 10 at Kylie Cosmetics. Get ready, folks.
I'm currently working at Dotdash Meredith as the Celeb & Entertainment E-Commerce Lead contributing affiliate content for People.com and InStyle.com. I'm basically like your personal shopper, from writing about that cozy loungewear set you didn't know you needed to keeping tabs on the best sales and deals on the internet. I'm also a pro at finding affordable dupes for celebrity looks and I love to dig into the data to strategize content opportunities.