Rihanna on Dating, Drake, and Being 'Savage'
"'We don't have a friendship now, but we're not enemies either."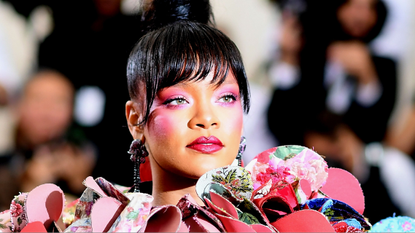 (Image credit: Getty Images)
In a new interview with Vogue, Rihanna is opening up about relationships past (Drake) and present (she's rumored to be dating Saudi businessman Hassan Jameel), the pressures of being a role model, and her career, which reaches far beyond just the music industry, as CEO of a successful beauty and fashion empire and well-respected actress, appearing in the upcoming Ocean's 8. Here, some highlights from the interview:
On her new relationship:
"I used to feel guilty about taking personal time," she says, "but I also think I never met someone who was worth it before."
"Rihanna winces slightly at the mention of the rapper's name before her eyes glaze over with cool indifference. 'The VMAs is such a fan-focused awards show, so having that energy around me, and knowing the people who had received the award in the past, made it feel like a big deal,' she says. 'Waiting through that speech was probably the most uncomfortable part. I don't like too many compliments; I don't like to be put on blast.' When I ask about the current state of their friendship, her attitude is sanguine. 'We don't have a friendship now, but we're not enemies either. It is what it is.'"
On turning 30:
"OK, so now that I'm 30, are there things I'm supposed to do? Should I be worried? Should I be freezing my eggs? What do you do at 30?!"
On the kind of mother she'll be:
"I'm not gonna be able to take my eyes off my kid. I know that already about myself...They're going to have to force me to hire a nanny."
On creating diverse shades for Fenty foundation and seeing her fans' reactions:
"As a black woman, I could not live with myself if I didn't do that...But what I didn't anticipate was the way people would get emotional about finding their complexion on the shelf, that this would be a groundbreaking moment."
On "Savage," her new lingerie line:
"Savage is really about taking complete ownership of how you feel and the choices you make. Basically making sure everybody knows the ball is in your court...As women, we're looked at as the needy ones, the naggy ones, the ones who are going to be heartbroken in a relationship. Savage is just the reverse. And you know, guys don't like getting the cards flipped on them—ever."
On being a role model at such a young age:
"That title was put on me when I was just finding my way, making mistakes in front of the world. I didn't think it was fair...Now I understand the concept, but at that time I was the same age as the girls who were looking up to me. And that's a really hard place to be in as a teenager."
On 'Vanderpump Rules':
"'Tell me who is a badder bitch than Lisa Vanderpump! She's goals AF!' she says, cracking open a gold highlighter called Trophy Wife. 'She's chic but still funny. She likes to be at home with her husband and then goes and handles her business. Maybe there's a couple of thousand Birkins in her closet, but she's still focused. I love that about her.'"
Read the full interview from Vogue's June cover story here.
Celebrity news, beauty, fashion advice, and fascinating features, delivered straight to your inbox!