Tiffany Haddish's Bucket List Includes a Date with Michael B. Jordan and a Fried Chicken Dinner with Michelle Obama
Honestly, same.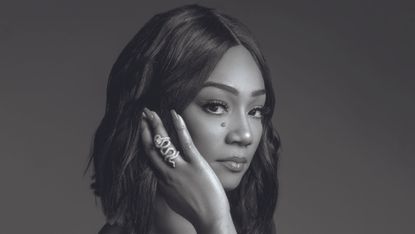 (Image credit: Elton Anderson)
The actress and comedian who stole the spotlight in Girls Trip and host of this month's MTV Movie & TV awards talks sex ed, dancing through heartbreak, and playing Cardi B at her funeral.
1. BEST CAREER ADVICE I'VE GOTTEN: Don't let nobody in your house that ain't got nothing to do. Maybe that's street advice. Show up on time, treat everybody the way you want to be treated, and make sure you get your money before you leave.

2. MOMENT I FELT I'D MADE IT: When I was on The Arsenio Hall Show and I licked his face and he tasted like Ovaltine. I was like, that's success.
3. HOW I MADE MY FIRST DOLLAR: My very first job was babysitting. I'm still really good at babysitting. Kids are always like, "When are we going to go to Miss Tiffany's house again?" I'm like, "Miss Tiffany is busy."
4. FAVORITE PERK OF THE JOB: Doing the job. Performing—that's my favorite perk. To me, being up on stage is…probably the same rush as hard drugs. I love it so much, and it just fills my whole heart up. No matter how tired I am, my soul is awake onstage. Being able to share that energy with the audience is the best feeling in the world.
5. IF I WEREN'T AN ACTRESS AND COMEDIAN AND WRITER, I'D BE: A sex-education teacher, so I could make kids laugh. Kids would laugh and learn valuable life lessons. But not the grapefruit trick—that's college level.
6. THE THREE QUALITIES THAT GOT ME WHERE I AM TODAY: Fearlessness, creativity, and being real.
7. SONG I WANT PLAYED AT MY FUNERAL: A compilation of hip-hop from the '90s and '80s and maybe one Cardi B song. "Little bitch you can't fuck with me…" That funeral would be a straight party. I want people to be celebrating the life I lived, not mourning it.
RELATED STORIES
8. FOOD I'M NOT ASHAMED TO ADMIT I LOVE: Blow Pops wrapped in Jolly Rancher Stix. We call them Saturn pops. And Snickers. Sometimes I like to put the Jolly Rancher inside of a big-ass dill pickle and eat it like that. It's so good. It's sweet and salty. It's delicious.
9. SUPERHERO POWER I WANT TO HAVE: To control people's happiness. If someone do something real bad, I'll take all their happiness away and they would be so depressed. But if somebody is doing good in the world, I just give them all the happiness I can. Let them do more good. It's a beautiful thing, being rewarded with joy.
10. WHAT EVERY WOMAN SHOULD TRY ONCE IN HER LIFETIME: Date an Asian man. That's going to make me hot in Japan. Put that in there. That is funny.
11. IF I COULD LIVE ABROAD, IT WOULD BE IN: Eritrea or Bermuda. Eritrea because that's where my daddy is from and I've got a lot of family there that I'm getting to know, so that would be really cool. And I would be like a princess, and they don't have no GMOs in their food. Bermuda because it's so beautiful and I love how they recycle their rainwater and how kind everybody is to each other.
12. FIRST ALBUM I BOUGHT: The Lady of Rage's Afro Puffs.
13. BOOK THAT LEFT A LASTING IMPRESSION ON ME: The Bible. And that Fifty Shades of Grey left an impression too. The first book I ever finished was Queen: The Story of an American Family, by Alex Haley [and David Stevens]. It's about a black woman trying to fit into a white world and pretending to be something she wasn't and constantly being afraid of getting caught. At the time, I was trying to figure out How do I fit in?
14. ON MY BUCKET LIST: Girl, that bucket list is like a tub. It's a tub list. I want to go to every single country. I want to buy two streets that intersect and call them Tiffany and Haddish, and I want to open a youth center, a job-training center, a mental-health department, and a whole art center there. Then when people say, "Oh my God, how did you learn to play the trumpet?" "Oh, I learned it on Tiffany and Haddish." I want to go on a date with Michael B. Jordan. I want a fried-chicken-and-girls' night with Michelle Obama. There's a lot of things I want to do, girl.
15. ONE THING I AM EXCEPTIONALLY GOOD AT: Dancing.
16. ONE THING I AM EPICALLY BAD AT: Speaking Hebrew, but I still try.
17. HOW I CLEAR MY MIND AFTER A CRAPPY DAY: A Cîroc Peach on the rocks. Or hit a joint and then play one of my motivational YouTube videos and lay down and go to sleep. Or sometimes I like to hit a joint and turn on cartoons from back in the day, like ThunderCats, and I just zone out. I feel like a kid again.
18. MY FIRST KISS: None of your damn business.
19. ADVICE TO A WOMAN WITH A BROKEN HEART: Put on your best dress, make yourself look as beautiful as possible, and let's go dancing. Dancing helps a lot with a broken heart, for me anyways. And then after that, go to a spa. And then if you still need to cry about it or whatever, go ahead and cry…but in the shower by your damn self, and do not complain. Focus on the positive, not the damn negatives.
20. CRAZIEST THING I DID FOR LOVE: See, there you go again, all in my business. You trying to get me incarcerated.
Follow her on Twitter: @TiffanyHaddish
This interview originally appeared in the June 2018 issue of Marie Claire, on newsstands now.
Marie Claire email subscribers get intel on fashion and beauty trends, hot-off-the-press celebrity news, and more. Sign up here.