The Australian Press Is Even More Obsessed with Taylor Swift Than Tom Hiddleston Is
The singer has sparked a frenzy Down Under.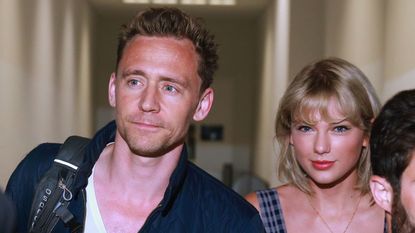 (Image credit: Getty Images)
Hiddleswift headed Down Under this week ahead of Hiddleston filming for Thor: Ragnarok on the Gold Coast. Predictably, mass hysteria ensued. Within an hour of their arrival in Sydney, #Hiddleswift was already trending on Twitter in Australia. But it's not just the Swifties who are getting worked up over the close proximity of the pop star—Aussie TV and media outlets have been fangirling HARD since the couple touched down in Sydney on Thursday. Like, harder than Tom Hiddleston in an 'I ❤️ T.S.' tank top.
News outlets began buzzing about Swift's visit before she'd even arrived, and you can be sure they had their reporters on-location by the time she was wheels-down. Some even live-streamed the momentous event from their "Swifty Cam."
.@TaylorSwift13 has touched down in Australia!!! #9Today pic.twitter.com/hcVElAKGwIJuly 7, 2016
See more
That's right, @TaylorSwift13 is en route to Australia!! #9Today https://t.co/mzZudcza59July 7, 2016
See more
"She looks very happy. Very happy, those two," gushed Sunrise reporter Shaun White over footage of Hiddleswift walking through the Sydney airport. "Well, they look pretty much in love, I tell you what. We've got a bit of a match made in heaven here… It's like a love story, you know, one of her songs."
Tom Hiddleston and Taylor Swift Sydney airport #sun7 https://t.co/ofpoJzz1ENJuly 7, 2016
See more
"Oh I loved it," White went on to candidly reveal to the station's crew. "When I got this assignment this morning, I was actually listening to a few of the Taylor Swift songs, just to feel the vibe a bit."
It was only a short stop-over in Sydney before Swift and Hiddleston continued on to their final destination in Queensland, where another frenzied wave of reporters and fans awaited the hitmaker. Jess Millward covered/live-tweeted Swift's arrival. We have to say, her (and the Australian press in general) use of the nickname 'Tay Tay' is entirely excessive. Maybe it's an Aussie thing?
I'm on Tay Tay duties this morning!!! The superstar and her new bf are on their way to the Gold Coast! Details @TheTodayShowJuly 7, 2016
See more
She's here!!! Taylor and Tom touch down in a very gloomy Sydney. Don't worry @taylorswift13 it's sunny and fine on the Goldy @TheTodayShowJuly 7, 2016
See more
Not long now!! Excitement is building at the airport ahead of @taylorswift13 arrival @TheTodayShow pic.twitter.com/OQ7LjNFQ0sJuly 8, 2016
See more
.@TaylorSwift13 and @twhiddleston have just touched down on the Gold Coast! #9Today https://t.co/HotOeAymO5July 8, 2016
See more
Hiddleswift has arrived! @TheTodayShow @9NewsBrisbane pic.twitter.com/LxbJ71BcIqJuly 8, 2016
See more
First footage of @TaylorSwift13 and @Twhiddleston on the Gold Coast! #9Today https://t.co/04F4BKx57rJuly 8, 2016
See more
Tom Hartley from Channel 7 may have had the best (and most awkward) Swift-related segment. Spurred on by his colleagues during a live cross, Hartley put forth his best efforts to gain the attention of the singer.
"Tay Tay likes her men a bit rough and ready," Weekend Sunrise host Mike Amor told Hartley. "Take your tie off, mate." (Which he did.)
"Look up and yell, mate. Look up and yell!" Amor egged on. Again, an enthusiastic Hartley obliged and shouted out, 'Tay Tay!'
He even showed off a few "Shake it Off" dance moves. This guy is a really good sport…
.@TomHartley_7 had all the moves this morning. A potential addition to @taylorswift13's squad? #sun7 https://t.co/vVP00zb8mwJuly 9, 2016
See more
Then today, the Gold Coast Bulletin put their copywriters' fan status to the test and incorporated Swift's song titles in every headline.
This isn't the first time the Aussie media has gotten a little out of hand when it comes to Taylor Swift. When the singer was there last December for her 1989 Tour, she had to request the overzealous press tone things down a bit.
"Aussie press, I love your enthusiasm but my birthday isn't for 2 weeks and it'll be a quiet one this year," Swift wrote on Instagram. "Let's take it down a notch :)"
Good luck in Oz, Hiddleswift!
Celebrity news, beauty, fashion advice, and fascinating features, delivered straight to your inbox!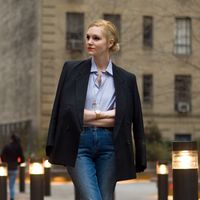 I am an experienced editor, writer, and creative strategist, specializing in fashion, beauty, and lifestyle content for digital media outlets, as well as video and social platforms. While I currently operate as a freelance contributor/consultant, with such clients as The Zoe Report, my 10+-year background in the industry was cultivated at the dot-coms of elite publications, including Harper's BAZAAR, ELLE, and Marie Claire.