Meghan Markle's Dad Speaks for the First Time About Missing the Royal Wedding
"I really wanted to walk her down the aisle."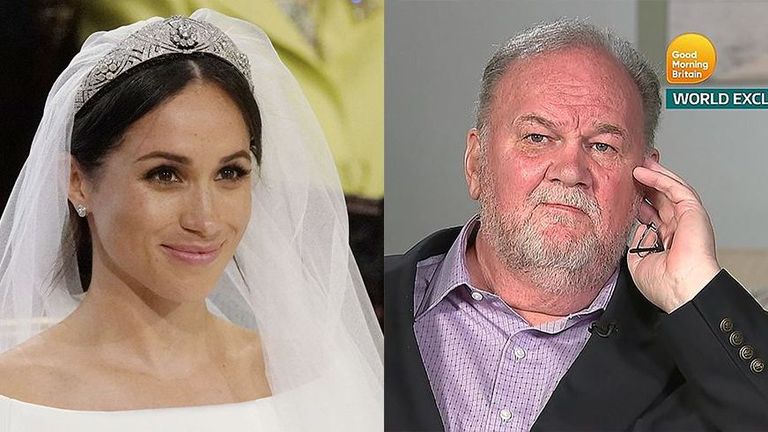 (Image credit: Getty/ITV)
Speaking publicly for the first time about not attending the royal wedding, Meghan Markle's father Thomas Markle Sr. has admitted that he cried while watching her walk down the aisle from his couch.
In a new interview with Good Morning Britain on Monday, Mr. Markle opened up about how he was upset to miss his daughter's big day, and how he instantly regretted his decision to turn down being a part of it.
WORLD EXCLUSIVE: Thomas Markle talks about his heart surgery and the moment he told Meghan he couldn't attend the royal wedding #GMB pic.twitter.com/oIpPjPbd6uJune 18, 2018
See more
Remembering the moment that he watched Meghan tie the knot with Prince Harry on screen with the rest of the world, her father said: "She was beautiful. I cried a little watching her.
"I was very proud and I couldn't see a better moment in my life. The whole world was watching my daughter."
Just two days before the wedding, Meghan confirmed in a heartfelt statement that her father would not be be present to talk her down the aisle due to health reasons, and Markle has now admitted that his decision to keep away from Windsor is one that he deeply regrets.
"The unfortunate thing now is that I'm a footnote in one of the greatest moments in history," he said sadly. "Instead of a dad walking his daughter down the aisle.
"It was a very emotional moment. I regretted it because I really wanted to walk her down the aisle. But I'm thankful for how it all went."
WORLD EXCLUSIVE: Thomas Markle says he feels like a 'footnote in one of the greatest moments in history' after he was unable to attend his daughter's wedding to Prince Harry.Read more: https://t.co/dNFBOt232u pic.twitter.com/04NmCQE8Q4June 18, 2018
See more
Luckily, Markle was more than happy to have the groom's father, Prince Charles, on hand to take over his duties at the last minute.
"Charles–how could I have asked for a better replacement?" Mr. Markle said. "I was thrilled to tears that he was doing that for me. I just wish it had been my hand holding my daughter, not his."
Lucy Wood spends most of her time writing about celebby things, reading books, and waiting for the glorious day that she have enough millions for a pet sloth. Also has a YouTube channel on the go where she pretends to know things about fashion and life advice.