Julia Stiles Would Definitely Be Beyoncé's Backup Dancer
The actress, who reprises her ex-CIA-analyst role in this month's Jason Bourne, answers our rapid-fire questions.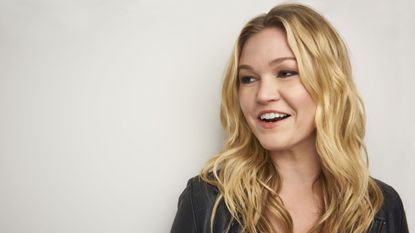 (Image credit: Matt Doyle)
1. If I weren't an actress, I'd be: Impoverished?
2. Best career advice I've gotten: Work begets work.
3. Most gracious response to rejection/career setback: Wasn't meant to be.
4. Least gracious response to rejection/career setback: "If by Script, you mean flaming pile of dog poo."
5. The three qualities that got me where I am today: Patience, gratitude, curiosity.
6. Moment I felt I made it: I don't think you ever really "make it." Or if you stop to look, then you've stopped.
7. The most agonizing career decision I've ever made: Missing birthdays, weddings, etc., for work.
8. The easiest career decision I've ever made: "Heads or Tails?"
9. What kind of work would you do for free? If Beyoncé needs another back up dancer, I mean, I could make time.
10. Favorite perk of the job: Traveling the world.
11. Worst pitfall of the job: Being away from home.
12. What does your career look like in 5 years? Pretty damn good for its age.
13. Change you'd like to see in your industry? Whatever its origin, I'd like to see a cure for the Incredibly Shrinking Actress phenomena.
14. How did you make your first dollar? In an off-Broadway play or babysitting, I can't remember which came first.
15. Who do you admire and why? Politics aside, Megyn Kelly, because of her cojones.
16. What's the last thing you binge-watched? Schitt's Creek on CBC.
17. What book left a lasting impression on you? M Train by Patti Smith.
18. What song always makes you cry? "Pink Champagne" by Caitlin Rose.
19. What movie had the greatest ending? The Long Hot Summer. You can see the moment Paul Newman and Joanne Woodward fell in love.
20. What song would you want played at your funeral? "When the Saints Go Marching In."
21. What was the first album you bought? "Real Love" by Jodi Watley.
22. What's on your bucket list? Sing on a stage. In front of people. With a band. That includes a drummer.
23. If you could live in a foreign country, where would it be? I'm going to be living in France for six months [to], so we'll see how that goes.
24. What should every woman try once in her lifetime? Being unapologetic.
25. How would your perfect day begin? In bed with my fiancé [camera assistant Preston J. Cook.]
26. How would your perfect day end? In bed with my fiancé (Yes, I really like using the word "fiancé".)
27. One thing I'm exceptionally good at: "Name That Tune."
28. One thing I'm epically bad at: Precision.
29. Superhero power I'd want to have: A remote control for time? No, most superpowers scare me.
30. How do you clear your mind after a crappy day? Making dinner while listening to the radio. And a very hot bath.
31. Something nice I did for myself recently, because hey, why not: Acupuncture.
32. If I could compete in an Olympic sport, I'd like it to be: Curling. (No, not really.)
33. The last time I felt beautiful was: After a yoga class.
34. The beauty essential you have to pry out of my cold, dead hands: Raw coconut oil.
35. My first kiss: Was at a bar mitzvah.
36. The three qualities I thought I wanted in a partner: I've blocked it out.
37. The three qualities I know now matter: Honesty, a sense of humor, the ability and desire to build things.
38. Advice to a woman with a broken heart: "This too shall pass."
39. Relationship advice to my younger self: Pay attention.
40. Moment I knew I was in love: When he came to visit me in NY for the first time.
41. The craziest thing I did for love: Nothing seems crazy when you are in love.
42. What your high school boyfriend would say about you: "So, you have breasts now."
A version of this article appears in the August issue of Marie Claire, on newsstands now.
Celebrity news, beauty, fashion advice, and fascinating features, delivered straight to your inbox!