43 Videos of Celebrities Dancing Like No One Is Watching
Awkwardly and otherwise.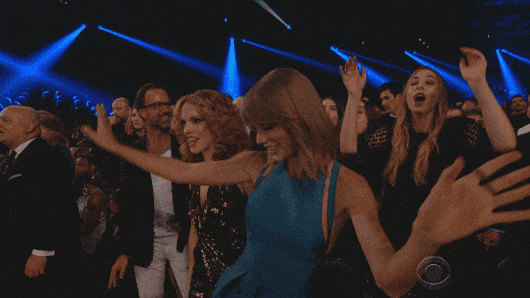 (Image credit: Giphy)
Today, July 30th, is National Dance Day. To commemorate the "holiday," we're taking a look back at all the best, most memorable moments when stars busted a move and showed off their fancy footwork. From the awkward to the impressive, here are our favorite videos of celebrities dancing like no one is watching.
Leonardo DiCaprio at Coachella in 2014.
Taylor Swift getting shaded by Pharrell Williams at the 2015 Grammy Awards.
And Taylor Swift again at the 2014 Grammy Awards.
Paul McCartney literally dancing like no one is watching (and then realizing otherwise) at the 2015 Grammy Awards.
Hillary Clinton at the 1996 Democratic National Convention.
Prince William and Kate Middleton dance with the locals while touring the Pacific Islands in 2012.
Tom Hiddleston and Taylor Swift at the Met Gala in 2016.
Tom Hiddleston showing off some *serious* skills on Chatty Man in 2013.
More Tom Hiddleston, because man, this guy can dance!
Robert Pattinson *thoroughly* enjoying the Drake performance at Coachella in 2015.
Jennifer Lawrence and Amy Schumer dancing on a piano at a Billy Joel concert in 2015.
Benedict Cumberbatch dominating the dance floor...
And making this woman feel very uncomfortable (probably).
Kristen Stewart grinding up on her director on the set of Adventureland in 2009.
Beyoncé crashing a New Jersey block party in 2010 to do the 'Cupid Shuffle'.
Emma Stone accepting a dance dare on The Ellen Show in 2012.
Kate Moss prancing around to Michael Jackson's "Billie Jean" while shooting with Inez and Vinoodh in 2000.
Gisele Bündchen shaking her thing at Rio Carnival parade in 2011.
Tom Brady looking entirely out of his element on the dance floor at the Patriots' Superbowl Ring Ceremony.
*Cringe*
Chris Evans and Elizabeth Olsen on The Ellen Show in 2016.
Idris Elba on The Tonight Show in 2016.
Nicki Minaj twerking, poolside.
Britney Spears showing how much she loves the song "Ice, Ice, Baby" (and how much we love her) during The X-Factor auditions in 2012.
Michelle Obama doing the 'Dougie' while promoting her "Lets Move!" initiative in 2011.
Gwyneth Paltrow giving us her best white-girl dance moves at a 2012 New Year's Eve concert with Coldplay and Jay Z.
Chris Hemsworth on Australia's Dancing with the Stars in 2006.
Taylor Swift, Selena Gomez, Ashley Tisdale, and Katy Perry (pre-bad blood) dancing to One Direction at the 2012 Kids' Choice Awards.
Young Ryan Gosling giving the performance of a lifetime at a talent show in 1991.
Justin Timberlake and Alfonso Ribeiro (Carlton Banks from Fresh Prince of Bel-Air) doing 'The Carlton' in 2016.
The Rock getting his groove on mid-workout.
Josh Hutcherson at a charity event for Straight But Not Narrow in 2012.
Demi Moore at a Snoop Dogg show in 2010.
Taylor Swift and Zac Efron sneak-attack-dancing behind stars like Betty White, Selena Gomez, Justin Bieber, and Akon.
Miley Cyrus instructing her friend Mandy in the ways of the 'Hoedown Throwdown'.
Baby-faced Justin Bieber teaching Ellen DeGeneres how to 'Dougie' on The Ellen Show in 2011.
Beyoncé and Blue Ivy dancing adorably while on vacation in 2015.
Barack Obama on The Ellen Show in 2007.
Shailene Woodley at the 2014 Teen Choice Awards.
Jimmy Fallon and Justin Timberlake shaking it to Beyoncé's "Single Ladies" at the U.S. Open in 2015.
Young Taylor Lautner showing off some major moves.
Michelle Obama demonstrating the evolution of mom dance moves with Jimmy Fallon on The Tonight Show in 2013.
Taylor Swift proving she's all limbs at the 2015 iHeartRadio Music Awards.
And one more awkward T.Swift dance clip, because let's face it, she's the reigning queen of awkward dance moves.
Celebrity news, beauty, fashion advice, and fascinating features, delivered straight to your inbox!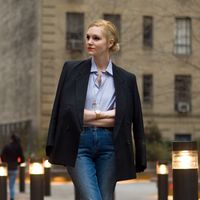 I am an experienced editor, writer, and creative strategist, specializing in fashion, beauty, and lifestyle content for digital media outlets, as well as video and social platforms. While I currently operate as a freelance contributor/consultant, with such clients as The Zoe Report, my 10+-year background in the industry was cultivated at the dot-coms of elite publications, including Harper's BAZAAR, ELLE, and Marie Claire.