Suri Cruise Sold Lemonade to Yesterday's NYC Pride Parade Attendees
The 12-year-old charged $2 a cup.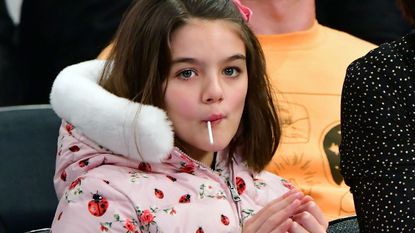 (Image credit: Getty Images)
Ready to feel weirdly old? Suri Cruise, who is 12-years-old (!!!), was out and about at yesterday's Pride Parade in New York City selling lemonade and rainbow Rice Krispies Treats with her friends. Suri and her crew reportedly set up shop from a table adorned with signs in honor of the LGBTQ+ community celebration—and parade attendees immediately noticed the mini celebrity.
"She was very sweet and kind, telling everyone to enjoy their day and would smile whenever someone walked past! Very sweet," an eyewitness told Us Weekly. Following the parade, Suri's customers took to Twitter to share the adorable spectacle. "Just bought some pride lemonade from suri cruise haha casual nyc days," one user wrote.
Suri, who lives in Manhattan with mom Katie Holmes, was just one of the thousands of attendees as yesterday's 49th annual celebration. Tennis icon Billie Jean king was the parade's grand marshal, alongside legal organization Lambda Legal, writer Tyler Ford, and Kenita Placide, the executive director of the Eastern Caribbean Alliance for Diversity and Equality. The rainbow-splattered day was centered around a theme of "Defiantly Different."
When Suri Cruise sells you lemonade at the Pride ParadeJune 24, 2018
See more
Just bought some pride lemonade from suri cruise haha casual nyc daysJune 24, 2018
See more
Here's to everyone who showed up to yesterday's celebration—during a presidency that refuses to even acknowledge the legitimacy of Pride Month, LGBTQ+ voices and allies are crucial right now.

RELATED STORY
Ruby was the beauty editor at Cosmopolitan, where she covered beauty across print and digital. Her work has appeared on The Zoe Report, Fashionista, and StyleCaster. Follow her on Instagram.