This Week in Timothée Chalamet, July 6 Edition
Oscar buzz, casting news, and an homage to Lakeith Stanfield and Tessa Thompson.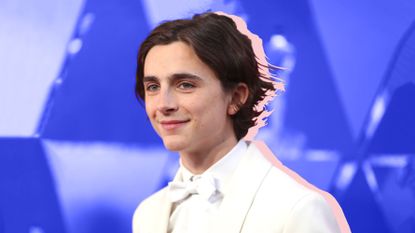 (Image credit: Getty Images)
Because being a person in the world is hard and you deserve something nice, this is MarieClaire.com's semiregular column on everything talented young man Timothée Chalamet did that week. You can catch up on last week's here.
Welcome back, dear friends, to another edition of This Week in Timothée Chalamet. I hope your July 4 holiday was relaxed and found you surrounded by those you love. I'll be honest with you: I don't always want to celebrate the U.S. in its current incarnation, but that's why it's doubly important to reflect on the people and things that really matter to us in these difficult times. And this week, as every week, that includes Timothée Chalamet.
The beginning of July brought us some important Timothée updates, though, disappointingly no social media posts from The Man himself. What we will examine: more Little Women news, an important ranking, and a film that is two degrees removed from Timmy—in that Armie Hammer is in it—but otherwise has nothing to do with him, yet still includes two people we should all have crushes on right now. And if that's not enough TiCha for you, revisit last week's edition of This Week in Timothée Chalamet, here.
Shall wé?
There was surprising Little Women casting news.
As a publication, the staffers of MarieClaire.com have already expressed our extreme delight in the news that Timothée will reportedly play turn-of-the-century young zaddy Laurie alongside a star-studded cast that will include Emma Stone and Saoirse Ronan. But now, a twist!
It was initially reported that silver screen goddess Meryl Streep would play Marmie, the girls' beloved mother in the film (based on the novel by Louisa May Alcott). But now we're hearing Streep will actually play Aunt March, the hard-boiled wealthy kinswoman. So who will be Marmie? We don't know, but the suspense is worth another two or three column sections to be sure!
Honestly, as long as more iconic pics like the following occur, I don't care which part anyone plays:
Timmy when you're happy, I'm happy.
And early Oscar buzz for Beautiful Boy.
A lot of people (OK, me) believe Timmy got robbed—ROBBED!—at the Oscars when he didn't win the Best Actor trophy for Call Me By Your Name. But already the internet is abuzz with speculation that Beautiful Boy, the Steve Carrell-co-starring, tear-jerking ode to familial love in the face of addiction, will make our beautiful boy a contender once again. The New York Times even said so!

Consider this tweet, by someone I don't know, my official stance on the matter:
TIMOTHÉE CHALAMET DESERVED THE OSCAR FOR CALL ME BY YOUR NAME AND IF THE ACADEMY DOESN'T GIVE IT TO HIM FOR BEAUTIFUL BOY THEY'LL HAVE ME TO ANSWER TO pic.twitter.com/eKgxYxxy3bJune 27, 2018
See more
Same, bb.
Here is another tweet I like about Timmy.
It was a slow news week in Chalametland, but you might have noticed that people are ranking their favorite movies, TV episodes, and actors on Twitter. The only tweet that matters is the following:
And now, I present a brief homage to Lakeith Stanfield and Tessa Thompson.
I know this column is ostensibly dedicated to Timothée Chalamet thirst, but humans are complex organisms capable of holding multiple horny thoughts in our heads at the same time. So, in honor of today's release of the Boots Riley-directed film Sorry to Bother You, I want to honor the movie's two leads, over whom I am also extremely thirsty.
First, some background: This surreal film follows Lakeith Stanfield's Cassius Green, a slacker who gets a job as a telemarketer, something he turns out to be very good at. His girlfriend, played by Tessa Thompson, at first enjoys his success, then sees the ways in which money and power are ruining their lives. It's more complicated than that, and it's genius, so you should go see it this weekend. Plus, since Timmy's BFF Armie Hammer plays a loose cannon gangster-type in it, I thought the film relevant to this column.
I'd be remiss not to mention, though, that Stanfield and Thompson are so attractive that it feels irresponsible to release this movie during a heat wave. Lives are at risk.
You may remember Stanfield from his recurring role on the show Atlanta, or his iconic appearance in Get Out, but it seems like Sorry to Bother You will be particularly star-making for him. And you may recall Tessa Thompson from Creed, or as Valkyrie in Thor: Ragnarok, or as Janelle Monae's muse in the Dirty Computer "emotion picture" (she's amazing in the video for "Pynk") and her maybe-sorta real-life partner. Stanfield and Thompson also both appeared in the film Selma.
Anyway, behold their gorgeous visages and then go see their new movie:
Might I suggest casting them in everything?
Anyway, join me here next time on This Week in Timothée Chalamet and have a blessed weekend.
Celebrity news, beauty, fashion advice, and fascinating features, delivered straight to your inbox!
Cady Drell is a writer, editor, researcher and pet enthusiast from Brooklyn.