This Week in Timothée Chalamet, June 29 Edition
Great hair, questionable hair, and a return to social media.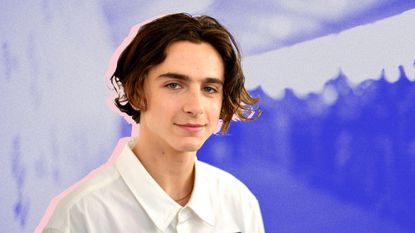 (Image credit: Getty Images)
Marie Claire Newsletter
Celebrity news, beauty, fashion advice, and fascinating features, delivered straight to your inbox!
Thank you for signing up to Marie Claire. You will receive a verification email shortly.
There was a problem. Please refresh the page and try again.
Because being a person in the world is hard and you deserve something nice, MarieClaire.com is introducing a semiregular column on everything talented young man Timothée Chalamet did that week.
Happy Friday! First of all, I must congratulate you on getting through what may have been a difficult week. You're doing such a good job, and I'm so lucky to be here with you.
Second, I want to welcome you to "This Week in Timothée Chalamet," a column in which I will run down the notable activities Hollywood actor Timothée Chalamet got up to in the last seven days or so.
You may wonder why I've taken on this task. The answer is simply that the world is in turmoil and Timmy is easy to root for. You can fight systemic global injustice and still take five minutes to let your brain relax as you watch Leonardo DiCaprio If He Were a Woke Young Boy go about his existence.
We'll also explore some tough questions like, What happens if Timmy cuts his hair? (It obviously holds his power. He is Samson reincarnate, right?), and, Should I see him as my future boyfriend or my future son? And look, I can't promise you that This Week in Timothée Chalamet is always going to be about Timothée Chalamet—what if the internet gets confusingly horny for someone else for a spell? But this is going to be a journey we're undertaking together, and that's really why we're here.

Also, I learned the keyboard shortcut for l'accent aigu, so lét's gét to it!
He tweeted again, finally.
I don't know if you noticed (totally fine if you didn't!) but Timmy hadn't tweeted since May 30, and even then it was just a retweet of an IndieWire article announcing his role alongside Robert Pattinson in the upcoming Netflix film The King, on which I will explain more later.
But on Sunday, he returned to the medium with a cryptic message for his 330,000 followers:
I love that he's willing to, like, give credit to less considered days of the week, you know? On Tuesday, he followed that up with two more vague messages, posted in quick succession:
But which trailer, Timmy, you mysterious and demure kitten?!
He appeared in the trailer for Beautiful Boy.
On Wednesday, we learned those obscure tweets referenced the official trailer for Beautiful Boy, which Chalamet stars in opposite Steve Carrell. It's very emotional, and Timmy's hair looks very good in it:
I'm not crying, you're crying.
The film is based on the real-life memoirs of Nic Sheff and his father, David. It is poised to be "the heartbreaking and inspiring experience of survival, relapse, and recovery in a family coping with addiction over many years." No surprise here that Timothée is starring in a movie very much of our time.
He posted on Instagram.
And frankly it's about damn time. The official Instagram of Timothée Chalamet hadn't posted anything since back on May 11. (Why the social media silence, Timmy Tim?)
This week, it was the heartwarming official poster for Beautiful Boy:
This movie will probably wreck me, if I'm being honest with you.
He was clocked with a bowl cut.
Well, friends, you might want to sit down for this next bit of news.
I'm sorry to tell you that on the set of the aforementioned upcoming Netflix film The King—based on the Shakespearean works Henry IV and Henry V—T.C. was spotted with the following 'do:
Finally spotted in the wild today was Timothée Chalamet's much talked about bowl cut for THE KING. Please be kind to those still mourning his beautiful curls. (Royalty suits him!) pic.twitter.com/QM6WJ9pWAbJune 25, 2018
See more
Yikes. No wonder King Hal was unpopular. I'll give you a minute to collect yourself.
He was invited to join The Academy.
In an attempt to diversify the ranks of Oscar voters following 2016's #OscarsSoWhite and the recent #MeToo movement, which called attention to rampant issues within its ranks, the Academy of Motion Picture Arts and Sciences invited a record 928 new members to join. These include ya boi, as well as Tiffany Haddish, Mindy Kaling, and Daisy Ridley among many others.
I love this news and I'm so proud of Timmy. That said, I'm not 100 percent sure how Timothée Chalamet—who is, ultimately, a white man—contributes to an uptick in diversity. Perhaps it is his youth? Or the fact that he seems inordinately gentle?
He was made into art.
He also faved a fan tweet. On Tuesday, a person named Heather (who clearly stans, as her avatar is Timothée's face) shared a drawing she made of him:
Great work, Heather! And great work to you too, reader.
Have a beautiful weekend. I'll see you back here next time.
RELATED STORY
Celebrity news, beauty, fashion advice, and fascinating features, delivered straight to your inbox!
Cady Drell is a writer, editor, researcher and pet enthusiast from Brooklyn.