How Did Halsey Get Here?
The 23-year-old has had one hell of a year—from her Women's March moment to her current 'Hopeless Fountain Kingdom' world tour. Weathering the storms of her past, she's charted an atypical course to stardom.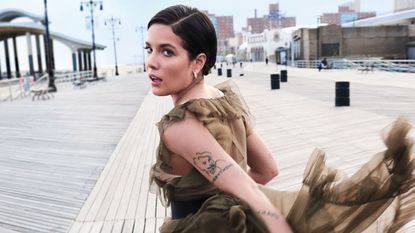 (Image credit: Mark Seliger)
Halsey likes serendipity—otherwise known as a happy accident—so it's only natural that she would have the word tattooed beneath her left breast. For similar reasons, she has hopeless inked on her left butt cheek, although in this case the word also happens to be connected with the number-one album that has made her a star.
"I don't like to overthink these things," she explains as we head toward New York's Bang Bang tattoo parlor on a hot spring afternoon to meet up with her favorite tattoo artist, JonBoy (opens in new tab) (also responsible for the tats of Kendall Jenner and Justin Bieber (opens in new tab)), for her 29th addition. Among her other tattoos are a pair of dice, a dagger, some blooming roses, a Playboy bunny, and the word salad ("because I need to eat more of it"). "I never know ahead of time what I'm going to get."
"You were thinking about a bee," prompts her manager Anthony Li. "A bee?" asks Halsey, who's currently in the middle of her world tour supporting the album Hopeless Fountain Kingdom (opens in new tab), in which bees are a recurring symbol. "I was thinking about getting a butterfly...."
Because butterflies are symbols of the soul? She shrugs. "I just think they have a cool power."
At 23, Halsey is all about cool power. Small and curvy in the soft, no-gym way of a Greek goddess, she has pert, pixie-ish features and the friendly, fast-talking self-confidence of a natural-born hustler. (I mean this in the aspirational Jay-Z sense: someone for whom self-promotion is so innate, it's impossible to say where the person stops and the brand begins.) Her hair changes on a more or less daily basis. One day it's short and pink and as stiff as cotton candy, the next it's long and black and glossy. Or it's blue. Or it's shaved. Or it's in cornrows. Or it's platinum and gushing to her waist with an I Dream of Jeannie (opens in new tab)–like braided coronet. "People are like, 'Who even are you?'" she says, grinning without a trace of self-consciousness as she thumbs through various tattoo inspo shots on her phone. "And I'm like, 'I'm all these things.'
"I'm in my 20s, so I'm evolving constantly," Halsey continues. "When I posted about my Playboy cover (opens in new tab), someone commented, 'Oh, you showed your tits in Playboy but you call yourself a feminist?' I was like, 'Yeah, dude. In one year, I performed at the Nobel Peace Prize [Concert] in Oslo (opens in new tab), donated $100,000 to Planned Parenthood, got my first Grammy nomination (opens in new tab), showed my tits in Playboy, and did about 150 tequila shots. I did all those things, and it's because I'm multidimensional."
There are some people who would tell you that Halsey—who lit up the Women's March in January with her moving poem "A Story Like Mine," (opens in new tab) detailing a lifetime of sexual harassment and abuse, and recently landed a deal with Sony to develop and star in a biopic based on her life, à la Eminem in 8 Mile—claims to be more multidimensional than she really is. Her description of herself as a bipolar, bisexual, biracial, formerly homeless, once-suicidal ghetto kid who once gave a concert the same day she had a miscarriage has been questioned online loudly and often. For the record, here's the deal according to Halsey herself:
In the beginning, she was Ashley Nicolette Frangipane (known to friends as Ash), the daughter of Nicole and Chris—a couple who got pregnant young and raised her and her two younger brothers (Sévian, now 20, and Dante, 13) in a shuffle of blue-collar New Jersey towns. Her white mom worked security at a hospital. Her African-American dad managed car dealerships. "My parents moved where the jobs were," says Halsey, who speaks openly about being half black while "white passing." "For a while we lived in Elizabeth, which is the fucking ghetto, and I'm living on a street with mostly black kids, and I have no idea I'm white, like not a clue."
Because Halsey's mother was bipolar, family life was often chaotic. "We'd be like, 'What's for dinner?' And she'd be like, 'Ice cream and rollerskating.' And we'd go to the roller rink and eat ice cream for dinner."
At 17, Halsey herself was diagnosed as bipolar after attempting suicide by overdosing on painkillers. She spent 17 days in a psych ward and was put on Seroquel and later lithium, both of which she hated. "I gained, like, 30 pounds," she says. "I was throwing up at school. I spent my whole adolescence medicated." But at some point, she got into making art and writing poetry and playing instruments (including violin, viola, cello, mandolin, guitar, piano, and clarinet)—basically, expressing herself however she could.
It wouldn't be right to say that Halsey is an artist because she's bipolar, but it might be right to say that her ever-changing persona is a fabulously fearless portrait of a 21st-century artist living with mental illness. (You could also say that she's like any other kid who spends too much time on Instagram: fascinated by the endlessly shifting parade of looks and poses reflecting the Internet era's churning zeitgeist.)
She was accepted to the Rhode Island School of Design, but her parents couldn't afford the tuition, so she did a brief stint at community college before dropping out to try to make it on her own as an artist in Brooklyn. She couch-surfed and partied and split 99-cent slices of pizza with friends, and along the way she started recording music. At 19, on a whim, Halsey uploaded the electro-pop song "Ghost" (opens in new tab) (which she wrote and recorded in an acquaintance's New Jersey basement) to SoundCloud. When she woke up the next morning, she learned it was charting on iTunes and that pretty much every record label in New York was trying to get in touch with her. "I didn't know what it even meant," she says. "I was like, 'What's an A&R?' I called Anthony [Li]; I was like, 'This band's manager reached out to me.' He was like, 'No, Ash, that's their A&R. It's a different thing.'"
Since Li was managing his own pop-punk band, Halsey asked him to come along to her meetings and pretend to be her manager. "We were sitting there like, 'Uh, yes, and what can you offer me?' I didn't know what I wanted. He's like, 'Yeah, my client—' Client? What the fuck do you mean, 'client'? I'm wearing a $15 dress. We had Taco Bell for lunch."
In the end, Halsey signed a record deal with Astralwerks, and her first album, Badlands (opens in new tab), debuted at number two on the Billboard 200 in 2015 and spawned the hit "New Americana. (opens in new tab)" But it was performing that made her realize she'd found her calling.
"Oh, my God, I was immediately addicted," she says. "That's why I tour so much. I release endorphins, serotonin, dopamine, norepinephrine. Like, it's literally a drug response. I don't manage my mental illness to keep up with my lifestyle; I manage my lifestyle to keep up with my mental illness."
There is, she explains, the Halsey the world sees—"this manic performer"—and then there is Ash Frangipane, the quiet, at times despondent creator ("The world doesn't see that side of me because that side of me is not interesting") who puts her life through a filter and turns it into art. When, for example, Halsey broke up with her music-producer boyfriend Lido in 2016, Frangipane was devastated ("I felt—and I don't use this metaphor lightly—that suicide had kind of metaphorically occurred for me, where I let a version of myself die because I was trying to make it work"), but she also knew it was time to get writing.
The result was Hopeless Fountain Kingdom (opens in new tab), last year's infectious electro-pop confection inspired by Romeo and Juliet (in particular Baz Luhrmann's 1996 film). "I read the play and I was like, Why is Juliet—this 13-year-old, like, idiot girl—willing to let herself die over a man?" In Halsey's version, Juliet survives and rides off into the sunset solo on a motorcycle. The album debuted at number one and recently went platinum. It's currently impossible to turn on the radio without hearing one Halsey song or another—whether it's the disco-fabulous track "Alone" (opens in new tab) or the bisexual mea culpa "Bad at Love" (opens in new tab) or the Chainsmokers monster hit "Closer" (opens in new tab) (on which she's the featured vocalist)—and that is just the way Halsey likes it. She co-directed all the videos for HFK and cites getting to "shut down a highway in Mexico City" for a gun battle in the video for "Now or Never" (opens in new tab) as a personal high point: "It's just the craziest thing I've ever done."
"It's very rare that I get in with someone where I'm like, Oh, shit, this person is doing as much as me, if not more," says music producer Benny Blanco, who worked closely with Halsey on HFK. "With Ash, it's like, I go to the bathroom, and when I come back she's written a song already." Blanco laughs. "On one hand, you want to wrap her up in a blanket and tell her everything's going to be OK, but at the same time, you want to ask her to give you a piggyback ride up the hill."
Because Halsey is a child of the Internet era, there's seemingly no corner of her life that goes undocumented. Her fans know all about her endometriosis and her asthma attacks and the fainting spells she sometimes has onstage. When she and her boyfriend, rapper G-Eazy (also known as Gerald Gillum), film a weekend of partying and making out on street corners around NYC, they naturally turn it into the video for their hit duet, "Him & I"—and this video naturally gets viewed 231 million times on YouTube. [Editor's note: Halsey announced her split from G-Eazy (opens in new tab) via Instagram earlier this month and noted that they are "taking some time apart."] When G-Eazy gets busted in Sweden for punching a night-club security guard and having cocaine on his person, Halsey stands behind him, solid, unruffled. "Some dude knocked me out cold," she says calmly of the incident, showing me the remnant of her black eye, still covered with makeup. "What would you do if someone punched your girlfriend in the face and knocked her out cold?"
They don't call themselves Bonnie and Clyde for nothing.
But there's also a surprising tenderness—an openness of heart, you might say—to Halsey that may be the key ingredient to her brand of pop-star sauce. She speaks thoughtfully about the early essays of David Foster Wallace and Antoine de Saint-Exupéry's The Little Prince and the movie Eternal Sunshine of the Spotless Mind. She rarely travels for business without her inner most posse of Li, her bodyguard Tony Sitch, and her BFF from her New York City days, Payton Selzer.
And like many celebrities who used to be really broke and now are very rich, Halsey never lets anyone pay for anything. Cocktails and pink moon oysters and caviar buns and foie gras tartlets and fluke tartare and strip-loin steak and fish ssäm and everything else on the menu at Momofuku (opens in new tab)? Don't even try to reach for your wallet. "I'm a huge foodie, and I'm in the fortunate position of being able to order whatever I want," says Halsey, who moved Selzer—and then her own family—to L.A. to live with her because she hates to be alone. "Payton and me used to live on fucking Hot Pockets, and now we've eaten caviar on three continents."
At the moment, being alone isn't an issue. In addition to having her posse, Halsey has been in a relationship with G-Eazy for a little over a year and is plainly, openly in love with him. "He's out of his fucking mind. I love everything about him," she crows. The couple first met two and a half years ago at a party, and though she says the chemistry was immediate, she was too busy to take time for romance. "We both knew right away. We just didn't act on it. I had just gotten out of a breakup; he just got out of a breakup. We were both, like, at the peak of our careers. 'Me, Myself &I (opens in new tab)' had gone seven times platinum. 'Closer (opens in new tab)' was, like, the biggest thing in the world. I just didn't have time."
When she finally did, it was pretty much game over. Halsey and Eazy will both be touring with their respective albums all summer, so they still don't get many days off, but when they do, the couple is all about what Halsey calls "playing roles." "If we wake up and we're in the mood to be old-school, I'll put on a sundress and a hat, and he'll wear his hair slicked back and his shirt tucked in, and we'll get in his '65 Mustang and drive down to Malibu and go eat in a cafe by the beach and sing Amy Winehouse in the car." Other versions of playing roles involve G-Eazy's Ferrari and diamonds, or getting in the SUV and driving out into the woods, holing up in a cabin for five days, and skinny-dipping in a river.
"I've had partners who don't want to play along. It feels stupid. I love curating an experience, changing it up. And he's so that way with me. I haven't found someone who matches every version of me until him. Like, he's my left sneaker. For every version of him, there's a version of me to match."
After four years of hustling hard day and night, Halsey is starting to get to a place where she feels she can afford to think about the bigger picture. "I've played Madison Square Garden. I have a number-one album. I don't have very many bucket-list things left besides carrying a child," she says. "It's a personal goal and a weird one."
It's particularly weird because of her endometriosis. "I'm freezing my eggs at 23 (opens in new tab)," she says. "My doctor's like, 'You're the youngest patient I've ever had.'" She chuckles. "Also, nothing like having a new partner and being like, 'By the way, I need to know if you want to have kids right now, because if you don't, I need to go date someone else.' I have a very limited window of time. You know what I mean? Nothing like that to scare away a 27-year-old guy."
In the meantime, Halsey's thinking about a new album—a process she refers to as "scavenging," which involves sniffing around on the Internet and in books until a concept starts to emerge. She's really into the color aqua and the movie The Florida Project, "but all that could change," she says. "Once my tour is over, I feel like anything could happen. I could decide I want to move to Italy for a year and write. I could get pregnant. I finally have enough stability in my career where I can take a breath. I feel like I can let life happen."
She pauses and looks down at the monarch butterfly JonBoy has finished inking on her arm. "That's beautiful," she says. Then she looks at me. "I'm also really happy, so it's hard. You're almost wishing something bad would happen, but you don't want to sabotage your life."
---
This article originally appears in the August issue of Marie Claire, on newsstands July 19.