Princess Charlotte Won't Become "Princess Royal" Just Because William Is King
Unlike other family members, she'll have to be patient.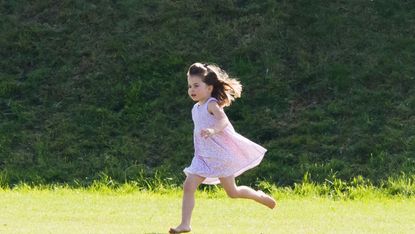 (Image credit: Samir Hussein)
Marie Claire Newsletter
Celebrity news, beauty, fashion advice, and fascinating features, delivered straight to your inbox!
Thank you for signing up to Marie Claire. You will receive a verification email shortly.
There was a problem. Please refresh the page and try again.
One of these days, Prince William will be crowned king—a role he's been preparing for his whole life. But when that happens, Princess Charlotte won't automatically become the "Princess Royal," which is typically the title given to the oldest daughter of the current monarch. Instead, Charlotte will have to wait around, perhaps for decades, to gain the title and everything that comes with it, reports Town and Country. (Kate can't be looking forward to the day she has to explain that one.)
Why is that? After all, when William becomes king, everything will change for the rest of the family. George will become heir to the throne, and Kate will be queen. Harry and Meghan, as well as any kids they have, will be far closer to the throne, as will royals like Princesses Eugenie and Beatrice. Charlotte, on the other hand, won't get to become Princess Royal until...well, until her dad says so.
Oh, and until at least one of her close relatives dies. Which is pretty morbid, if you think about it.
Charlotte will, most likely, become the "Princess Royal" one day, but...not anytime soon. Right now, that title is held by Princess Anne, the only daughter of the Queen and Prince Philip. Anne is 67 and has been the Princess Royal since 1987, which is more than 31 years. So you could understand how she's keen to hang onto it.
Princess Anne is also very good at being the Princess Royal, which comes with its own duties and engagements. In fact, Anne has actually had more official engagements than any other member of the royal family, and she was the first-ever British sovereign to visit the Soviet Union. Her royal work keeps her incredibly busy, and she's a talented equestrian to boot.
Here's what royal expert Duncan Larcombe told Town and Country about the whole situation:
"It is a title that remains for life, so Princess Charlotte will have to wait at least until the death of the current Princess Royal ... [But] Princess Anne had to wait until 1987 before her mother the Queen bestowed the title of Princess Royal on her, even though the title had been vacant since 1965.
"Under ancient British law, any man who sleeps with the Princess Royal before they are married is guilty of high treason—punishable by execution! ... Perhaps Princess Charlotte's future boyfriends had better look out. At the very least, Wills and Kate are likely to wait until after Charlotte marries before giving her the title."
If you think it'll be awkward for Kate to have to explain the whole "why you won't become Princess Royal" thing, just imagine the moment Kate has to explain why Charlotte won't be given the title until after she's married—because technically they can kill anyone who might sleep with her until then.
Gulp.
RELATED STORY
RELATED STORY
RELATED STORY
Celebrity news, beauty, fashion advice, and fascinating features, delivered straight to your inbox!