Meghan Markle and Prince Harry Might Delay Starting a Family for a Practical and Obvious Reason
Ever since Prince Harry and Meghan Markle got married in May, people have been wondering when and if the royal newlyweds planned to start a family. Experts predict Meghan may want to hold off until after her royal trip to Australia in October.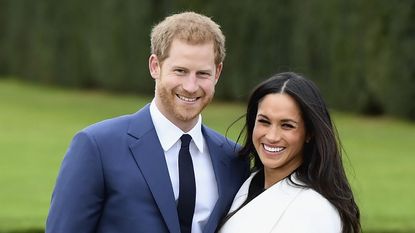 (Image credit: Samir Hussein)
Just like many newlyweds, Prince Harry and Meghan Markle (opens in new tab) have faced a lot of questions about their plans (or lack thereof) to start a family since their May wedding. Unlike many newlyweds, Harry and Meghan (opens in new tab) are famous and royal and these questions often pop up in newspapers and spark long conversations on Twitter.
Although Meghan and Harry have been pretty private (opens in new tab) about their about plans (understandably—it's no one's business but theirs), people are still entering predictions about their reproductive plans.
According to Express (opens in new tab), there's a good chance Meghan will want to wait until at least later this fall to start trying to get pregnant. The reason is very obvious and makes a ton of sense. She and Harry are scheduled to travel to Australia and New Zealand in October for a royal tour and she will "likely want to avoid all the side affects that come with traveling while pregnant," the site notes.
There are also some potential health risks associated with traveling while pregnant.
Per Express (opens in new tab): "Traveling in the first 12 weeks of pregnancy can be difficult because of nausea and overwhelming exhaustion. The risk of miscarriage is also higher in the first three months, according to the NHS. Furthermore, traveling longer for more than four hours carries a small risk of blood clots, or deep vein thrombosis."
Of course, travel during pregnancy isn't an issue for most women who don't experience complications while they're expecting, so Meghan's health probably wouldn't be seriously affected by the trip. Still, with her first royal tour looming, it would make sense if Meghan wanted to hold off on any other major life changes for the time being.
When asked during their engagement interview (opens in new tab) in November 2017 if they were planning to start a family, Harry said, "Not currently, no." He then added, "One step at a time. Hopefully we'll start a family in the near future."