How Much Will Princess Eugenie's Wedding Cost?
Princess Eugenie's royal wedding is sure to be lavish. Here's what a wedding expert estimates her big day will cost, including the dress, flowers, and security. The latter is paid for by British taxpayers—and they're not happy about it. The royal family does not cover security fees associated with their weddings.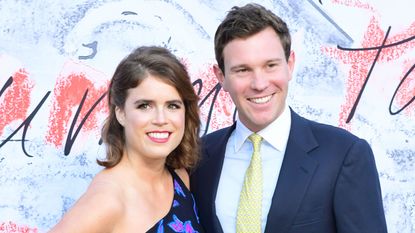 (Image credit: Ian West - PA Images)
Wedding season may be wrapping up stateside, but across the pond, they're just gearing up for the SECOND major royal wedding this year. Yes, we're talking about Princess Eugenie's wedding to Jack Brooksbank, which will happen in less than a month. That means planning is well under way, and bills, well, they're adding up.
Just how much does a royal wedding like Eugenie's cost? Certainly, it will be less lavish than Prince Harry and Meghan Markle's nuptials, which came to at least an estimated $34 million. But Eugenie is still a princess, more specifically, a granddaughter of the queen, so you can expect her big day to be quite a sophisticated affair.
In a recent interview with the Daily Mail, Hamish Shephard, founder of British wedding planning website Bridebook, dished on what he thinks the Brooksbank-York wedding will cost in total, including the dress, the venue, and the—somewhat-controversial—security (more on that below). Using data from more than 170,000 weddings and 70,000 bridal vendors in the Bridebook database, Shephard broke it all down:
The Gown
The dress itself is going to be pricey–Kate Middleton's was rumored to cost $434,000, while $500,000 has been floated as the price tag for Meghan Markle's Givenchy boatneck number. Shephard says to put your bets on Stella McCartney designing Eugenie's dress. "The price tag for a bespoke Stella McCartney gown? Somewhere around a casual £200,000," said Shephard. In USD, that's around $260,000.
The Flowers
For florals, "hundreds of thousands of fresh flowers and herbs will decorate the church, Windsor Castle, and marquees, likely with the notable caveat that they can be replanted following the wedding to ensure minimal environmental impact," says Shephard, who believes the pair will continue with their eco-friendly wedding theme here. (Eugenie, an ambassador for environmental charity Project 0, and Jack have specified that their wedding be plastic-free). Shephard predicts a £100,000 ($130,000) bill for flowers alone.
The Venue
The lovebirds are marrying at St. George's Chapel at Windsor Castle, the same location as Harry and Meghan's ceremony. Their reception will take place at the bride's family home, Royal Lodge. Of course, that won't cost them anything. (Royals, they have backyard weddings! They're just like us!) Still, according to Shephard, renting a tent, as well as hiring extra catering and bathrooms could probably run around £85,000 ($110,000). And if the rumors they're going to make their wedding a two-day event are true, that number could reach even higher.
The Food & Drink
The couple is likely saving more on alcohol than newlyweds, as Brooksbank works for George Clooney's tequila brand, Casamigos. Shephard does estimate that wine, champagne, and other non-tequila liquors could run-up a bill around £84,500, or $110,000. He also puts catering costs in the range of £100,000 to £151,600 (between $130,000 and $197,000), since it's likely they'll be feeding 850 guests (and insisting on no plastic cutlery).
Invitations
The princess' unique invitations didn't come cheap, either. "The invitations for this Royal Wedding came with a special touch: a Nelson Mandela quote, which is sure to keep the guests on their toes," said Shephard. "To top it, there is some beautiful calligraphy and the family's badge printed in gold ink, which, although not as significant as the quote, will weigh on the final price a lot more." Shephard estimates £30,000 ($39,000) for paper goods.
Security
Here's where things get dicey. Security at this royal wedding will reportedly cost an eye-popping $2.5 million, according to The Mirror, and that money is coming out of the pockets of U.K. taxpayers. See, public funds are NOT used for Eugenie's dress or an infinity-tiered wedding cake—those expenses come out of the royal family's pockets. But the security budget for royal weddings falls under "public safety" and, as such, comes from the country's treasury.
The initial security budget for Eugenie's wedding was about half of what it's currently looking to be, but rising terror fears have caused the number to balloon. The issue is so troubling to British citizens that members of parliament are even weighing in."It really is an outrage when you've got people sleeping rough and gripped by poverty that people are indulging in this conspicuous consumption," the Labour Party's Chris Williamson said, according to The Mirror. "[The royal family] are as far as it's possible to be from being real normal people. No one else gets their wedding paid for by the public purse and they've got the resources to do it themselves."
While Eugenie's security budget pales in comparison to those of other royal weddings (sources have said Prince William and Kate Middleton's wedding security budget was anywhere from $9 million to an estimated $27 million), the security bill is still causing a bit of an uproar since Eugenie is considered a more peripheral member of the royal family (she's ninth in line for the throne) and doesn't participate in nearly as many official engagements as Will, Kate, Harry, and Meghan.
What's more, the weddings of more direct heirs to the throne bring in significant amounts of money for the U.K. economy, offsetting the cost of footing the security bill. Harry and Meghan's wedding, for example, reportedly boosted the British economy by $1.4 billion.
Miscellanious
Among the other costs Shephard estimates are: £17,000 ($22,000) for photography, between £25,000 and £55,000 ($33,000-$72,000) for music, and a total of £19,750 ($26,172) for wedding rings, bridesmaid outfits, groomswear, and hair and makeup for the big day.
Thats...hold on while we get out our calculators here...$3.5 million! Sounds like we're in for a real spectacle, fellow royals watchers. We can't wait to see how it all looks!
RELATED STORY
Celebrity news, beauty, fashion advice, and fascinating features, delivered straight to your inbox!
Amanda Mitchell is a writer and podcaster with bylines at Marie Claire, OprahMag, Allure, Byrdie, Stylecaster, Bon Appetit, and more. Her work exists at the apex of beauty, pop culture, and absurdity. A human Funfetti cake, she watches too much television, and her favorite season is awards season. You can read more of her work at amandaelizabethmitchell.com or follow her on Instagram and Twitter @lochnessmanda.