Leven Rambin May Be a Tiny Bit Psychic
The 'Lost Child' star on the 'Rose Gold' Age of women in Hollywood, being inspired by female writers and directors, and her own maybe-kinda-sorta-supernatural powers.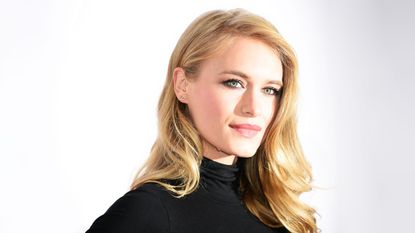 (Image credit: Kristy Sparow)
Leven Rambin may be a little bit psychic. Well, whatever you call it–premonitions, visualizations, manifestations–she's got a little "psychic thing" going on. She thinks everyone has some type of psychic ability, whether they choose to invoke it. Either way, she firmly believes that there is Something Out There.
We've gotten to chatting about the supernatural because Rambin currently stars in Lost Child (out now), a psychological thriller in which she plays Fern, an Army veteran still grappling with the PTSD that lingers from her deployment. Soon after she returns home to the Ozarks to care for her brother, she finds and takes in an abandoned little boy (Landon Edwards) she finds in the woods behind her childhood home. As a mysteriously illness takes over Fern's body, she learns of a local legend involving an evil spirit that drains the life from those its haunts. The kicker is that the spirit is said to appear in the woods, in the form of a child.
Rambin was attracted to the role for the arc her character embarks on. At this point in her career—she had a breakout role The Hunger Games, followed by roles in the second season of HBO's True Detective and the Hulu drama The Path—Rambin says she only reads scripts that require her character to be more than just being a pretty face: "It was the layers of complexity in the character that I thought was interesting. It wasn't just random girl shows up in town—it was a girl that had a lot going on internally."
That the character was a female vet immediately added a new element to the a story about PTSD. Fern is a former foster child with a rough upbringing, who turned to the army for a sense of security, only to return feeling anything but secure. "You go somewhere thinking, 'I'm going to be safe here. I'm going to come out stronger. I'm going to be tough,'" she says. "But then there's more shit there too, so where is she safe?" That, to Rambin, is the real underlying terror to this ghost story.
Both Lost Child and The Path were projects created by women, and the experience of watching Ramaa Mosley (director of Lost Child) and Jessica Goldberg (creator of The Path) at work helped inspire Rambin to pursue her own behind-the-camera projects, something she's working on now. Mosley and Goldberg's steady hands on the wheel—their belief in their projects, the respect they demanded, and the sense that it all rode on their talent and nothing else—pushed Rambin to evaluate her own goals in the industry. "Who's the next Them? Who's the next with the show on Hulu? Who's the next directing award-winning features?" she asked herself. "Why not me? Why not?"

Rambin, who grew up in Houston, Texas with an innate sense of determination, sees an opening in the current state of the industry. She likes to call this era the "Rose Gold" age of women in Hollywood—maybe not yet the Golden Age, but getting there, as women in the industry continue to demand that their voices be heard and that their projects make it to the screen. "We're breaking new ground, proving our worth," she says. "We have a seat at the table not just because we called y'all out, but because we actually deserve to be here. The art stands for itself, up against anything else." Next up, Rambin stars in the WGN crime drama Gone alongside Chris Noth, and she plays musician Vince Neil's then-wife Sharise in The Dirt, a movie based on the history of the band Mötley Crüe, due out in February.
Before she leaves, Rambin shares two more stories with me of her psychic abilities. In the first, after touching a friend, Rambin asked her if she had any link to The Bachelor. Yes, it turned out–the producers had been scouting her for months, but she couldn't decide if she should sign up for the reality series because there was a man in her life she was still on-and-off with. Rambin told her friend that she had a feeling: an engagement was coming, no rose ceremony required. A few weeks later, that friend was engaged—and not to Arie Luyendyk, Jr. The next story involved a jewelry designer friend that Rambin calls "an actual witch," who taught Rambin that her psychic specialty may be "quick manifestations." Her witchy friend had just mentioned being attracted to men "6'5" and over, with red hair," and as soon as they walked out on to the street together—BAM—hot dude, over 6'5", red hair. If you believe it, you can make it happen. Like Rambin said, "Why not?"
Marie Claire email subscribers get intel on fashion and beauty trends, hot-off-the-press celebrity news, and more. Sign up here.
Amanda Mitchell is a writer and podcaster with bylines at Marie Claire, OprahMag, Allure, Byrdie, Stylecaster, Bon Appetit, and more. Her work exists at the apex of beauty, pop culture, and absurdity. A human Funfetti cake, she watches too much television, and her favorite season is awards season. You can read more of her work at amandaelizabethmitchell.com or follow her on Instagram and Twitter @lochnessmanda.