Meghan Markle's Sister Samantha Just Apologized to The Duchess on Live Television
"Families can be this way when there's confusion and people are hurt."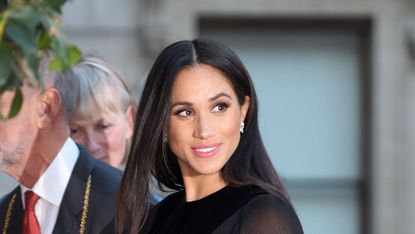 (Image credit: Karwai Tang)
Having clearly not received the response that she was looking for from across the pond, Meghan Markle's half-sister Samantha Markle travelled to the UK this week, in an attempt to try and see her Duchess sibling face-to-face. Unsurprisingly, her efforts don't seem to have worked, so instead she's gone on television again to talk about it some more.
Appearing on Jeremy Vine's talkshow on Monday morning, Samantha further addressed the "Markle Debacle" drama that's been ongoing since Meghan's relationship with Prince Harry first became serious. But, interestingly, her latest interview took a different angle to the usual appearances, as Samantha seemingly expressed regret over her past behavior towards Meghan, and even issued a personal apology to the Duchess of Sussex.
Following a brief visit to Buckingham Palace (the outside of it, at least), Samantha spoke directly to Meghan, saying: "I would just say that there is so much water under the bridge and so much has spun out of control that was never intended to."
"I think everybody was hurt not being included or invited to the wedding, but I felt as though it could have all been nipped in the bud had everyone been included, and we all just agreed to move forward with positive resolve. The hurt feelings wouldn't have snowballed, but believe it or not, it doesn't mean that we love you any less, I just think that families can be this way when there's confusion and people are hurt."
"It could have been nipped in the bud had everyone been included..."But Samantha Markle apologises to her half sister Meghan, after flying to the UK and not being able to contact her.@TheJeremyVine | @Channel5_tv | #jeremyvine pic.twitter.com/iApIbTiPWmOctober 1, 2018
See more
Attempting a new angle to reach out, rather than her usual approach, Samantha added: "Moving forward, I apologize and wish things could be different."
At least it's something different for Samantha—but does it make up for the endless, tell-all interviews sharing private, personal family information? A whole lot of embarrassment in Meghan's new role as royalty? Literally calling her new husband a hamster on his birthday? I mean...I'd at least send some flowers.
RELATED STORY
Lucy Wood spends most of her time writing about celebrity news, reading books, and waiting for the glorious day that she have enough millions for a pet sloth. She also has a YouTube channel on the go where she pretends to know things about fashion and life advice.