Kim Kardashian Has Apologized For Those Problematic Weight Loss Comments
Khloé called her "anorexic" as a compliment.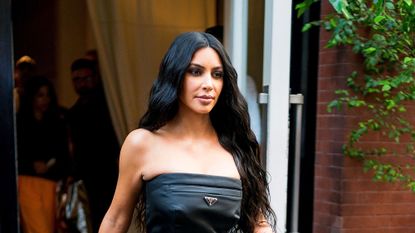 (Image credit: getty image)
In July of this year, Kim Kardashian West faced major backlash when she came under fire for reacting in a positive way to comments from sisters Khloé Kardashian and Kendall Jenner regarding her recent weight loss. In videos shared on Kim's Instagram stories to over 118million followers, Khloé and Kendall told their older sister that she looked "really skinny" and "anorexic". As the cherry on top, Kim reacted positively and thanked Khloe for the "compliments."
It's not often that a Kardashian-Jenner sister comes out with the S-word (yep, sorry) when they face criticism. For example, those Fulani braids are repeatedly worn by all of the family, and, oh God, nobody mention Kendall's Pepsi commercial. But in an unexpected plot twist, Kim has publicly apologized for the toxic weight loss comments, and admits that she fully understands the huge reaction that it caused.
Speaking on Ashley Graham's new podcast, Pretty Big Deal, Kim said: "I honestly, looking back in having said that, I 100 percent completely understand where people would be coming from that felt that way. So my intention is never to offend anyone and I really, you know, apologize if I offended anyone, because an eating disorder is—I know people that have serious eating disorders that have been in and out of the hospital for 15 years, close people. So I've like, been through, I have experienced it enough to have, like, known better."
The 37-year-old reality star and mom-of-three continued by acknowledging the comments were insensitive, saying: "Sometimes when you're—you know I was, like, with my sisters and we were laughing and joking and it's loud and you are—you know, I dunno, I guess, sometimes you can get, like, carried away and just, it was insensitive, you know, and it definitely wasn't my intention though. And I think, especially my fans and everyone that was watching was supportive, like, "Okay, look, like, maybe you guys shouldn't have said that but I know what you were saying.'"
Today is the day! My @prettybigpod is now LIVE. And episode 1 features none other than @KimKardashian. Listen now! https://t.co/dh1jDupfmq pic.twitter.com/bGuM9v3sMyOctober 2, 2018
See more
At least it's something. But the whole lollipop appetite suppressant thing still happened without an apology, so…
RELATED STORY
Lucy Wood spends most of her time writing about celebrity news, reading books, and waiting for the glorious day that she have enough millions for a pet sloth. She also has a YouTube channel on the go where she pretends to know things about fashion and life advice.