Kim Kardashian Wore a Money Trench Coat and Matching Boots to a Party Last Night
As one does.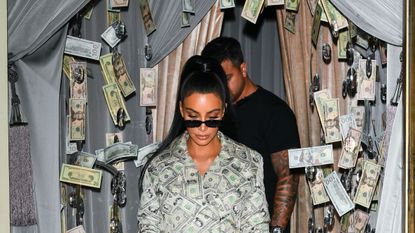 (Image credit: PG/Bauer-Griffin)
Kim Kardashian knows she's rich. Like, really rich. And she proved it last night, with Kardashian wearing a vintage Jeremy Scott trench coat dress and matching boots covered in dollar bills, as one does. The Keeping Up with the Kardashians star was spotted exiting a restaurant in West Hollywood for an Anastasia Beverly Hills party accessorizing with tiny sunglasses and carrying a gold glitter bag with a money sign on it. Important question: Do you think she has enough room to fit her wallet?
The outfit was resurrected from Scott's fall 2001 collection, according to Harper's BAZAAR. "What do you do when your friend sells her company for a couple billion? You wear a full money fit and throw her a party," Kim said in a video on her Instagram stories.
Reminder: Kim is worth $350 million, as reported by Business Insider. Her younger sister Kylie, 21, is worth 2.5 times more than her...coming in at a cool $950 million. A couple months ago, Forbes called Kylie a "self-made multimillionaire," and predicted she's on track to become America's "youngest-ever self-made billionaire." Twitter had a lot of feelings about the magazine calling her "self made" because, well, she comes from a wealthy family.
Kim isn't the only Kardashian who shamelessly talks about (and wears) their money. Kourtney Kardashian's "I'm so rich" video has become one of the best memes of 2018. So there's that. Kim, if you'd like to pay my rent, I'd happily accept.
RELATED STORIES