Kim Kardashian's Weight Loss Is Concerning for Emmy Rossum and Stephanie Beatriz
"The only time I was 119 pounds is when I had mono."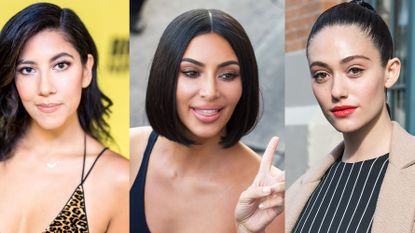 (Image credit: Getty Images)
Late this weekend, Kim Kardashian's Instagram Story sparked a firestorm on social media after she filmed sisters Khloe Kardashian and Kendall Jenner commenting on Kim's recent weight loss (opens in new tab). Their comments weren't necessary the problem—but Kim's positive, excited reaction to being called "really skinny" and "anorexic" definitely didn't fly with a lot of people. Two such critics included actresses Emmy Rossum and Stephanie Beatriz, who both took to their social media platforms to explain why they were concerned by the reality star's posts.
In the series of videos taken backstage at the Kardashians' most recent public appearance (opens in new tab), Kim revealed that she now weighs 119 pounds after following a strict weight loss regime. "You look so skinny," model Kendall tells her sister, jokingly adding: "I'm really concerned, I don't think you're eating." Kim responds by saying: "Thank you!"
Brooklyn Nine-Nine's Stephanie Beatriz used the opportunity to share her own story and how Kim's weight loss coverage had affected her. "Kim Kardashian saying what she weighs and her sisters complimenting her being so skinny is like eating my brain rn," the 37-year-old actress wrote on her Instagram story. "There's only one time in my life when I ever weighed 119 pounds. It was right in the middle of a terrible relationship, and intense eating disorder, and I thought that I could be thinner and look even better."
"Everyone kept complimenting me on how I looked, and I felt desperate to stay at that weight. IT SUCKED," Beatriz admitted. "So if this shit b fucking w you I GET IT. Try not to hurt yourself over it. I've been texting friends for support."
Having spotted her friend's post, Shameless star Emmy Rossum responded in agreement and to offer further words of encouragement to anyone in a similar position. She wrote: "@iamstephbeatz, the only time I was 119 pounds is when I had MONO. On a magazine shoot everyone was 'freaking out over how good' I looked. I had lost 10 pounds and was gaunt and sick and felt faint… It totally messed with my head. I love you and I'm with you."
Of course, it's not the first time that Kim's public relationship with weight loss and dieting has sparked controversy. Appetite suppressant lollipop, anyone?
RELATED STORIES
Lucy Wood spends most of her time writing about celebrity news, reading books, and waiting for the glorious day that she have enough millions for a pet sloth. She also has a YouTube channel on the go where she pretends to know things about fashion and life advice.