This Week in Timothée Chalamet, October 19 Edition
Look who's calling whom by which name!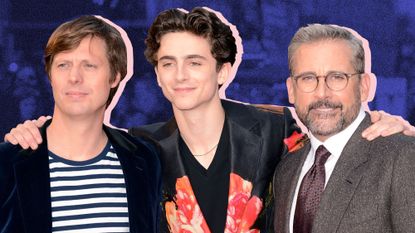 (Image credit: Getty Images/Morgan McMullen)
Because being a person in the world is hard and you deserve something nice, this is MarieClaire.com's semiregular column on everything talented young man Timothée Chalamet did that week. You can catch up on last week's here.

Hello starlings and welcome back to another edition of This Week in Timothée Chalamet. I hope wherever you are it feels like autumn the way it does here. It's crisp sweater weather, perfect for curling up with a mug of warm apple cider and watching Call Me By Your Name for the 15th time.

Timmy was fairly quiet this week, following a whirlwind month of promotion for Beautiful Boy. Have you seen it yet? What are your THOUGHTS? Take my poll:
In my opinion it was a remarkable, moving, and deeply sad movie. Steve Carrell is so wonderful as a serious actor that I'm now more jarred by seeing him on reruns of The Office than I am seeing him cry on-screen over at-risk youths. But, of course, the real star of the show was Timmy, who delivered a shocking and wholly believable performance and deserves every ounce of the Oscar buzz he's been getting.
A few other things happened in the world of Timmy this week.
Shall wé dive in?
Timmy wore floral!
Yes, we know, this young man can wear a flower print, but the floral Alexander McQueen he wore to the Beautiful Boy premiere was an act of sartorial derring-do so impressive that it's like looking into the sun. It's...it's so beautiful. I can't look directly at it.
You can't see because I typed this a day or so before you read it (that's how the sausage gets made, my friends) but I'm doing the chef's kissing fingers thing. Bellissimo!
Timmy seems to be quite the fan of the bold floral, as scholar @chalamazes points out:
Apparently, Timmy says he took as his inspiration one Mr. Harry Styles, which makes sense. Should we look at Harry Styles real fast?
I'm shivering, is it cold?
I also think a really cool way for Timmy to show his appreciation for Harry's style trailblazing would be to smooch him right on the mouth while they were wearing the same outfit.
Weird, now I'm sweating.
Timmy wore floral!
You know I have to include any recent social media updates, so here's a look at some art Timothée Chalamet posted on his once-dormant, now-active Instagram:
The watercolor painting (I surmise) reads, "The sky might fall but I'm not worried at all." (Turns out they're lyrics from this song.)
Update: Turns out that piece was made by the artist Olivia, on Instagram at @voicelikehoney, who made the art especially for him. Oh my GOSH, I love this and him and Olivia and this art. Congrats! (Hat-tip to Gillian for reaching out!)
He also regrammed a video of musical artist Sampha performing the original Beautiful Boy song "Treasure." It's lovely:
Thanks for keeping us posted, Timmy!
There were some updates on the Call Me By Your Name sequel.
We've already heard that Michael Stuhlbarg (who played Timmy's dad in the original Call Me By Your Name) is into doing a sequel, and that he said that Luca Guadagnino said he'd be down to direct. Then we heard from Armie Hammer, who was all, "It will happen."
And now we finally have Timmy talking about it. In an interview with Time, he said, "I don't see any world where [a sequel] doesn't happen...I know Luca really wants it. And I know Armie and me are 1,000-percent in."
Aww! But now onto the more important question: What will it be called? The internet is really into And I'll Call You By Mine—the end of the quote in the original movie that begins, "You call me by your name…"—but I feel like that's really limiting, considering this ought to be a 10-part film event, like Lord of the Rings or something.
Here are three choices I would recommend instead:
The Second Name That I Call You By
A Name By Any Other Name
Call Me By Your Name Too: Look Who's Calling Whom By Which Name
Luca, if you want to use any and/or all of those, feel free to call me (by my own name).
And that's basically what happéned! Have a beautiful weekend.
RELATED STORY
Marie Claire email subscribers get intel on fashion and beauty trends, hot-off-the-press celebrity news, and more. Sign up here.
Cady Drell is a writer, editor, researcher and pet enthusiast from Brooklyn.