The Biggest Movies of Fall 2018
Surprise! There's more to be excited about this fall than simply 'Fantastic Beasts.' (Though that's really exciting.)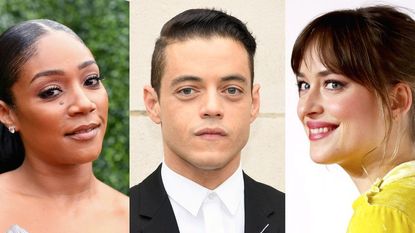 (Image credit: Getty Images)
It's still summer, but the movies coming out this fall have got us wishing for cooler weather (I want to see A Simple Favor NOW!). Fall 2018 is, like other autumns before it, shaping up to be a helluva good time for smarter-than-average blockbusters, terrifying thrillers, and prestige drama. Oh, and Timothée Chalamet in his latest Oscar bait, naturally.
Start getting excited: These are the movies premiering between Labor Day and Thanksgiving that we're hotly anticipating over here at MarieClaire.com, arranged by date for your MoviePass-ing convenience.
The Little Stranger (August 31)
A creepy period piece set in a beautiful mansion, this apparent slow-burner has a killer cast: Domhnall Gleeson, Charlotte Rampling, and Ruth Wilson (whom you may know from her star turn on The Affair). Something tells me The Little Stranger has one helluva twist. I'll take a goth ghost story any day.
A Simple Favor (September 14)
As if Anna Kendrick and Blake Lively together weren't enough of a draw, Blake Lively in a series of gorgeous tailored suits makes this movie a done deal. One ticket, please! Nevertheless, here's the gist of the plot: From the "dark side of Paul Feig" (the director behind Bridesmaids and the all-female reboot of Ghostbusters) comes a darkly comic erotic thriller about two moms who become friends before one of them (Lively) curiously disappears. Kendrick's character tries to look for her, but finds that maybe her new friend was harboring more secrets than she let on.
The Children Act (September 14)
Based on the 2014 novel of the same name by Ian McKewan, this movie (starring the unbeatable combo of Emma Thompson and Stanley Tucci) follows a British High Court judge who has to rule on whether a boy dying of leukemia should receive a life-saving blood transfusion against the wishes of his Jehovah's Witness parents. Part court drama, part relationship drama, all drama-drama.
Night School (September 28)
Just when you were thinking, "Where has Tiffany Haddish been in my life?" comes this comedy led by the breakout star of Girls Trip (and directed by Malcolm D. Lee, who helmed Girls Trip). Kevin Hart plays a man forced to attend night school to get ahead in his career, and Haddish, his reluctant instructor. The two of them playing against each other looks like improvisational gold, and it might be just the thing to kick those end-of-summer blues.
Bad Times at the El Royale (October 5)
This is an extremely stylish ensemble action movie (Dakota Johnson! Jeff Bridges! Jon Hamm! Nick Offerman!) that's got a directed-by-the-Coen-Brothers vibe, despite not actually being directed by the Coen Brothers. It's about the seedy goings-on of a bunch of unseemly people at a Lake Tahoe hotel in the 1970s. Plus, it features Chris Hemsworth as the sexy leader of a cult that I would totally join.
A Star Is Born (October 5)
Though we've already discussed a million reasons to see this movie (okay, technically 16), the rundown is that this remake of the 1954 Judy Garland film (which was also remade with Barbra Streisand in 1976) stars Lady Gaga as a singer who finally gets her big break when she falls in love with a popular country musician in need of a little redemption. Both no-makeup Lady Gaga and extra-porous Bradley Cooper (who also directs) are irresistible, making this coulda-been-doomed movie one of our Most Anticipated of 2018. Can it be October yet?
Beautiful Boy (October 12)
This movie, based on the memoirs of David and Nic Sheff (a father and son duo) tackles addiction and familial bonds, and is already getting Oscar buzz for its two leads, Steve Carell and Timothée Chalamet. Plus, I've heard good things about this Chalamet fellow.
Can You Ever Forgive Me? (October 19)
Melissa McCarthy's turn in this literary caper reminds me a bit of Will Ferrell in the highly-underrated Stranger Than Fiction, except this one is based on an actual true story. McCarthy goes darker and grittier than we've seen her (but she's still somehow funny and warm) as down-on-her-luck novelist Lee Israel, who starts forging famous writers' letters to pay her own bills. Richard E. Grant—forever "That Guy Who Was Great in Spice World" to me—plays her best friend, Jack.
Bohemian Rhapsody (November 2)
Though there were some serious productions snafus that almost jeopardized this highly-anticipated Freddie Mercury biopic—including on-set chaos, thanks to an MIA director who later got fired mid-production—it's finally happening and it looks really promising. Rami Malek (of Mister Robot fame) stars as the Queen frontman at the height of his powers, mustache and all. Mercury left some big shoes to fill, and it'll be interesting to see if Malek can pull off such a departure as an actor, but no matter what happens, two hours of Queen songs is still worth a visit to the theater.
Nobody's Fool (November 2)
"More Tiffany Haddish!" she shrieked into the void. This time, Tiff plays a woman who, upon getting out of jail, tracks down the online catfisher of her responsible and high-powered sister to exact revenge. Hot take: All movies should just be Tiffany Haddish unleashed on the scenery. Maybe also she should be President? I'm just spitballing! (P.S. It's written and directed by Tyler Perry and co-stars Whoopi Goldberg, you know, casual.)
Suspiria (November 2)
The trailer alone for Luca Guadagnino's remake of the 1977 horror classic Suspiria makes me jump, and the movie got some terrified reviews from those who saw a preview of it at CinemaCon. Dakota Johnson in a creepy period horror film, though? Count me in...but don't judge me if I cover my eyes a few times.
The Girl in the Spider's Web (November 9)
Based on the fourth novel of the Millennium series (and the first not written by Steig Larsson, who passed away in 2014), this film got a lot of buzz with its trailer, which shows the genius Claire Foy nearly unrecognizable as Lisbeth Salander. She looks so badass and Swedish! It'll be interesting to see Foy as an action star, but if there's one thing we know about her, it is this: She has the range.
Fantastic Beasts 2: The Crimes of Grindelwald (November 16)
The Fantastic Beasts movies are an interesting exercise in world-building beyond the canonical Harry Potter franchise, since they're still written by J.K. Rowling but don't have a book precedent (unless you count the cutesy textbook Rowling published in 2001). The first film installment followed the adorable Newt Scamander (Eddie Redmayne) on his adventures in New York, before he became the acclaimed author of Harry Potter's schoolbook. The next installment will cover the much-hinted-at battle between Dumbledore (Jude Law) and the evil wizard Grindelwald (played here, somewhat controversially, by Johnny Depp), and how Newt was involved. See you at the midnight showing?
Creed 2 (November 21)
The first of these Rocky reboots, which came out in 2015, was so good it seemed honestly to take critics by surprise. But why? You think Michael B. Jordan—one of the greatest actors working right now—would take on something subpar? This sequel promises just as much for Jordan to work with (once again, alongside the beloved Tessa Thompson), including a plot-line involving a Drago—and Ivan Drago was the wrestler who killed Apollo Creed in the O.G. Rocky franchise. Ominous.
RELATED STORY
Celebrity news, beauty, fashion advice, and fascinating features, delivered straight to your inbox!
Cady Drell is a writer, editor, researcher and pet enthusiast from Brooklyn.