Ezra Miller Is Avada Kedavra-ing This 'Fantastic Beasts' Press Tour
It's easier than "wingardium leviosa," I guess.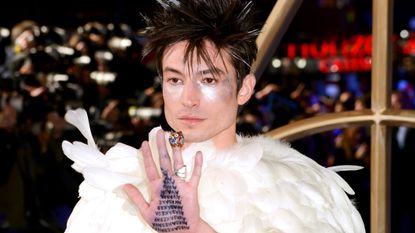 (Image credit: Dave J Hogan)
I get being super into your job, but Ezra Miller takes being committed to his job to another level. The press tour for Fantastic Beasts: The Crimes of Grindelwald has had Miller taking his fanboy levels to new heights, and I'm not complaining. He's a self-professed "diehard fan of Harry Potter", and tends to geek out during press and promo tours about anything involving Harry Potter. He even said he's refused to take the Pottermore test to get sorted into a Hogwarts house out of genuine fear that he might not be the Gryffindor he always believed himself to be.
"I respect the sorting process and I'm so on board with Pottermore—you guys are like Dumbledore's Army, keeping it all alive. I know the Sorting [Ceremony] was written by J.K. Rowling, but I still can't risk it," he told Pottermore in 2016. "What if I get Slytherin? I couldn't live with myself. I need to be in Gryffindor. If I didn't get Gryffindor, I wouldn't know who I was anymore."
So it's no surprise that his love for Harry Potter has overflowed into his red-carpet routine. Not only did he show up to the film's Paris premiere looking like a Dementor had a baby with Missy Elliott's garbage bag coat look, but he arrived to the film's London premiere today dressed not only as the chicest chicken I have ever seen, but he'd written "Avada Kedavra", the infamous Killing Curse from Harry Potter, on his palm. Don't believe me? Here's a close up:
This is the kind of loyalty employers dream about. Keep killing it, Ezra.
RELATED STORIES
Celebrity news, beauty, fashion advice, and fascinating features, delivered straight to your inbox!
Amanda Mitchell is a writer and podcaster with bylines at Marie Claire, OprahMag, Allure, Byrdie, Stylecaster, Bon Appetit, and more. Her work exists at the apex of beauty, pop culture, and absurdity. A human Funfetti cake, she watches too much television, and her favorite season is awards season. You can read more of her work at amandaelizabethmitchell.com or follow her on Instagram and Twitter @lochnessmanda.