Katy Perry and Nicki Minaj Take Shots at Rivals in Killer Collab "Swish Swish"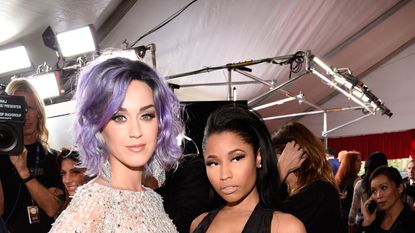 (Image credit: Archives)
After an ominous, distorted vocal chant, Katy Perry's new song "Swish Swish" opens with finger snaps and a schmoozy piano line. You'd be fooled into thinking she's about to launch into some kind of cute pop anthem, but then the lyrics make themselves clear: "A tiger / Don't lose no sleep / Don't need opinions / From a shellfish or a sheep / Don't you come for me / No, not today." From there, the song unsheathes its fangs—and becomes a revenge-seeking banger.
You can kind of tell what you're going to get from "Swish Swish" just based on the single's cover: a set of receipts for KARMA COFFEE & TEA. Perry's verses demurely alludes to someone who's "calculated," who keeps talking about Perry: "Funny my name keeps comin' outcho mouth." Other verses make even more pointed references: "You're 'bout as cute as / An old coupon expired / And karma's not a liar / She keeps receipts."
Minaj's deployment on this track is no accident. The generous queen went through her own high profile feud earlier this year, and starts her verse by claiming "silly rap beefs just get me more checks."
The rest of Minaj's verse is filled with similar lyrical jabs, and she doesn't rest even at the end: "I only fuck wit Queens / So I'm makin' hits with Katy." WHEW.
"Swish Swish" drops days before the Billboard Music Awards, where Minaj will open the show. Players Perry and Minaj have officially entered the summer jam arena.
Follow Marie Claire on Facebook for the latest celeb news, beauty tips, fascinating reads, livestream video, and more.