Oh Sh*t: Iggy Azalea Just Pulled a Mariah Carey on Halsey, in Case You Need a New Feud to Obsess Over
"I don't know her" will never get old.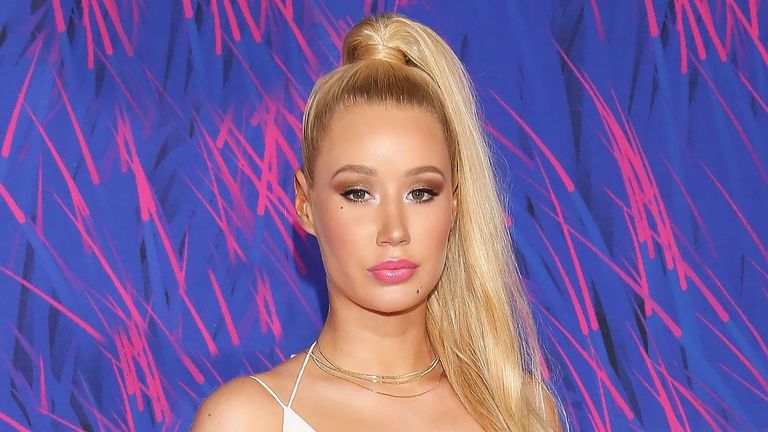 (Image credit: Getty Images)
It's one thing to be Mariah Carey, the queen of shade. It's another to borrow from the queen of shade. Nevertheless, when shade is thrown, the fans will scream with delight, obsess, and move on to look for new shade. Here it is: On Tuesday, Iggy Azalea borrowed a classic line from the Elusive Chanteuse in response to comments made by Halsey last week in the Guardian. Toward the end of a lengthy interview conducted ahead of the singer's Glastonbury debut, Halsey called Iggy a "f*cking moron."
Speaking to the Smallzy's Surgery podcast in Australia on Tuesday, Iggy said she found it a bit odd that she was mentioned at all in Halsey's interview. "It's kind of like if we were talking right now and I just randomly started talking about Janet Jackson or something," Iggy said. "To me, because I'm a famous person and I know a lot of the time people have opinions and they're not always accurate, I really try very hard not to give my personal opinions about people that I don't know. I don't know her. I've never met her." She then ventured a guess on why her name was brought up in the first place. "She's young and I hope she learns maybe to be a bit less judgmental when she's kind of in the same shoes," she said. "I'm sure she's getting judged all the time as well by people who don't really know her. Maybe it'd be good for her to try to be a little more empathetic to other people that are in the same situation…I don't really think I had anything to do with it."
Halsey's Guardian interview also saw her angering the LGBTQ community. In the interview, Halsey seemingly sides with Quavo, the rapper who turned heads in February after making homophobic comments in a Rolling Stone interview. "I think he's misunderstood. Just because I choose to be a socially conscious artist, and I'm pretty good at that, that doesn't mean every artist is going to be equipped to be politically correct," she said. "I don't think he's inherently homophobic, I think he's in a tough place of trying to explain what he means." Halsey added, "I agree his apology was bullshit, but I can't police everybody."
She continued her remarks on Twitter, clarifying that she didn't know about his homophobic comments when they collaborated on her new album.
Again, I am truly sorry for my misjudgement and I am happy to have listeners who hold me accountable.June 23, 2017
See more
As this simmers, keep in mind that both artists have new albums to promote right now: Halsey's latest album, Hopeless Fountain Kingdom, was released June 2, while Iggy's sophomore release, Digital Distortion, is expected to drop June 30, after several delays. Just an FYI. You're still allowed to take sides. In which case, I choose Mariah Carey. Always Mariah Carey.
RELATED STORY
Follow Marie Claire on Facebook for the latest celeb news, beauty tips, fascinating reads, livestream video, and more.
Peggy is Cosmopolitan.com's entertainment writer, specializing in Leonardo DiCaprio, This Is Us, and the royals. She's also a proud Canadian and pug lover. When Peggy's not obsessing over Leo's latest lover or gut size, she can be found watching old episodes of Friends or Gilmore Girls. Her dream is to one day live on a pug farm and write children's books, with illustrations by her very talented husband Greg.