Tiyana Sky Says She Was Demi Burnett's Girlfriend Before 'Bachelor In Paradise'
Get ready, drama's a-coming.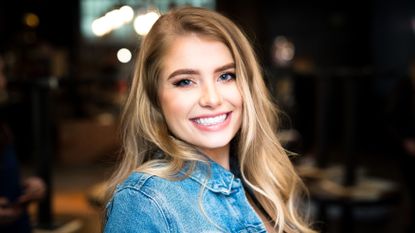 (Image credit: Greg Doherty)
Spoilers for Bachelor in Paradise season six ahead. Demi Burnett has already gotten Bachelor Nation abuzz, thanks to the sixth season of Bachelor in Paradise: Demi came out as sexually fluid on the show and brought on her serious girlfriend, Kristian Haggerty. That makes them, officially, the first same-sex couple on The Bachelor franchise (heart eye emoji!). However, there's already been drama: Tiyana Sky, who says she was Demi's first girlfriend, has spoken openly about their relationship to Soapdirt. Tiyana claims that they were on and off since before Demi went on The Bachelor, and the situation got...complicated, to say the least.
Most of this information comes from an exclusive interview that Tiyana did with Soapdirt in July 2019, and it hasn't been verified elsewhere (although Soapdirt does have photos of Demi and Tiyana and texts provided by Tiyana, if you're curious). Reality Steve also has some intel on the situation, but hasn't commented much about it.
This is what has been shared so far, and we'll update when we know more. Keep in mind: We only have one side of the story thus far.
Demi says she only dated casually before Kristian.
This is...interesting. In an interview with ET, Demi paints a very different picture about the state of her relationships before The Bachelor. According to ET, "Burnett says she started casually dating women during her freshman year of college, but didn't share that with contestants on Colton Underwood's season of The Bachelor. 'I was afraid of what they might think. I didn't know these girls,' she recalled. Once she felt comfortable with some of them, she opened up." By the end of that show, she and Hannah Brown were really close, and Hannah has been vocally in support of her friend on and off the show. This also addresses why Demi didn't discuss her sexuality on the show until coming on Bachelor in Paradise.
If you're keeping track, this is directly in conflict with what Tiyana says (below), which is that she and Demi were serious and on-and-off for a long while. With all that said, contestants don't often go into great detail about their exes unless it causes on-show drama (see also Peter Weber, who broke up with a girl before the show, and who gave interviews about how betrayed she felt when she discovered he was on The Bachelorette). It's also important to note that contained within that statement is omission—she began dating women casually in college, and she went on The Bachelor when she was 23. So that's five years in which to potentially develop non-casual relationships with women...but, at the same time, it's not exactly fully forthcoming either. It'll be interesting to see if it ever comes up.
Demi's new girlfriend is officially in Paradise.
Update, 8/21/19: Kristian Haggerty is officially dating Demi as one-half of the first same-sex couple in Bachelor Nation history. The pair is getting a ton of love from current and former contestants, and the show is handled it with some tactfulness (Chris Harrison tells Demi he loves and supports her, which is one of the most effusive statements from him in my recent memory). But there are also some conflicting statements. Demi said she'd never had such strong feelings for another person, which, if Tiyana is watching, had to have hurt. She also said throughout the season that she's still figuring herself out and she just told her parents about her sexuality—which, if the very public photos of Tiyana and Demi going months back (now deleted) are anything to go on, can't be true. Granted, this may be for the benefit of the audience, to give context on Demi's journey. And Demi's not about to go on a show and talk at all about her ex. But the context feels interesting here.
Demi has also gotten backlash for planning Kristian's entrance onto the show (which she denies), and even having a pre-show girlfriend in the first place. She hasn't been asked directly about any relationships prior to the one with Kristian, but as the show goes on, she may. Tiyana hasn't posted anything on either Twitter or Instagram, which is smart. It looks as though she's happy in her current life (she and her fiancee continue to interact on Twitter), which is good to see.
Tiyana is engaged to another woman.
This is Tiyana:
According to Reality Steve and Soapdirt, she's engaged to someone else. Tiyana has a YouTube channel with fiancee Shannon Bubb, but it doesn't look like anything's been posted in a year.
In the video, Shannon and Tiyana said they met in 2017 and they've moved in and adopted a cat together. At the point the video was shared, they were engaged but hadn't gotten married yet. Tiyana was studying to be a psychiatrist at the time.
She apparently had a serious relationship with Demi.
According to Tiyana, she was 16 and Demi was 20 when they started dating: "We met on Tumblr. It was my first serious relationship and her very first and only relationship up until this engagement...The nature of our connection continued for four years," said Tiyana. "It was a very toxic cycle which involved us always running back to one another and a lot of emotional damaging things were said on her end. We tried to make things work again in 2017, and I ended up moving." She says Demi reached out again in March 2018, but by then Tiyana was with Shannon.
Demi reached out again while The Bachelor was airing.
"This past January 2019, she called me while The Bachelor was airing saying that she wanted me back again once she had her own place and was more stable since The Bachelor would end up bringing in money...But I told her I couldn't do that and congratulated her on her success, trying to move the conversation back to a friendly level. We spoke a few times after that, mainly small talk. I care about her as a person and didn't want to lose the connection we had," said Tiyana.
She says Demi asked her to delete their relationship from social media.
Tiyana says she feels betrayed by what she perceives as Demi's effort to hide their relationship before Demi went on The Bachelor. "She made every effort possible to make sure no one knew anything regarding our relationship considering the significance it had and the fact that we aren't in a bad place with each other," she claimed. According to Tiyana, before she became a contestant, Demi asked for Tiyana to delete any trace of their relationship on social media.
Tiyana watches The Bachelorette.
According to her Twitter, Tiyana was very excited about the exit of a certain bachelor who we will never speak about again (same, girl).
bachelor nation getting ready to watch Luke to go home #thebachelorette pic.twitter.com/U10QKSS0BrJuly 16, 2019
See more
Also, I don't know if that means Tiyana will watch BiP. Is it must-watch TV or never-watch TV to see your ex hooking up with other people?
Demi's decision to bring on her new girlfriend was producer-approved.
So, with all this potential tea in mind, I think the reason people are reading into this is because 1) Demi's decision to bring on Kristian to BiP was actively discussed with producers, and thus interpreted by some as being an play for attention, 2) Demi and Tiyana were involved for a long time, but Demi wasn't open about the relationship when she went on the show, 3) Tiyana says Demi cheated on her (yikes) and kept trying to win her back up until a few months before she went on BiP and thus, 4) Demi must solely be interested in fame and attention, and her current relationship must not be real.
First, an interest in fame and attention could be said of literally any person who has gone on any Bachelor Nation show, ever. And I'm just not sure if Bachelor fans would have been open to a bisexual bachelorette, frustratingly, so I actually think BiP is a better place for Demi and Kristian.
This doesn't feel like a similar situation to Jed Wyatt on The Bachelorette, who literally kept his pre-show girlfriend (who wasn't the only one he was seeing at the same time) all the way up to going on the show. This just feels...like a really messy ex situation, to me, followed by a very high-profile and highly scrutinized show relationship—which is apparently relatively common among Bachelor Nation. But we'll see.
For more stories like this, including celebrity news, beauty and fashion advice, savvy political commentary, and fascinating features, sign up for the Marie Claire newsletter.
RELATED STORIES
Celebrity news, beauty, fashion advice, and fascinating features, delivered straight to your inbox!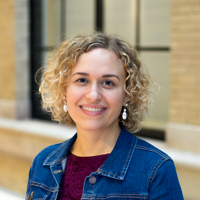 Katherine's a Boston-based contributor at Marie Claire who covers fashion, culture, and lifestyle—from "Clueless" to Everlane to news about Lizzo. She's been a freelancer for 11 years and has had roles with Cosmopolitan and Bustle, with bylines in Parents, Seventeen, and elsewhere. It's "I go to dinner," not "Her huge ego," but she responds to both.