Who Is Demi's Girlfriend Kristian Haggerty From 'Bachelor In Paradise'?
We're going to see much more of these two.
Marie Claire Newsletter
Celebrity news, beauty, fashion advice, and fascinating features, delivered straight to your inbox!
Thank you for signing up to Marie Claire. You will receive a verification email shortly.
There was a problem. Please refresh the page and try again.
Major spoilers for the 2019 season of Bachelor in Paradise ahead. We already knew that Demi Burnett, who made a splash in Colton Underwood's season of The Bachelor, was going to play a major role in this upcoming season of Bachelor in Paradise. In the past weeks, we've gotten word that she'll be coupling up with...her girlfriend, Kristian Haggerty! Yes, you read that right: On BiP this season, Demi will come out as bisexual, and Demi and Kristian (a Bachelorverse newbie) will be a couple on the show. This is a huge deal, given that The Bachelor franchise has never featured a same-sex relationship before, and I can't wait.

Here's everything we know about Haggerty and their relationship.
Kristian is gushing over Demi on Instagram.
Just check out this cuteness right here. Kristian captioned the photo: "I am so grateful for our story being shared. Learning to be comfortable with who we are is a major part of most of our journeys...So proud of you, Dem." Also, Dem! That nickname! I die from the sweetness:

Also, she totally has a ring on that finger—spoiler alert?? (It just looks like a plain band, so it may not be. But I love to speculate, shocker.)
Demi had posted something simpler earlier, just thanking Kristian for coming to Paradise:

But she literally burst into tears when she saw Kristian, so the post has a more profound meaning about the depth of their connection. Obviously, the two aren't about the spoil the show results, but check back in as soon as the finale airs—I have a feeling big Insta posts are coming, no matter what happens.
Big things are coming on the show.
As it stands right now on Bachelor in Paradise, Demi and Kristian have had a few minor tiffs about how touchy-feely Kristian is (and how Demi decidedly is not), even though Kristian isn't flirting with anyone else. More seriously, Demi is worried about being judged for being out in public with a woman and adjusting to being queer in the public eye. Aside from the very obvious, which is that Paradise is designed with drama in mind, and that it feels like we have had quite a bit of it this season in particular, those fears seem valid. But, by the same token, the two women have a stronger-than-strong connection.
No spoilers, but judging by Kristian's Instagram above, I have a good feeling about these two. You kids!
Demi recently opened up about how they met.
Chatting with ET, Demi refuted (not for the first time) the notion that everything was pre-planned on the show. "I am not a producer, and what you see is what happened," she said. "It was just a great opportunity for us to get to know each other more and explore the relationship at such a magical place."
Saying she felt "liberated" from her experience on the show, Demi also addressed the timing of her dating history. "Burnett says she started casually dating women during her freshman year of college, but didn't share that with contestants on Colton Underwood's season of The Bachelor. 'I was afraid of what they might think. I didn't know these girls,' she recalled. Once she felt comfortable with some of them, she opened up." This kind of contradicts what her ex, Tiyana Sky, has said, which is that the two dated seriously for a while before Kristian. Of course, Demi's not about to talk much about anyone beyond her current love, so in a way that makes sense.
Demi also opened up about her pre-show connection with Kristian. "We were just two humans enjoying each other's company. I had always known that I was gonna go on Paradise and I was upfront with her about that when we first met. So we both agreed to keep it open and non-exclusive." Then, when she got on the show, her feelings changed. "I was always open and honest and communicated exactly what I was feeling and what I was going through." So far, we've seen Kristian be worried that Demi was exploring another relationship, but the two ended up the episode fully in love and feeling strong.
We met her on the show!
Kristian came on the show August 20. This makes sense: Hannah Brown, Demi's BFF, came on the show to have a little heart-to-heart with Demi in the previous day's episode. This clip doesn't give anything away about what they talk about, but it ended up being about Demi's sexuality and off-show girlfriend:
Poor Derek had no idea what was about to happen, and in the wake of his devastation, people was advocating for him to be the next Bachelor. There's been a little backlash towards Demi for having a girlfriend off the show (she's being compared to Jed Wyatt, but she's been defending herself vocally). The difference there is that Demi has been honest since episode one about her sexual fluidity and about Kristian's importance in her life—and spoilers indicate she had discussions with producers pre-show about all this, so it's not like the show is forcing her to address her sexuality. Kristian hasn't had the chance to weigh in on any of this, so I'm excited to hear her side.
She's a model and actress.
Kristian's been a model and actress from a young age, according to her website. Originally a graduate of Stetson University, Kristian completed an improv program at Second City Training Center in 2018. Her job on LinkedIn is listed as a sales consultant at LightWork Software.
She's worked behind the camera, too.
In her bio, Kristian says she's "interested in Production Assistant roles and 2nd Assistant Director roles. She is also interested in acting for film, commercial, video, TV, live events and hosting opportunities." Her experience dates back only a few months, but she's worked for a few production companies.
She's an ordained minister.
Most recently, she married her two best friends. "We shared our stories of doubts, loneliness, courage, acceptance, freedom and most importantly the support and love we've encountered on our journeys being gay. We shared how important it is to continue to fight for love and justice to make moments such as these possible," she wrote in a post.
She met Demi through another Bachelor alum.
Remember Catherine, who brought her dog and gave it to Colton Underwood in last season's Bachelor? Turns out she and Demi are friends, and that's how the two met.

That is such a small world. I love it.
She plays a big role in Bachelor in Paradise.
During the show, Demi comes out as bisexual, and subsequently brings Kristian onto the show. Demi did speak with producers before the show, so it was a deliberate decision between them—not a gotcha moment, in other words. The show has not had a same-sex couple on the franchise, so this was EPIC.
Some (including Reality Steve) find this to be exhibitionist and poorly handled. But the past few seasons of Bachelor shows have played out in new and interesting ways: Colton quitting the show and Hannah asserting herself against any and all bachelors who mess with her, for example. But this was utterly unexplored territory.
She and Demi were photographed together pre-show.
Kristian captioned the photo, "The one thing missing to complete a perfect weekend ❤️," so that's a pretty clear indication of her feelings.
Other than that, it was radio silence on social media from both Demi and Kristian during the show(for obvious, contractual reasons). In an interview with ET, Demi did say, "I think it would be easy to get really involved with someone right away, but then it's Paradise, and people can come in later, so what if someone comes in later? I just need to keep it open and play the field." Sooo, that seems like a pretty big hint.
If you're curious, go here to read all the spoilery things we know about this season's (VERY dramatic) Bachelor in Paradise, including about Demi and Kristian. There's more cool stuff to come, so stay tuned.
For more stories like this, including celebrity news, beauty and fashion advice, savvy political commentary, and fascinating features, sign up for the Marie Claire newsletter.
RELATED STORIES
Celebrity news, beauty, fashion advice, and fascinating features, delivered straight to your inbox!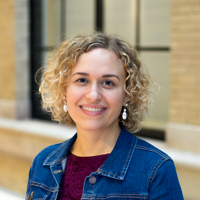 Katherine's a Boston-based contributor at Marie Claire who covers fashion, culture, and lifestyle—from "Clueless" to Everlane to news about Lizzo. She's been a freelancer for 11 years and has had roles with Cosmopolitan and Bustle, with bylines in Parents, Seventeen, and elsewhere. It's "I go to dinner," not "Her huge ego," but she responds to both.