Ryan Seacrest's Relationship History, Explained
The host recently became single again.
Marie Claire Newsletter
Celebrity news, beauty, fashion advice, and fascinating features, delivered straight to your inbox!
Thank you for signing up to Marie Claire. You will receive a verification email shortly.
There was a problem. Please refresh the page and try again.
Live With Kelly and Ryan and American Idol host Ryan Seacrest has traditionally stayed tight-lipped about his relationship status. In 2006, he was photographed kissing Desperate Housewives actor Teri Hatcher, but Hatcher has said that Seacrest broke it off after just three dates. Starting 2009, we know that Seacrest was in a relationship for a year or two with Playboy Playmate of the Year Sara Jean Underwood, and she confirmed in an interview with Howard Stern that they had dated on and off. In recent years, when Seacrest began dating chef and entrepreneur Shayna Taylor, he began opening up about their relationship. The two were on and off for close to a decade.
Later in their relationship, Seacrest referenced Taylor on his shows, and she showed up on Kelly and Ryan several times. Following a breakup in 2019, the two rekindled their relationship, and then split up, seemingly for good, in 2020.
So, is Ryan Seacrest single now?
Yes, but pretty recently so. A source said in October 2020 that Seacrest deeply missed Taylor. "He seemed so sure that breaking up was the right thing to do," said the source, "but not having Shayna there to lean on and talk to has really gotten to him. He misses her so much." But, the source added, "She feels he still doesn't appreciate how much she sacrificed four years ago to move to New York for him...He's promising to make more time for her, but Shayna's not going to be messed with a fourth time."
But it's really anyone's guess if Seacrest is seeing anyone else at the moment. Meanwhile, Taylor was spotted looking perfectly happy on a beach in Mexico with friends in January of 2021.
Why did Ryan and Shayna break up?
According to the Daily Mail, Seacrest and Taylor officially split up in July 2020. A spokesman for Seacrest said: "Ryan and Shayna decided to end their romantic relationship amicably some time ago...They remain good friends, each other's biggest supporters and will always cherish their time together as a couple." Seacrest was seen in Mexico around the same time holding hands with a blonde woman, not yet identified (pics at the Daily Mail link). There hasn't been word of this person since, or even a formal identification.
The last time that he posted a picture of Taylor on his Instagram was last March to celebrate her birthday, although her dogs made an appearance later that month on his account, and she may have been the one filming this video, so they were quarantining together for a while. Fans speculate that the breakup might have happened in April. Taylor's last image of Seacrest dates back to February.
How long were Taylor and Seacrest together?
All told, the couple were in each other's lives for eight years. In an interview with Good Housekeeping, Taylor shared how the two met (at an L.A. restaurant). "I guess he really wanted to talk to me and one of his friends he was sitting with happened to know someone in my group so they were texting to see if I came with anyone in the group, because he was trying to figure out if I was with a guy," she explained. She was clueless, until her friend texted her: "Ryan likes you."
"His friends come over and basically sit me in an interview chair and start asking me all these questions to be funny and he came over and took my hairband off my wrist as an intro point, like eighth grade," she added. Taylor was 21 and Seacrest was 39 at the time.
"Ryan obviously is a huge celebrity but he's not like...an artist where everyone is like 'ooh, ahh, like so excited,' you know what I mean? For me, I was just like 'Oh cool, Ryan Seacrest,'" she added.
Seacrest talked about his girlfriend pretty regularly on Kelly and Ryan. Taylor even showed up to talk all things banana bread in 2017, calling Seacrest "babe" casually and referencing how he didn't cook at home:
And she showed up again in 2019 to talk about juicing:
After the breakup, Taylor posted a cryptic quote that read, "You will never need to convince the right person to love you. No matter what, you cannot change them, make them do the work, or get them to commit to you if they're not ready to show up. Change must be inspired from within, and actions are always louder than words."
What other girlfriends has Seacrest had?
Aside from Underwood and Hatcher, there are a few other women Seacrest has been linked to over the years. He dated actor Shana Wall from 2003 to 2005, and then again in 2016 in between dating Taylor.
While he was on a break with Taylor, Seacrest was seen with model Renee Hall in 2015 and actor Hilary Cruz in 2015 to 2016.
Seacrest dated Celebrity Big Brother's Jasmine Waltz in 2009, and was linked to Julianne Hough between 2010 and 2013.
Later, without mentioning him by name, Hough spoke about going through an "identity shift" after a high-profile split: "It was 2013 and I had just got out of a relationship that was very high profile...I was on private planes and yachts and living in a very, very well-off house. My life was pretty different from where I grew up."
"I had just got out of that relationship because I wanted to create that for myself," she added. "I kind of felt like I didn't deserve it, like, I didn't earn that, so now I need to go and create that for myself."
Celebrity news, beauty, fashion advice, and fascinating features, delivered straight to your inbox!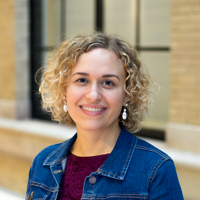 Katherine's a Boston-based contributor at Marie Claire who covers fashion, culture, and lifestyle—from "Clueless" to Everlane to news about Lizzo. She's been a freelancer for 11 years and has had roles with Cosmopolitan and Bustle, with bylines in Parents, Seventeen, and elsewhere. It's "I go to dinner," not "Her huge ego," but she responds to both.