The Weeknd's Bloody and Bandaged Face, Explained
He's been wearing the jarring makeup at appearances for months.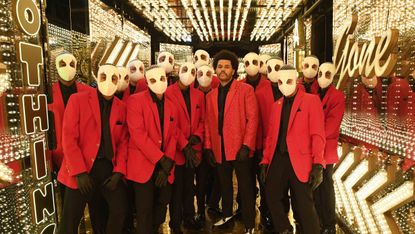 (Image credit: Kevin Mazur)
Marie Claire Newsletter
Celebrity news, beauty, fashion advice, and fascinating features, delivered straight to your inbox!
Thank you for signing up to Marie Claire. You will receive a verification email shortly.
There was a problem. Please refresh the page and try again.
Last year, The Weeknd, real name Abel Tesfaye, alarmed fans by appearing at multiple events—the American Music Awards, the Video Music Awards, and Saturday Night Live, to name a few—with a bloody, swollen, bandaged face. It looked like he'd been beaten or in sort sort of accident, and it got worse and more painful with every appearance. His (totally fake) bloodied and bandaged look, which he's described as "a progression" while he plays "The Character"—more on that in a sec—has been a thing since March of 2020. It's a reference to his album After Hours, which he released that month. At his much-hyped Super Bowl LV halftime show in February 2021, although The Weeknd didn't wear fake blood and prosthetics himself, his performance did feature dozens of dancers dressed up as "The Character."
Here's a full explanation and timeline of "The Character."
When did the Weeknd start wearing the fake blood and bandages?
The debut of the look came on Saturday Night Live in March of 2020. (His album After Hours came out on March 20, 2020.) Note here that his fake injuries seem mild-ish, at least in comparison to later.
It didn't take long for fans to realize that the new look was not the result of an accident, but instead a reference to his recent music. Specifically, it was a callback to his "Blinding Lights" music video, in which The Weeknd beaten to a pulp by bouncers, drives drunk, and ends up covered in blood—"I don't want to ever promote drunk driving, but that's what the dark undertone is," he told Esquire—and the short film he released with After Hours.
At the time, The Weeknd told CR Fashion Book: "There's...a very committed vision and character being portrayed, and I get to explore a different side of me that my fans have never seen."
Here's the "Blinding Lights" video:
And here's the short film. Here, The Weeknd wanders around the city, disoriented, with swollen eyes and a broken nose. It ends with him, um, murdering a couple in an elevator?
And why did the fake "injuries" keep getting worse?
At the VMAs in August of 2020, The Weeknd stepped it up a notch. Now, the injuries are looking pretty serious:
And at the AMAs in November 2020, The Weeknd stepped it up yet again. This appearance is the peak of the bloody face imagery—by now, his whole face and head is swathed in bandages, and both of his eyes look badly swollen:
Then things get...weirder, believe it or not. In January of 2021, nine months after the debut of the bloody face, The Weeknd released the music video for "Save Your Tears," which advances the story further by showing his face in what appears to be the aftermath of plastic surgery. (Which isn't real either, to be clear.)
He also posted an Instagram with the same look:
And at the Super Bowl, although The Weeknd didn't play The Character himself, he did have a host of other people playing him:
Watch the full performance below:
So why did The Weeknd do all of this?
Basically, The Weeknd is telling us a story through his music, his outfits, and the increasingly horrific "injuries" that his character—The Character, to quote a Variety interview he gave in early 2021—is suffering. The Character drives drunk, fights with bouncers, commits murder, is taken over by dark forces, and ultimately remakes his entire face with plastic surgery.
Another part of The Character: The red suit jacket. The Weeknd has worn a red suit jacket of some kind at every one of his major public appearances in the past year—to the VMAs, to the AMAs, in the short film, and in his music videos. Sometimes it's bedazzled, sometimes it's fire-engine red and oversized, but it's always a red suit jacket. (Just scroll up through this article for proof.)
Interestingly, for the cover of his greatest hits album, The Highlights, The Weeknd picked a photo that didn't have his face swollen and bloody—but he's still wearing that red jacket.
In early February of 2021, almost a year after the debut of the bloody face, The Weeknd finally opened up to Variety about what's going on: "The significance of the entire head bandages is reflecting on the absurd culture of Hollywood celebrity and people manipulating themselves for superficial reasons to please and be validated," he said. "It's all a progression and we watch The Character's storyline hit heightened levels of danger and absurdity as his tale goes on."
When pressed further, he said: "I suppose you could take that being attractive isn't important to me but a compelling narrative is." And when Variety asked why sometimes he's in stage makeup and sometimes not, he replied: "Why not play with the character and the artist and let those lines blur and move around?"
Celebrity news, beauty, fashion advice, and fascinating features, delivered straight to your inbox!