Stop What You're Doing and Admire This Picture of Adam Driver and Lady Gaga
Driver has serious Big Sweater Energy and the Internet can't handle it.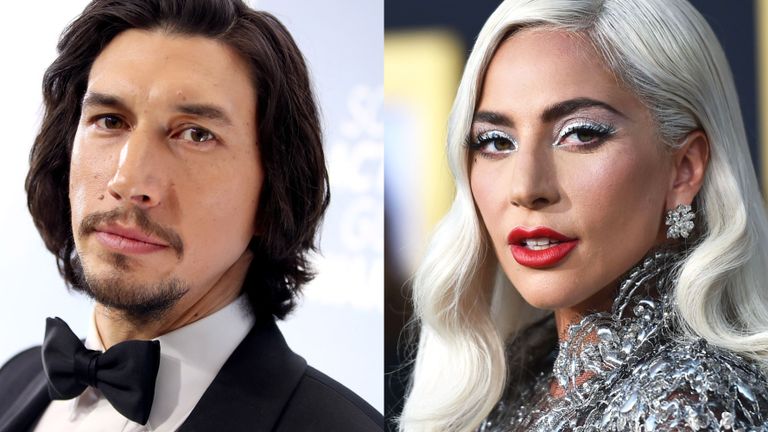 (Image credit: Getty Image)
Like some kind of reverse sexually attractive groundhog, Adam Driver has emerged from his Hollywood burrow to signal six more thirsty weeks of winter. On Tuesday, the actor graced social media—courtesy of Lady Gaga's Instagram—clad in a beautiful cream turtleneck. Lest you assume the pair are dating or cosplaying as your parents après ski, they are actually in the Italian Alps filming House Of Gucci, the tragic true-crime '90s movie in which Gaga and Driver play wife-and-husband-turned-murderer-and-victim (no spoilers—it's history) Patrizia Reggiani and Maurizio Gucci, respectively. (Reggiani was later given the notorious nickname "Black Widow." Give Gaga the Oscar already.)
The thirst trap picture, which drips Big Sweater Energy, unsurprisingly lit the Internet ablaze in jokes and memes. See the best reaction and then prepare for a Chris Evans-Adam Driver chunky sweater-off.
The Ridley Scott directed film, based on Sara Gay Forden's book The House of Gucci: A Sensational Story of Murder, Madness, Glamour, and Greed, is slated to hit theaters in late November. Until then, browse these additional images of Driver in a ski suit, pouring champagne (it's like someone scripted by R-rated dreams?). Or consider purchasing your own sweater—Adam Driver not included.
As Marie Claire's senior news and culture editor, Neha oversees all things entertainment, pop culture, and current events from TV shows and movies we can't stop bingeing to celebrities we can't stop 'shipping. She loves a hot-take, has an extensive knowledge of award shows, and knows the astrological signs of everyone in the royal family and the 'Friends' cast. Before joining Marie Claire, she held positions at Glamour, Brides, Condé Nast, and Mashable, and is a graduate of the Columbia School of Journalism.