Are Emily and Cam From 'Too Hot to Handle' Still Together?
The couple finally revealed whether they're still making it work.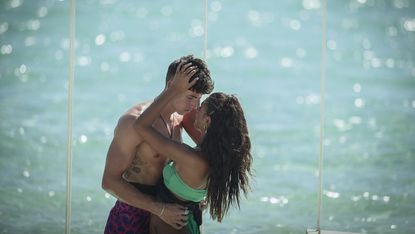 (Image credit: Tom Dymond)
Marie Claire Newsletter
Celebrity news, beauty, fashion advice, and fascinating features, delivered straight to your inbox!
Thank you for signing up to Marie Claire. You will receive a verification email shortly.
There was a problem. Please refresh the page and try again.
In a sea of hotness, Emily Miller and Cam Holmes were perhaps the hottest couple on season 2 of Too Hot to Handle. The two immediately hit it off, getting handsy despite Lana's harsh warnings. And after (several) false starts, they fell hard for each other. But what happens on a Netflix reality dating show often stays on a Netflix reality dating show. So did they stay together after the cameras wrapped? Here's everything we know about Emily and Cam from Too Hot to Handle.
What happened with Emily and Cam during Too Hot to Handle?
Emily was drawn to Cam like a moth to a (very dangerous) flame, ignoring several of his red flags and instead falling for his playful charm and "nerdy" tendencies. And while Cam appreciated Emily's attention, he had a tendency to stray. In episode 4, he lied to newcomer Christina Carmela, claiming he had nothing "serious" going on with any of the women at the resort. Christina then revealed the news to Emily, who was not pleased with Cam's inability to commit. (Meanwhile the rest of the contestants were not thrilled by Emily and Cam's steamy antics that robbed the rest of them of thousands and thousands of dollars of prize money.)
While the twosome took a bit of a break after the Christina drama, Cam apologized and started to work on himself—ultimately even learning to say no when Natasha teased him with a shower. By the end of the season, Cam opened up to Emily, revealing that his parents' rocky relationship may have impacted his ability to settle down. The playboy realized that Emily had stood by him and supported him during his journey and finally asked her to be his girlfriend (!). He even said "I love you."
Are Cam and Emily still together?
Yes—and they live together now! Speaking to Chloe Veitch on the Too Hot to Handle reunion, the couple confirmed that they're still going strong. "We have literally been, like, inseparable since we got home," Cam said. "We came home, she came to mine for a bit, and then I basically...packed everything up and moved in with Em. So we're living together, we literally haven't spent many days apart since the show."
"He just sees me every day in my dressing gown," Emily laughed. "I don't dress up, I don't do anything."
"We're essentially like a little married couple now...We know everything about each other," Cam said.
"When we first came back, we were having sex, like, seven times a day, every day," Emily laughed.
When Chloe asked about their future, Emily answered, "So we live together now, and, yeah, I see wedding bells definitely on the cards...Also, if we have a baby girl, we're going to call her Lana." She clarified: "If and when."
"I'm so happy since the show, my love," Cam said while doing a Gollum impression (you do you, Cam).
Once the news was out, they began posting up a storm on Instagram:
"Mine," Emily wrote on the photo with a "world" emoji.
Cam wrote the same on Emily's post: "Mine," and the world emoji.
But even before they confirmed the news, everyone was pretty sure they were still together. Speaking to Metro.co.uk, Cam and Emily confirmed that they're both in relationships—but would not share if those relationships were with each other. "I'm in a relationship ...Whether that's with someone on the show or not, you'll need to find out," Emily said. Cam added: "I learned a lot from the show and I am now in a committed relationship—whether that's from the show or not you'll need to wait and see."
When asked the same question by Mail Online, they kept saying variations of we don't want to say—emphasis on we. I quote: "We don't want to say anything...We don't want to spoil anything for viewers," from Cam, and from Emily: "Yeah, we want everyone to watch the show."
We had a few other hints, too. Several social media sleuths noticed that Cam regularly likes Emily's Instagram photos and that Emily shared a few promo shots of she and her rumored beau, which Cam reposted. After Emily shared a pic of her sporting an itsy-bitsy pink bikini, Cam commented with the eye emojis (to be fair, several of her castmates commented on the pic, below, as well). And when the show hit Netflix, Emily posted a shot of her and Cam canoodling. "Eye spy @camholmess," she captioned the pic, which Cam later reshared.
Emily had also been reposting fans' screenshots of the couple together:
Most tellingly, they'd been working together on promotion for Boohoo Man's new collection, suggesting that they've been taking on branded content deals as a couple. Emily posted a photo of her in a hoodie from the collection, and Cam posted a photo of himself in jeans from the collection. And in an Instagram Story, Emily revealed that they've been working together to promote it:
Eagle-eyed fans also noticed that Emily was recently in Madeira, an island just off Portugal, according to her Instagram—the caption was "No babe stop!"—and Cam also posted photos of himself clearly on a tropical vacation, though he didn't tag the location.
In Chloe's words: "I love a happy ending!"
RELATED STORIES
Celebrity news, beauty, fashion advice, and fascinating features, delivered straight to your inbox!