Jill Biden's Busy Life as the Second Lady
The second lady opens up about her career, her marriage to Joe, and her relationship with Michelle Obama.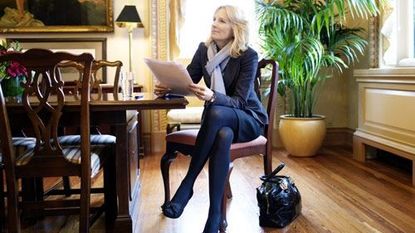 (Image credit: Michael Edwards)
On a silvery, late-winter morning in Washington, D.C., Dr. Jill Biden, dressed in a ruffled blue oxford-cloth shirt, black pencil skirt, and gray jacket and leaving a whiff of Chanel Cristalle in her wake, bursts into the front parlor of the official vice president's residence, located on the grounds of the United States Naval Observatory, having prevailed in a pitched battle with a hair dryer. "There were sparks coming out of it!" Biden says with mock alarm. Her ash-blonde hair is nonetheless perfectly coiffed in a feathered style reminiscent of early Farrah. She is whippet-slim, thanks to the five-mile runs she manages three times a week. At 59, she looks 15 years younger, with a perpetual beachy glow — rare for D.C., especially after months of relentlessly grim weather.
If John Adams once described the vice presidency as "the most insignificant office that ever the invention of man contrived," where does that leave the vice president's spouse? Historically, second ladies have been relegated to roast-chicken charity dinners and sit-and-smile political functions. They cherry-pick a cause or two — Marilyn Quayle championed breast cancer research, Tipper Gore affordable mental health care — and pretty much stay out of the way. But Jill Biden has single-handedly redefined the post. Not only does she fulfill the ceremonial aspects of her role — the self-proclaimed "Captain of the Vice Squad" maintains a grueling schedule that typically sees her speechifying and schmoozing several days a week until late into the evening — but she also holds down a teaching gig at the Northern Virginia Community College (NOVA) Alexandria campus, where she earns $80,000 a year as an instructor. She is the first second lady in history to draw a paycheck while her husband is in office.
And while Barack and Michelle Obama famously enjoy an affectionate, even flirty marriage, Joe and Jill Biden exude a marital heat uncommon in buttoned-up Beltway circles, and certainly extraordinary for a couple married 33 years. In 2008, at an Obama-Biden political rally, the then-vice presidential hopeful drew bawdy grins when he introduced his wife as "drop-dead gorgeous." Last year, the vice president was quoted as saying, "I may not be able to dance, but I sure like holding her" at one of the inaugural balls. "Chemistry," says top Obama aide Valerie Jarrett. "They're very, very outwardly demonstrative. When Dr. Biden isn't around and [Joe Biden] speaks of her, you can just see these dreamy eyes — his face lights up."
On Tuesdays and Thursdays, Jill Biden rises at 6 a.m.; dresses; gobbles toast, coffee, and a 2% Fage yogurt; and hustles out the door for the 30-minute commute (via modest motorcade) to NOVA. Though academia is hardly a fashion bastion, Biden, who teaches English, always looks camera-ready for class. "I think it's important how I come across to my students," she says. "I want them to see how professional women dress." Biden is exceedingly sensitive about how she is perceived by her students. According to one news account, after Secret Service arrived in suits and earpieces on her first day at NOVA, she suggested they dress less conspicuously. The next day they showed up looking like junior bankers on Casual Friday — khakis and ties. Biden again asked them to tone it down. Some of her students have only a vague awareness of her role as second lady. Asked once if she was related to the vice president, Biden responded efficiently, "Yes, we are related."
Known to her students as "Dr. B," the 30-year teaching veteran never considered relinquishing her career when her senator husband was sworn in as vice president and the couple had to move from Delaware to D.C. (She often graded papers while on the campaign trail.) Biden is proud of her two master's degrees, and the Ph.D. she earned in 2007. (Woe to the emcee who announces her as anything other than Dr. Jill Biden.) She's never been entirely comfortable in the political spotlight her husband seems to relish. When she submitted her doctoral thesis to the University of Delaware, she used her maiden name, Jacobs. Not a single picture of Joe Biden hangs in her campus cubicle (yes, she maintains a cubicle, not an office). Colleagues say she is disarmingly low-key, frequently using a ladies' room on campus to freshen up after class or even to change into a cocktail dress if she's dashing off to a White House event. "She wants to downplay it," says Biden's boss, Jim McClellan, dean of NOVA's Liberal Arts Department. "But she hasn't ever missed a class. She once asked permission to skip her office hours to go on a South American tour with her husband, so I let her out 10 minutes early — Air Force Two was revving up on the strip. They touched down again after midnight on Tuesday morning, and she was back here at work by 7 a.m."
Despite her marriage to a seasoned political pro, Biden says she was unprepared for the demands of the second lady role. "I am not a speaker," she admits. "The more you do it, the easier it becomes, but I always want to be prepared, and I always practice my speeches; I never do it off the cuff." The morning of the hair-dryer snafu, she arrives at the D.C. National Guard Armory to speak to United Service Organization volunteers, who are stuffing care packages for military families, a cause especially meaningful to Biden — her son Beau, the eldest of her three children, returned from a yearlong tour of duty in Iraq last September. She tells the crowd how volunteers handed Beau and his troopmates cell phones to call home the moment they returned stateside. Her voice begins to quaver. "He said, 'Mom, you have no idea how much that meant to every member who was on that plane,'" Biden says, pausing to compose herself. "Now I hear we have 3,000 boxes to be packed, so let's get to work!"
Biden easily slips into mama-bear mode, especially with her staff, who, at 10 a.m., had convened in the stately Library of the Naval Observatory to review her schedule. Communications Director Courtney O'Donnell is pregnant and constantly urged to put her feet up. Catherine Russell, Biden's chief of staff, is heading to a parent-teacher conference — "Problems?" her boss asks gently. (It's difficult to imagine Lynne Cheney asking the same question without subtext.) Biden turns defensive when asked about her husband's notorious verbal bloopers. "They're not gaffes," she insists, her vivid blue eyes holding firm. "They're militant truths that I think other politicians may not say because it may not be what they think people want to hear. But Joe tells the truth, and I think that's the beauty of who he is."
In an administration teeming with big personalities, Biden has cultivated an unlikely reputation as a practical joker. Recalls O'Donnell: "One day, she bought one of those glasses-and-fake-mustache things and wore them around so no one would 'recognize her.' She promptly wore them into a foreign-policy dinner the V.P. was hosting at the residence. She did the same with a wig during a speech prep session." Last year, Joe Biden told a reporter that for Valentine's Day, his wife snuck into his White House office and painted dozens of red hearts all over his 10-foot-high windows, along with the words Jill loves Joe.
Public displays of affection are the norm for the Bidens. The couple recently went to see God of Carnage on Broadway, afterward sitting at the piano bar in their hotel and chatting intimately over champagne. One senses that their new powerful perch, close to but still somewhat removed from the pressures of the Oval Office, has added a special charge to their relationship. "We've been able to travel the world together, but we've also been able to eat dinner together at home most nights — something that didn't happen very often when I worked in the Senate," the vice president e-mails from the Middle East, where the pair traveled together on a diplomatic mission early in March.
For such a high-profile couple, the Bidens have never been exceedingly wealthy. According to their most recent financial disclosure forms, their combined net income in 2009 amounted to $333,182; the Obamas netted $5.5 million that same year. And despite the perks that come with her husband's title — the Air Force jet, a household staff — Biden isn't entirely at ease with the royal treatment. "It's hard to keep up the pace," she says. "We came home from the Olympics Monday night, and Tuesday I was teaching, and then I had the opportunity to go to the Bolshoi — which I love, the ballet — but I thought, You know what? I have to do laundry." Really? The second lady sorts her husband's soiled underthings just like us? "Oh, yeah."
Like the Obamas, the Bidens are particularly devoted to their families. Biden's granddaughter Maisy plays on the same basketball team as Sasha Obama. Both couples have cheered on the girls from the bleachers. "We just had this glimpse of normalcy," Michelle Obama says via e-mail, a tad wistfully. "Our families sitting together, all worked up about a game that went into overtime — just enjoying being there and being together." While there is a definitive generational difference between the first and second ladies — Obama is raising two young girls; Biden is an empty nester — they exude a warmer vibe than the politically driven bonhomie of Bill, Al, Hill, and Tipper in the early 1990s. In April, the pair even made a surprise visit to Haiti together. "We're two women at different stages of life," Biden says. "I'm a grandmother. She has her full life with her two girls, so I respect her time with her family, she respects mine. We love it when we're together, but the four of us — each is going in a totally different direction, and on a different schedule."
The second lady deserves her share of the credit for helping revive D.C.'s humdrum social scene. Following her USO speech, Biden scurried home for a cocktail party in the residence to celebrate Black History Month. The Cheneys usually put up a tent for their parties, one guest whispers, but the Bidens prefer to welcome people inside. The second couple make their entrance down a central staircase: Joe in a dark suit and pale-blue tie; Jill in a purple dress with fluttery sleeves borrowed from her daughter-in-law, dipped so low in back it peekaboos a flash of black bra. Joe Biden glad-hands every politico, getting in close, squeezing their shoulders; Jill is warm but reserved, saving her most enthusiastic hug for a member of the catering staff. ("I think I pull back a bit," she says. "I'm better one-on-one.")
The vice president puts his hand on his wife's bare back. "Jilly, why don't you say a few words?" he suggests, and Biden, wearing glittery gold, pointy-toed heels, clambers onto a small platform. "Good evening — welcome," she begins. "I hope you enjoy our home. We've done so much in the past year. We've repainted, put in a few plants." "Joe did the work, right?" jokes one attendee.
"Who said work?" the V.P. replies, flashing his trademark Cheshire grin. Minutes later, Biden introduces her husband, who speaks for 20 minutes, while she keeps her gaze fixed firmly upon him. By 10 p.m., the party begins to break up, though the second lady still hasn't had dinner. "I'll probably take a plate up to my room," she says, "put on a robe and slippers, and grade papers."
Alexandra Jacobs is editor-at-large of The New York Observer. She has also written for The New York Times and The New Yorker.
Celebrity news, beauty, fashion advice, and fascinating features, delivered straight to your inbox!