Meet Italy's Ivanka Trump
As the daughter of the prime minister, Barbara Berlusconi stands to inherit one of her country's biggest fortunes — and has a view all her own.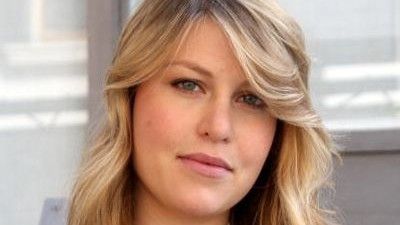 (Image credit: Vittorio Zunino Celotto/Getty Images Entertainment)
To be a Berlusconi in Italy is to come from a family with the political power of the Kennedys and the bling and brand recognition of the Trumps. Barbara Berlusconi is not simply the second daughter of Italy's prime minister, but an heir to one of the country's biggest fortunes. The Berlusconi empire stretches from television, publishing, and advertising to banking, insurance, and sports. So when we finally meet, it's something of a surprise to discover just how normal she appears. Emerging from her office (where she's been working on her thesis for her philosophy degree at Milan's San Raffaele University), Barbara has her fuchsia glasses pushed high up on her nose, and her blonde hair falls fresh-out-of-the-shower straight. She's dressed in casual study gear, albeit as interpreted by the daughter of an Italian billionaire: palazzo pants, sneakers, and a pale-gray jacket of dove-soft leather.
If Barbara's manner is warm and low-key, however, her surroundings are anything but. It's estimated that Villa Belvedere, the 19th-century estate outside Milan where she was raised and where we meet, is worth 86 million euros ($105 million). For our meeting, she's seated in the villa's reception room on a plush, gilded sofa, flanked by two Canalettos. Two gold harps sit in an anteroom, and in the salon stands a baby grand piano, where the prime minister entertains guests by belting out tunes from his first career, as a cruise ship singer.
Not 10 minutes into our interview, the house phone rings. It's Barbara's father, calling from Brussels during a pause in the European Union summit on the Greek financial crisis.
"Ciao, Papa, how are you?" she asks. Italy's prime minister wants to know what kind of marionettes Barbara's two sons, Alessandro, 2, and Edoardo, 1, would like for their puppet theater. "We need the wolf from Red Riding Hood," she answers. "How are you, anyway, Daddy? ... Are you coming for Sunday lunch? ... Great, see you then."
She hangs up. "I don't know how he manages to find the time," she sighs fondly. "He's a very involved grandfather."
The scene is so sweet that a skeptic might suspect it's been staged for Marie Claire's benefit. Media, after all, is a core family business. Through his Mediaset empire and as head of the government, Berlusconi reportedly has influence (directly or indirectly) over roughly 90 percent of Italian television. That influence hasn't muzzled the opposition press, however, which has doggedly covered the company's alleged financial misconduct and has devoted plenty of column inches to stories about the Italian prime minister's sexual improprieties.
It was one such escapade that last year prompted Barbara's mother, Veronica Lario, to initiate divorce proceedings. The final straw: his presence at the birthday party of an 18-year-old aspiring lingerie model, Noemi Letizia, and his gift to her of a diamond necklace. Lario announced she couldn't stay married to a man who was "frequenting minors," so after 19 years of marriage, Italy's first couple began what has been a bitter, public battle, with Lario reportedly asking for a settlement of 3.5 million euros ($4.4 million) per month. (At press time, she'd agreed to $375,000 per month, plus ownership of the Villa Belvedere.) For Barbara, her sister Eleanora, and their brother, Luigi, the rift was a shock. "My father and mother built a very solid family," Barbara tells me. "It seemed very strong, so the divorce was enormously painful."
Say what you will about Silvio Berlusconi, he's clearly a man of intense feelings, particularly when it comes to female beauty. He and Lario met 30 years ago when Berlusconi, still married to his first wife, saw her perform (at one point, topless) in a play called The Magnificent Cuckold and began what's been described as a torrid affair. In a country where the appreciation of female beauty is a national pastime, Berlusconi's very evident appetite for it hasn't hurt him much. He's dominated Italian politics for most of the past two decades, presenting himself as an ordinary guy with an extraordinary appetite for "la dolce vita." It's an approach that's worked with voters, who have awarded him three separate terms in office. At times, his wife has seemed harder for him to win over: Three years ago, Lario wrote an op-ed piece for an opposition paper demanding an apology from Berlusconi after he publicly ogled Mara Carfagna, a former topless model and television star he later appointed Minister of Equal Opportunities.
Barbara claims not to have been bothered by the media storm that followed last year's allegations, with its tales of showgirl-stocked parties at Villa Certosa, the family's compound in Sardinia. "My problem was that my parents were splitting up," she says. And while the Italian press had Barbara siding with her mother, she waves off such suggestions. "I'm just with me!" she says.
While Barbara was growing up at Villa Belvedere, the famously hardworking Berlusconi was frequently absent. "He wasn't always there," concedes Barbara. "But when he came back on weekends, he'd be ready to play with us." It was their mother who did the bulk of the parenting, allowing only minimal time in front of the TV and sending her children to an alternative school outside Milan. "My mother really wanted us to view things critically, to think independently," recalls Barbara.
Still, growing up Berlusconi was undeniably glamorous. For starters, there were vacations at the family compound in Sardinia, with its rambling gardens and numerous guest villas. It was here, in 2002, that the teenage Barbara made news when she played host to the daughters of Russian President Vladimir Putin. Of course, she also made news when she went out clubbing and when, at age 17, she made her official debut into society at the Hotel Crillon in Paris, wearing a Chanel gown and escorted by a German prince.
Barbara's acts of rebellion made the papers, too, from the tongue stud she wore in her teens, to her refusal to join her father's Forza Italia party, to, more recently, her pointed remarks on his sexual morality. Last year, after the Letizia scandal broke, she told one Italian magazine that politicians can't afford to behave in ways that "make a distinction between their public and private lives." She went on to say that she was "astounded" by the Letizia story, and that growing up, she had never consorted with "elderly men."
Even these relatively muted remarks caused a stir in Italy, where few but the political opposition openly criticize the prime minister. One Italian writer even compared Barbara to Stalin's daughter, Svetlana Alliluyeva, who famously denounced her father's dictatorship and defected from the Soviet Union. With a nod to the weakened, chaotic state of Italy's leftist party, one local newspaper playfully dubbed her "Italy's real opposition," citing her as the only Italian with the moxie to take on her father.
When asked about the Letizia story today, Barbara looks down. "I don't feel comfortable talking about that," she says slowly. Her relationship with her father is a warm and close one, she insists. "We're not in agreement about everything," she tells me. "But that's normal!"
So who is she? In part, a woman publicly focused on the issue of morality. Tellingly, the role of ethics in business was the theme of a 2008 conference Barbara organized at Bocconi University, Italy's premier business school. Given the backdrop of allegations concerning the prime minister and his shady business dealings, Berlusconi's opponents found delicious irony in the sight of Barbara and her mother listening intently to presentations on the responsibility of business to society. Barbara, however, insists that the theme of the conference wasn't politically driven. In fact, the subject of her thesis is the Cambridge economist Amartya Sen, whose writings argue that freedom and well-being are the true measure of a successful economy. "The conference was a way for me to take stock of what I might do in the future. I'm going to have a tremendous amount of responsibility, and I'll need a solid moral grounding."
To date, however, those responsibilities have been mostly in traditional pretty-young-heiress territory: the art world, charity and board work, being a mom to her sons, and enjoying her relationship with banker Giorgio Valaguzza, the father of her sons (with whom she lives but has never married). At 19, she was appointed to the board of her father's holding company, Fininvest, though it's a role she has elected to limit until she's gained more experience. And after the Asian tsunami in 2004, she and her friend Francesca Versace (Gianni's niece) set up the broad-based charity Milano Young, which initially funded aid to tsunami victims before expanding to other causes, such as scholarships for foreigners studying in Italy. And on the art front, she cofounded Cardi Black Box, an art gallery in Milan with a branch set to open in London this fall.
Barbara's not yet certain what path she'll take after she graduates in July. "There would have to be a really good reason for me to choose politics," she says. Her "passion," she tells me, is publishing. For now, though, she's content to concentrate on finishing her thesis. And whatever she does after graduation, Barbara seems destined to draw on her inherited tenaciousness: "Even if everything is against him, my father fights for his ideals," she tells me. "I admire that and hope to do the same — but with my own ideals."
In other words, the prime minister better watch his step.
Carla Power is a London-based writer on social and cultural affairs. She's currently writing a book on Muslim women's movements.
Celebrity news, beauty, fashion advice, and fascinating features, delivered straight to your inbox!