MC Cheatsheet: Chelsea Clinton's Belted Wedding Dress & French Catfights
Plus, check out what other sites and stories we've been clicking on today.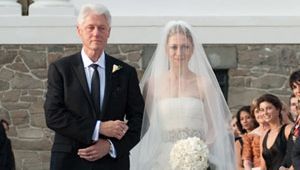 (Image credit: WireImage)
Kate: "Even the best dress could benefit from a good belt. Chelsea Clinton's Vera Wang wedding dress was clearly no exception." Aisle Dash
Katie: "French women may not get fat but they do catfight! Brigitte Bardot schools Carla Bruni in the art of saying thank you." Racked
Sophia: "Another useful Facebook application? Finding out your husband is married to someone else, like this woman did." Lemondrop
Jihan: "Should we live with the 'fact' that sometimes attractive people will get certain jobs (like at American Apparel and Abercrombie)? It might be the way of the world, but that doesn't make it right." Salon
Anna: "These wedding songs may be overplayed, but most of them can still make me a little misty-eyed." Time
Koryn: "Forever 21 is now open until 2 a.m. in Times Square. Now when I wake up in the middle of the night and can't get back to sleep, I can kill time shopping for affordable summer dresses. Dream come true." Wall Street Journal
Tell Marie Claire: What are you obsessed with today? Share your faves in the Comments section below!