What We're Reading: Nora Ephron's Memoir and More
The writer behind "When Harry Met Sally" and "Sleepless in Seattle" offers up a book version of a great rom-com.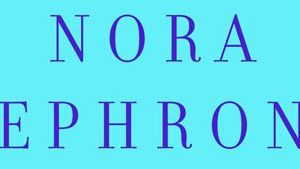 (Image credit: Courtesy of Knopf)
Marie Claire Newsletter
Celebrity news, beauty, fashion advice, and fascinating features, delivered straight to your inbox!
Thank you for signing up to Marie Claire. You will receive a verification email shortly.
There was a problem. Please refresh the page and try again.
Something I learned recently about the great Nora Ephron (writer of When Harry Met Sally, writer/director of Sleepless in Seattle, and writer/director/producer of You've Got Mail and Julie & Julia) is that she's sort of like the female, higher-IQ version of Forrest Gump. The woman has been everywhere, from the Kennedy White House (as an intern) to the audience of the Ed Sullivan Show the night The Beatles performed. She talked about this last month, when she was the special guest at a Carnegie Hall taping of the NPR show "Wait Wait, Don't Tell Me," but the craziest part is, she barely remembers any of it. Only snippets. Considering that's how I feel about most of my childhood and adolescence, I can totally relate. Read on to learn more about her crazy life (and her aptly titled memoir) and a couple other great books we're reading this week — let's just hope against hope we'll remember a few details.

I Remember Nothing (and Other Reflections)

Author: Nora Ephron
Genre: Funny, wise, relatable memoir
What Happens: Ephron takes a (somewhat fuzzy) look back on her extraordinary life, along with little observations about subjects such as "Which Comes First: The Chicken Soup or the Cold?"
When to Read It: Anytime you're in the mood for a (good) romantic comedy but aren't in movie-watching mode.
Details: Knopf Doubleday, $22.95, November

The Next Big Story: My Journey Through the Land of Possibilities

Author: Soledad O'Brien, CNN anchor and special correspondent
Genre: Memoir by one of your crazy-smart lady crushes
What Happens: O'Brien discusses her childhood in 1960s Long Island (not the easiest place to be as a mixed-race kid, no doubt), her early jobs in broadcasting, and the biggest stories she's covered — from the tsunami to Katrina to Obama's inauguration.
When to Read It: When you need some career-spiration (that's a word, right?).
Details: Celebra Hardcover, $24.95, November 2

Fame: What The Classics Tell Us About Our Cult of Celebrity
Author: Tom Payne, British writer and journalist
Genre: Why-are-we-like-this explanatory tome
What Happens: Payne explains the eerie similarities between Lady Gaga and the Aztecs, Farah Fawcett and St. Felicity, and more kooky connections in an attempt to explain why we care so much about famous people.
Why Read It: Next time you find yourself wondering why the heck those Teen Mom kids are on magazine covers every week?! (Seriously!)
Celebrity news, beauty, fashion advice, and fascinating features, delivered straight to your inbox!
Anna Maltby is an award-winning journalist and editor and was most recently the executive editor of Elemental, Medium's in-house health and wellness publication. She was previously the deputy editor at Real Simple magazine and a deputy editor at Refinery29, and also held staff positions at Men's Health, Marie Claire, SELF, Fit Pregnancy, Natural Health and Condé Nast Traveler. Her writing has appeared in such outlets as The Wall Street Journal, Cosmopolitan, Glamour, O, Family Circle, Fitness, Redbook, Vogue.com, TeenVogue.com, MensJournal.com, CondeNastTraveler.com, FastCompany.com_ _and Brides.com. She received her BSJ and MSJ from the Medill School of Journalism at Northwestern University. Anna is also an American Council on Exercise–certified personal trainer and functional training specialist, a certified prenatal and postnatal exercise specialist, and a certified mat Pilates teacher. She lives in Brooklyn with her husband, two children, and two tuxedo cats.