Black Swan Movie Review
A modern-day fairy tale that's freaky, sexy, and downright divine.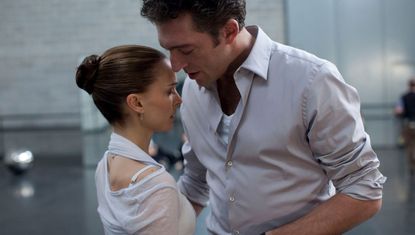 (Image credit: Fox Searchlight)
Marie Claire Newsletter
Celebrity news, beauty, fashion advice, and fascinating features, delivered straight to your inbox!
Thank you for signing up to Marie Claire. You will receive a verification email shortly.
There was a problem. Please refresh the page and try again.
The beauty of ballet and the psychology of horror are an inspired mix—think The Red Shoes meets Hitchcock—in the audacious thriller Black Swan. As the driven ballerina Nina, glorious Natalie Portman has the role of a lifetime: She pliés gracefully, shatters emotionally, and boasts the kind of swan-like neck that makes you momentarily wonder if she missed her true calling.
Still living with her overbearing mother (Barbara Hershey), the technically perfect but emotionally fragile Nina finally wins the lead in Tchaikovsky's Swan Lake. Sublime as the virginal Swan Queen, she has more trouble with the role's other half, the lustful Black Swan.
French actor Vincent Cassel is wonderfully seductive as the manipulative artistic director who dares Nina to tap into her sexuality. Uptight and plagued with doubts about her ability to tantalize the audience, she is tormented by her understudy, Lily (Mila Kunis), a sensual dancer who stalks and undermines Nina—or does she? Even as our sympathy grows for Nina, we wonder how much of it is her own paranoia. Where are those cuts on her back coming from? Why does her mother guard her so closely? Maybe Nina is possessed by something more demonic than ambition.
But the film's true virtuoso is director Darren Aronofsky (The Wrestler), whose camerawork is as soaring as a dancer's grand jeté, gliding around Nina's troubled psyche, capturing gorgeous dance sequences, and lingering on bloody toes forced into pointe shoes. Soon, the movie's supernatural details grab hold: Did the eyes in that painting just move? Who or what is turning out the lights?
By the end, Nina's quest for perfection—and Portman's blazing performance—will leave you breathless.
Celebrity news, beauty, fashion advice, and fascinating features, delivered straight to your inbox!