Exclusive Q&A: Troian Bellisario on New Season of Pretty Little Liars
Your favorite little liars are back, and we've got the scoop on this season's biggest secrets.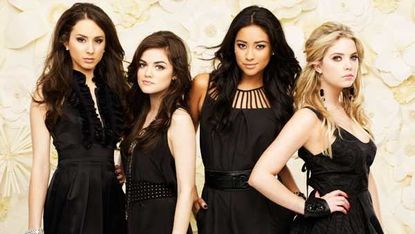 (Image credit: Archives)
Marie Claire Newsletter
Celebrity news, beauty, fashion advice, and fascinating features, delivered straight to your inbox!
Thank you for signing up to Marie Claire. You will receive a verification email shortly.
There was a problem. Please refresh the page and try again.
The girls are back in town, and this season, there are even more secrets to spill. We had the chance to chat with Pretty Little Liars' Troian Bellisario, who plays the almost-always-chapeau-donned-semi-twisted Spencer Hastings. The 25-year-old actress found time in between filming the rest of the show's new season and reading three — yes, three — books (Look at Me by Jennifer Egan, The Intent to Live by Larry Moss and Shakespeare's Romeo and Juliet), to dish on what we can expect to happen to our favorite little liars on tonight's premiere on ABC Family at 8 p.m. EST.
Why do you think so many people are drawn to the show?

I think it's generally a really good story. Julian [Morris] who plays Wren, he came up with a beautiful answer: it deals a lot with fantasies and fantasy of friendship that these girls are going to be with each other no matter what. I can call Aria at 3am and she'll meet me in the middle of the dark and scary woods. Nothing will ever happen that these girls will split up over, and that's what everybody wants, those best friends that are like sisters. And I I think we have a really morbid fascination with life and this tragic event happening to these young girls. It's just the right amount of scare and mystery and camp and fashion that everybody loves.
Is it hard to be 25 and be playing someone in high school?

Well, Shay [Mitchell] and I were the only ones who really went to high school; Lucy [Hale] and Ashley [Benson] were home schooled. Sometimes it's kind of different because I have a lot of similarities to Spencer. But the more I grow, the more I grow away from her. It's all the kind of the same thing as regular life, the girls are rarely doing their homework or ever in class. They are involved in circumstances I'd hopefully never be involved with, though.
People seem to think the show is for teens since it's based on the YA series by Sara Shepard. But the show has the attention of an older audience, too.

Watch one episode, give yourself 45 minutes of your time and see if you have fun. It's weird because I get stopped by a lot of young girls and young boys but mostly I get stopped by people my age or usually older than me. I'm not a teen anymore but growing up some of my favorite things were like Twin Peaks, which wasn't even really my time and this is one of the things like a weird, quirky, small town mystery.
What can fans be excited for in the new season?

Getting their girls back. We've been so excited to share with the world what we're working on. We're currently shooting episode nine of this next season and we get more and more excited. This season will have more episodes than last season and last season had 22 episodes. Season two things are definitely getting more intense and it's really great because the network trusts us, the writers are feeling more comfortable and we're feeling more comfortable in the skin of our characters so we can take things a lot farther dramatically, romantically and mystery wise. Season one we had dark twisted relationships and season two gets darker, more twisted. Things matter more.



The fashion on the show is so fun. What's your favorite part about it?

I love how it's a really important part of our show and biggest and most important part is what stylist Mandy Lyon wants to do. In Gossip Girl you can lust after everything, but on our show, she really wants girls to feel like they can dress like us. Something we're putting on is something you can find at the mall. It's really cool and creative and I always joke around that Spencer is always in a costume. I recently had on a sailor's outfit almost and the other day I was a circus leader. It's all subtle but whether it's and homage to Lolita or the 1940s, it's like a character.



Would you say your style is similar to Spencer's?

My style is similar to Spencer's in that I like to dress up in period type things. I like a lot of Ralph Lauren and classic styles.. My style has changed in that I'm willing to try more things. My style is a lot closer to Aria's, kind of a reference to rock but more edgy. Generally I'll walk in and I'll see something on the rack and [Mandy] will be like, "get away that's Aaria's."



What about the beauty on the show?

Everyone brings their guitars on set. Me and Keegan [Allen] and a lot of the crew members play. The other day I got yelled at by my makeup lady, Rebecca; she's amazing, but playing the guitar was was ruining my nails. Our nails are so important to show because we're always checking our phones, on our computers and getting texts. She has to keep repainting my nails. I hate nothing more than having my nails painted. I feel like I'm in time out.



How is your relationship with the other girls in the cast?

At this point we are all so comfortable with each other. We are absolutely as close in real life as we are on the show. We all kind of take turns taking care of each other. If one of us was going through something, we'd be there for each other. Even today, they could just tell when I wanted to be alone and they could tell when I wanted someone to talk to. I can't tell how many times I've been there for one of them to call in the middle of the night. I think life would be much cooler if we had woods to meet in, instead of the back of the WB studio where we shoot.
We know you can't spill everything, but what can you tell us about the premiere tonight and the rest of the season?

I think things that you might have considered impossible are changing and that's really throwing the girls for a loop. Some of the girls are actually falling in love and we're moving on from puppy love to actual adult relationships, as adult as they can be. With Melissa, things were very strained before and now with Spencer accusing Ian of trying to kill her and Ian either being missing or dead and things get even worse.
Celebrity news, beauty, fashion advice, and fascinating features, delivered straight to your inbox!